Murals of the Station Museum 2020 – 2021
Artists:
Empire
Deck
Marc Newsome ("Marc Furi")
Robert Hodge and Tierney Malone
Jonah Elijah
Israel McCloud
Lovie Olivia
Ignacio E. Sanchez ("Nacho")
Brittany Torres
---
---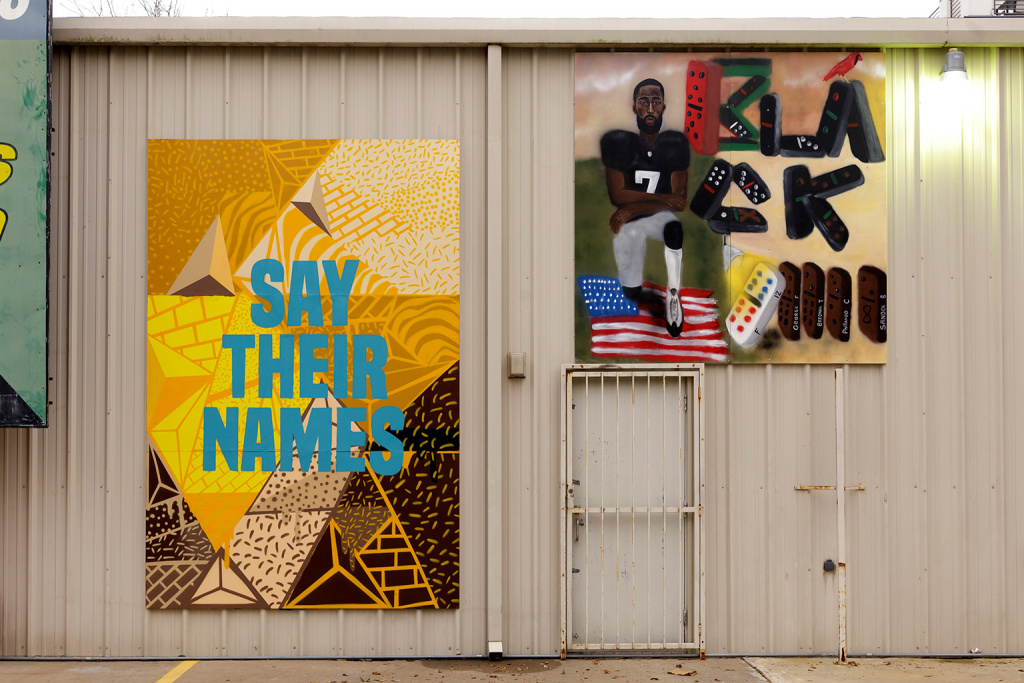 Jonah Elijah
Black in America
2020
Acrylic on wood panel
Jonah Elijah
I Know My Life Matters. Do You?
2020
Acrylic on wood panel
I negotiate American history and its erasure of black people, through narratives, exploration of identity, portraiture, and language. My paintings depict my perception of what it's like to be African-American in today's world. The paintings I make reflect the discomforting feeling that, because of my race, my life is in jeopardy. Through both abstraction and representation, I use my memories to depict the experience of being raised in a lower-middle class black community. My parents divorced when I was three so I was raised by my father during the week and my mother on weekends. That led me to feel I was living two different lives every week. Now when I recreate scenes from that reality, multiple perspectives come into focus. My work invites viewers to look at these experiences both literally and metaphorically, echoing my upbringing.I'm interested in the history of coded language in the African-American community. Historically, the coding started during slavery through songs, language and the underground railroad. In my own work I investigate this in two ways. First, through iconography and symbols, and second, through materials. The domino is an example of both a symbol and a material. I anthropomorphize them to talk about the human race in both a contemporary and historic setting. I change the color of the dominos since society categorizes us by colors. I use actual dominoes as a material in my work. I think about the concept of the domino effect as a metaphor to depict the continuous cycle of friends I have lost to gun violence in my community. I use cardboard because it's common for homeless citizens to make signs in order to have their voices heard. I dissect sneakers and attach them to my paintings. I place viewers either in my shoes or in someone else's shoes. I believe that the world, as a whole, would be a better place if people could take on one another's perspective. When I'm placing the viewer in my shoes, I recreate scenes from my experience, past or present. My ultimate goal in getting viewers to see things from various perspectives is to help them stop turning a blind eye to society's problems. W.E.B Dubois introduced the idea of double consciousness. "Always seeing oneself through the eyes of another." In my work I want to expand this concept for the viewer. I not only want people to see scenes from my life, but also to feel what it's like to be a part of my larger community and maybe even feel what it's like to be black in America. - Jonah Elijah
Artist bio:
Jonah Elijah is a Houston, Texas native now working in Los Angeles. He received his BA in studio art from the University of Texas at San Antonio in 2017 and his MFA from Claremont Graduate University in 2020.
He discovered art during a painting course titled "painting for non-art majors". Jonah Elijah's work encapsulates black life in America and addresses controversial issues that actively affect the African American community. Using materials to explore economic inequality, displacement, or human rights Elijah's artist practice embraces discomforting realities. Being raised around lower income hardships Elijah builds off his own personal upbringing and creates works that reflect the black experience. Whether in his paintings or installations, Jonah layers his work with coded language offering an abstracted or representational view of what it's like to be black today.
---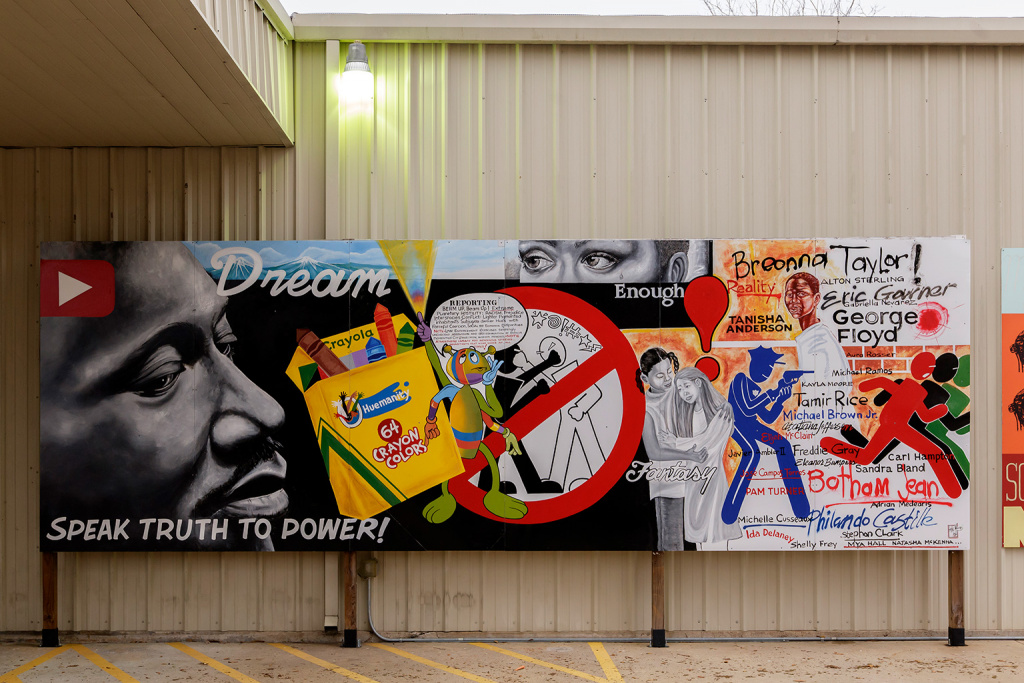 Israel McCloud
Enough
2020
Enamel on metal panel
My challenge is to articulate the socio-political, culture and even spiritual dynamics of the "hour". By consciously utilizing my innate skills and talents, my objective is to create beyond mediocrity, while giving validity to the values and perception of truth. At the end of the day, with any success…my art will serve to elevate and inspire through the mechanism of "creative integrity". This is the original aesthetics. - Israel McCloud
Artist bio:
Israel McCloud is a multi-disciplinary artist whose creative track-record transcends conventional categories. A third generation artist, his professional palette of visual art, design, performance and literary arts encompasses forty years of prolific productivity. McCloud has exhibited in galleries and venues including Museum of Fine Art Houston, Contemporary Arts Museum, Meredith Long Gallery, as well as abroad in Paris, France and Amsterdam, Netherlands. He performs spoken word poetry and literary readings throughout Houston, while actively pursuing a full-time commitment to professional mural and creative art design services.
---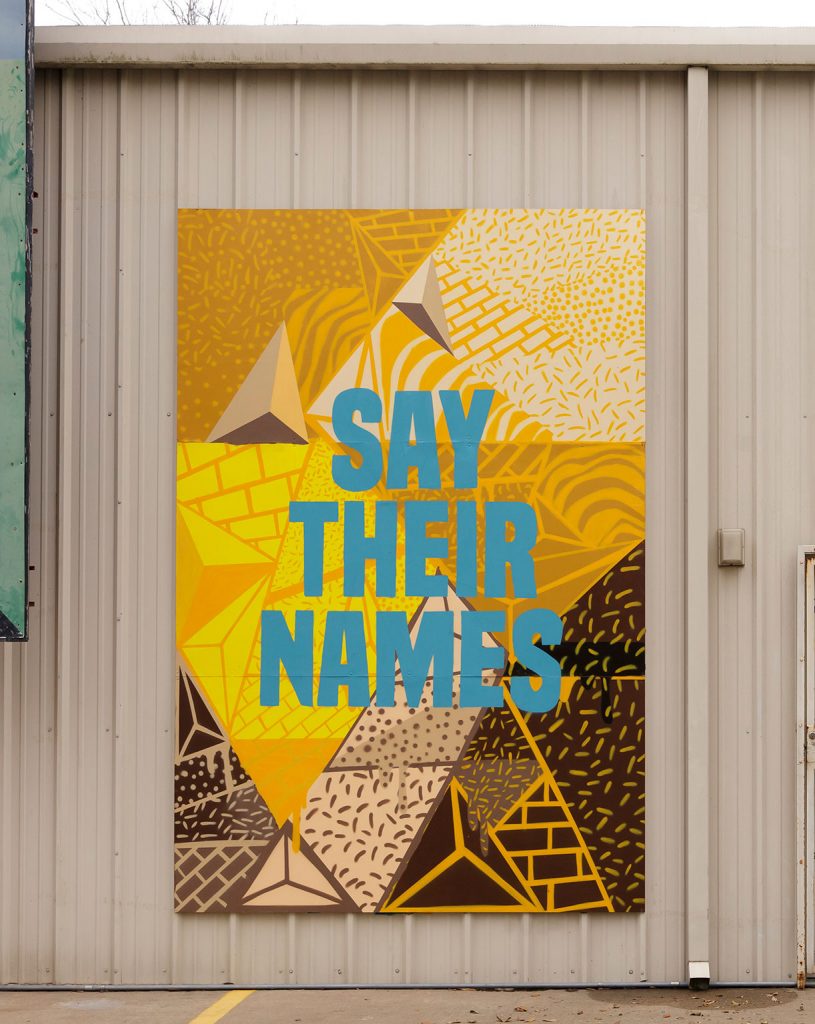 Ignacio E. Sanchez ("Nacho")
Say Their Names
2020
Acrylic on wood panel
#SayTheirNames is a hashtag used to remember the names of victims of police violence. This hashtag was borrowed from #SayHerName, a social movement created in 2014 by the African American Policy Forum and the Center for Intersectionality and Social Policy Studies, to raise awareness for Black women victims of police brutality.
These are more than just hashtags and this mural goes beyond commemorating a moment. The "Say Their Names" mural is a reminder to keep doing the work in their names and to eliminate the conditions that contributed to their deaths. It's a demand for accountability and justice. - Ignacio E. Sanchez ("Nacho")
Artist Bio:
Ignacio E.Sanchez, better known as "Nacho", is a Mexican-American graffiti artist whose work is inspired by culture, color and patterns. Nacho began to explore art as a teen through drawings and illustrations.He would later expand his scale through paintings utilizing various mediums such as acrylics/ ink/ pastels and oil bars then graffiti art with aerosol paint. Most recently, Nacho has also delved into carpentry by making frames for his works. He is currently attending the University of Houston where he is taking university art courses to further develop his techniques and refine his processes. In his spare time, Nacho has taught youth art classes to Houston's underserved neighborhoods. He also supports his wife's photography business by building backdrop sets and assisting her as needed during photoshoots. Nacho currently resides in Houston's historic Third Ward where he is working with local businesses and nonprofits to bring color and life to the neighborhood. Nacho Sanchez's art and style has evolved into something that incorporates various techniques and mediums in his work throughout his art journey and has been the source of inspiration. All of Nacho's artwork is inspired by real life experiences specifically around the themes of change and movement. Most recently, Nacho has been able to travel often and deeply through Mexico and South America. As a result, culture has served as a recent inspiration. The vibrant colors and energetic textures of Latin American cultures to be visually captivating and emotionally moving are reflected deeply in his work.
---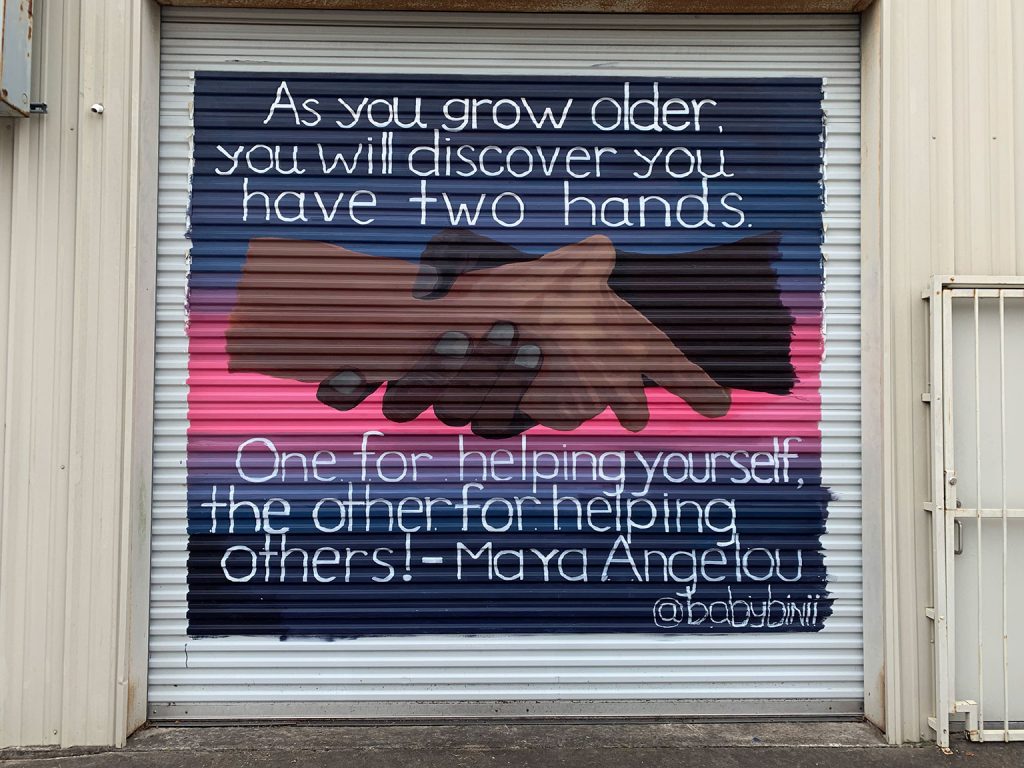 Brittany Torres
II Hands
2020
Acrylic on metal
Despite the divisiveness and discord in the world today, unity in every sense still surrounds us. In being an active member of the community, anyone can witness how well things can work in unison when people come together. Volunteering with others to contribute to everyone's overall well being is something we can all do, no matter one's complexion, status, or net worth . This form of unity is a crucial way we should extend ourselves. I chose a gradient of purple to pink for a pastel background, signifying the different colors working as one to enhance the main focal point of the two hands. Everyone needs a hand when life gets difficult to grasp. Many people rarely look for outside help and internalize their thoughts and emotions which end up too heavy for a single human to hold. I chose this gesture because I believe it is ludicrous to think we are here alone and are forced to deal with life singularly. We are a part of a bigger connection and it starts with truly being for ourselves and one another. By creating this mural I wish to spark a connection with the viewer and influence them to extend themselves in their community and any place they go. Maya Angelou was able to reach countless people's lives with her art and poetry, and her quote, "As you grow older, you will discover you have two hands, one for helping yourself, the other for helping others," inspired my visualization of what it means to lend a hand. In creating my own artistic expression of Angelou's words, I hope to encourage more human connection and unity to spread throughout the community. - Brittany Torres
Artist Bio
Brittany Danielle Torres is a Houston based Visual Artist who gained her Bachelor's degree in Fine Arts at Texas Southern University. Her love of color and vast curiosity in virtually every creative medium started in middle school. This aligned perfectly when later studying for four years in structure, the history of technique, and building her confidence as a Houston Artist. While being a mentee and student of Dr. Alvia J. Wardlaw, Brittany was able to further her understanding of what art could do for the growth of the people while teaching. She also began elaborating on her use of art to connect within the community by guiding beginning art classes at Sterling High School and judging first through third grader's annual art show at Macgregor Elementary. These experiences allowed her to feel comfortable and strong in her own artistic space. Upon graduation she began expressing herself with this foundation naturally which then began creating new opportunities and influences. Her commitment to her craft and years of involvement in the art community have consistently demonstrated to others the passion she has for extending her teachings through her projects.