Andrei Molodkin: "CRUDE" at the Station Museum of Contemporary Art from Station Museum on Vimeo.
Articles
Culture Map Houston
BLACK GOLD
Andrei Molodkin's oily heart of darkness pulses in Crude at Station Museum
By Joseph Campana 12.03.11|11:30 am
read more…
Arts+Culture Magazine Houston
Works of Note: December 2011
If there ever were a time to be outraged by the course of American Empire, it is now.
CHARISSA N. TERRANOVA
Based in Dallas, Charissa Terranova is a freelance critic and curator working globally.
read more…
Andrei Molodkin is an internationally recognized contemporary Russian artist engaged in deconstructing the economic realities of geopolitical praxis.  Consisting of his monumental ballpoint-pen drawings and his three-dimensional constructions filled with crude oil, Molodkin's exhibition CRUDE effectively articulates the space between people's peaceful, democratic aspirations and the unending conflicts perpetuated by oil-politics. CRUDE is a laboratory environment that radicalizes the dynamic between the artwork and the viewer.
Molodkin's visual and conceptual strategies recall some of the basic principles of Constructivist Art, the early 20th century Russian avant-garde movement, which upheld art as the domain of pure feeling and social harmony and which focused on utopian ideals, production, and process. Molodkin pushes the boundaries of Constructivist Art by engineering clear solid constructions with hollow imprints that become active as crude oil circulates within these forms through a network of pumps and tubes.  His artworks also expand the practice of Minimal Art, an unembellished, formalist late 20th century American approach to factory art-making.  Like the work of the American artist Mark Lombardi who investigated international banking impropriety and theft through his art, Molodkin links crude oil to democracy, justice, liberty, and revolution as well as to icons such as the Statue of Liberty and the Winged Victory of Samothrace.
Crude oil, in all of its manifestations as energy, petroleum, natural gas, plastics, medicine, asphalt, fertilizers, and pesticides, is the principle industrial commodity and the world's most valuable natural resource.  An ancient substance,  crude oil is continuously reborn in its applications and implementations. Molodkin's incorporation of crude oil into his works provokes an open dialogue on how culture and geopolitical systems are influenced by oil. In one of his constructions, Molodkin analyzes the concept of democracy through the universal vernacular of oil. The work, titled Democracy, is a mirror reflecting the commodification of the democratic ideal. Empire at War, Molodkin's portrait of an evangelistic George W. Bush, embodies the danger of theocracy – patriotism, nationalism, and religion are used to justify the most horrifying war crimes. Like a prismatic chessboard, Molodkin's artworks articulate the contradictions between utopian ideals and reality.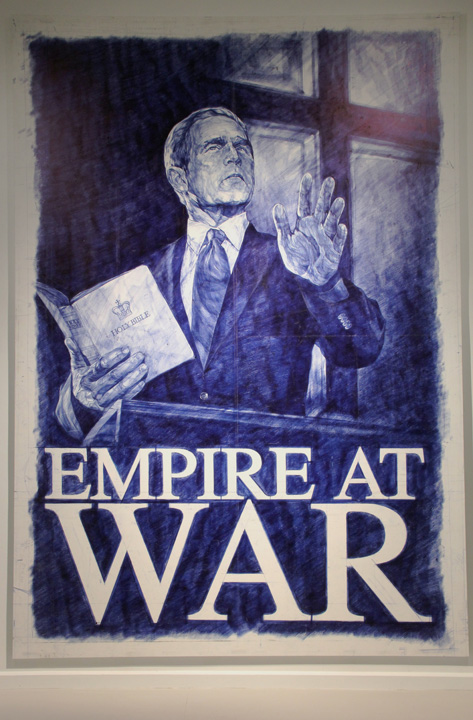 Andrei Molodkin, "EMPIRE AT WAR", 2006, blue ballpoint pens on canvas
---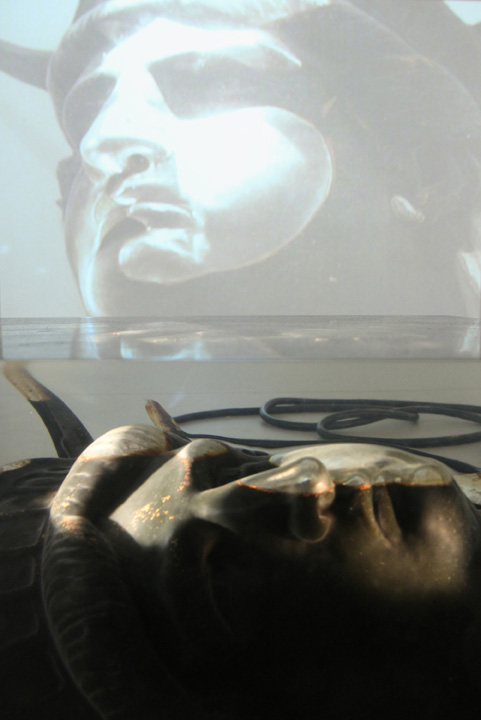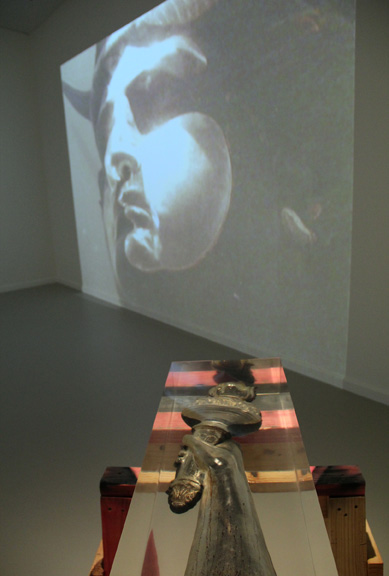 ---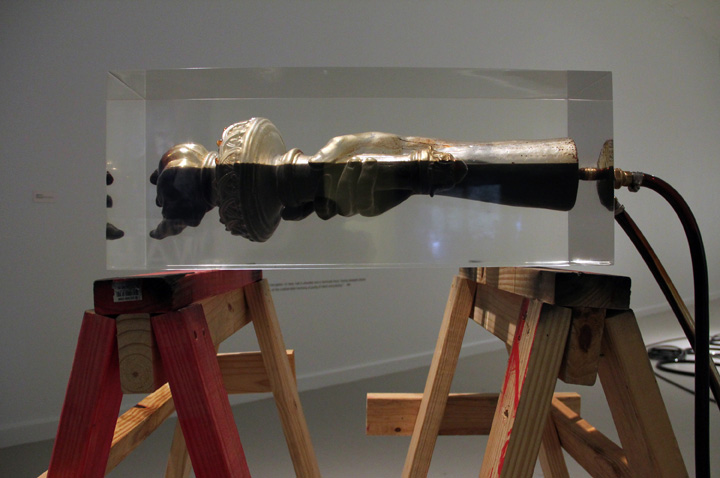 ---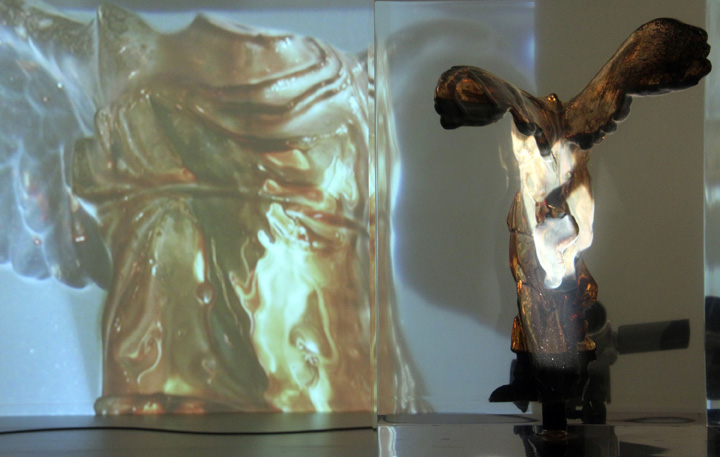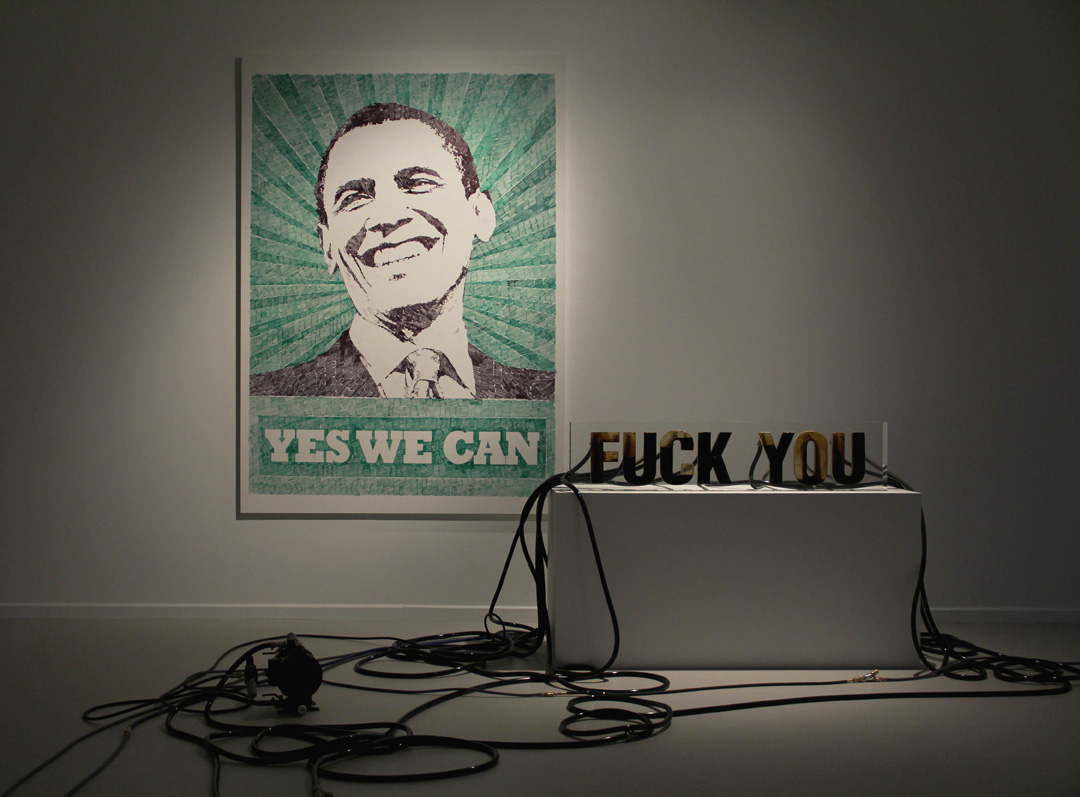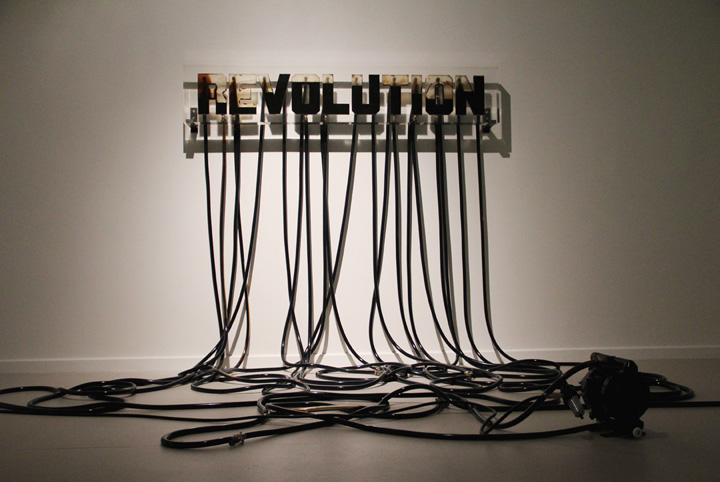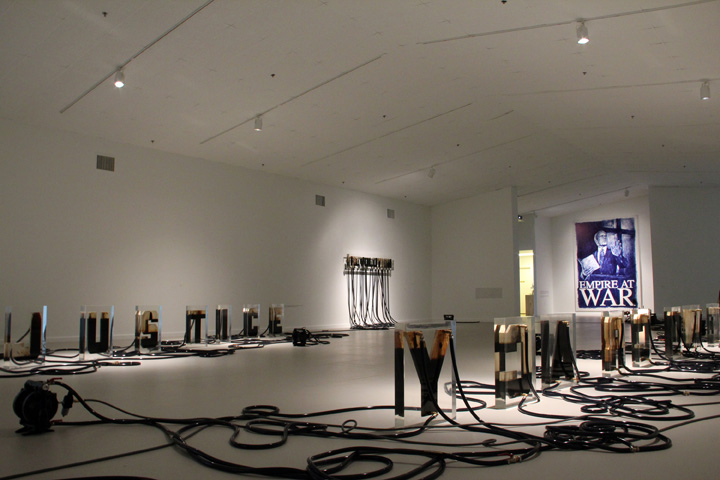 Andrei Molodkin, Installation Photos, Station Museum of Contemporary Art, 2011
Andrei Molodkin's monument to the Bolshevik Revolution of October 1917
Andrei Molodkin was born in Boui, Northern Russia, in 1966. He studied at the School of Visual Arts, Boui, Russia, from 1976-1980. He then attended the College of Arts, Krasnoe-on-Volga, Russia, from 1981-1985 and graduated from the Department of Architecture and Industrial Design at Stroganov Institute, Moscow in 1992. Whilst studying he also served in the Soviet Army, convoying missiles through Siberia. In the freezing temperatures, Molodkin would rub oil over his body to provide the warmth to keep himself alive. Oil became his source of survival, yet he was always acutely aware of the corruption and exploitation embedded in its very substance. Throughout Molodkin's remarkable career, he continues to explore the connotations of oil in a myriad of high-profile socio-political contexts. He represented Russia in the Venice Biennial, Italy, in 2009. Molodkin has had many exhibitions world-wide, and his work is included in many collections in Europe, United Kingdom, Russia, and United States.
In conjunction with Andrei Molodkin's exhibition, CRUDE,
the Station Museum is proud to present a lecture & discussion featuring
SOCIO-FORMALISM OR AESTHETICS OF THE FACTORY
By MARGARITA TUPITSYN, internationally renown curator & art historian
ARTIST'S TALK
ANDREI MOLODKIN

SATURDAY, FEBRUARY 11, 2012 @ 7pm
FREE ADMISSION
__

The canons of the historical avant-garde were defined in Western Europe and Russia at the beginning of the twentieth century and called for collaboration, productivism, and a replacement of traditional art practices (in particular painting) by the use of industrial materials. To be involved in leftist politics, and to incorporate critical discourse in the process of art making, had become a norm. This lecture demonstrates how such aesthetic principles have attained conceptual and practical reinforcement in the work of Andrei Molodkin who has been committed to the rigorous exploration of radical media, as well as engaging in a critical investigation of political and cultural issues relevant to the East and West.
– Margarita Tupitsyn
| | |
| --- | --- |
| | Dr. Margarita Tupitsyn is an independent curator, critic, and art historian. Born in Moscow, she moved to the United States in 1975 and received her PhD in art history from the CUNY Graduate Center. In 1981, she curated Russian New Wave, the first exhibition of Moscow conceptual art in New York, and in 1986, she organized Sots Art for the New Museum of Contemporary Art in New York. During perestroika, Tupitsyn published Margins of Soviet Art: Socialist Realism to the Present (Giancarlo Politi Editore, 1989), organized several major exhibitions of Moscow conceptual art, including Between Spring and Summer: Soviet Conceptual Art in the Era of Late Communism (ICA, Boston, 1990), andThe Green Show (Exit Art, New York, 1990), and co-curated Global Conceptualism at the Queens Museum (1999). Tupitsyn was the first to exhibit face-to-face Western and Moscow neo avant-gardes in such exhibitions as Malevich and Film (2004) and Against Kandinsky (2006). In 2009 she curated Rodchenko and Popova: Defining Constructivism for Tate Modern. Her articles have appeared in many publications, including Art in America and Artforum. She is a 2011 recipient of the Warhol Foundation Arts Writers Grant for her forthcoming book Moscow Vanguard Art: between World War II and the Fall of the Soviet Union. |