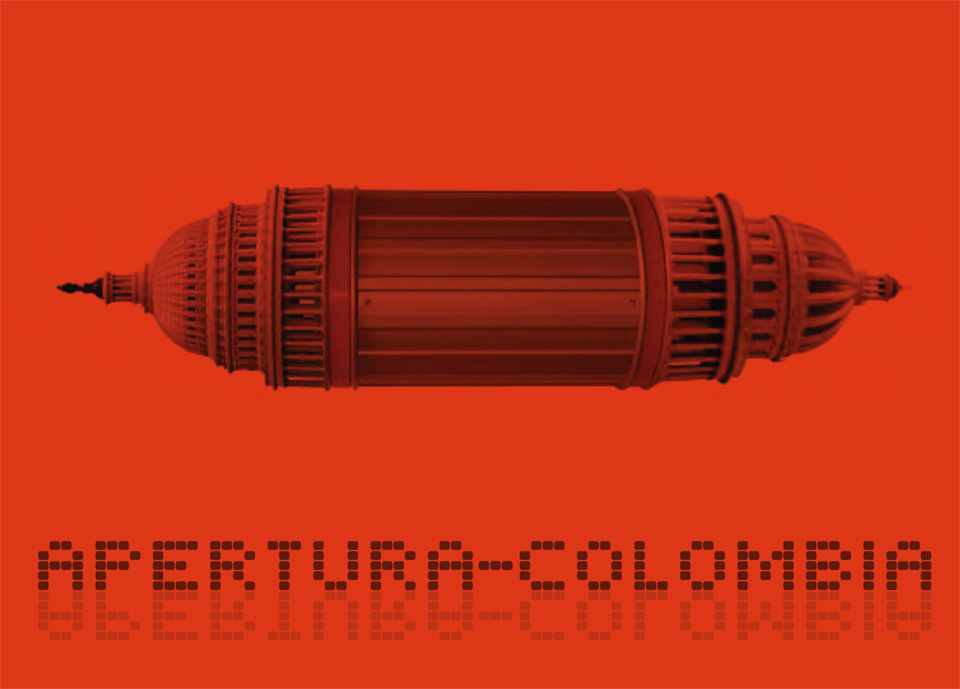 Featured Artists:
Jaime Ávila
Luigi Baquero
François Bucher
Luz Elena Castro
Jesús Abad Colorado
Juan Manuel Echavarria
Maria Elvira Escallón
Juan Fernando Herrán
Óscar Muñoz
Luis Fernando Peláez
Libia Posada
Miguel Ángel Rojas
Andrés Sierra
José Alejandro Restrepo
APERTURA COLOMBIA
Colombia is a South American country characterized by great cities, countless fiestas and carnivals, vibrant music, exotic food and precious resources such as coffee, gold, and particularly, oil. A region of soaring mountains, dense rain forests, dramatic deserts, verdant valleys, and great rivers, it is a paradise burdened by a paradox, one that contains difficult truths and dark secrets.
Fueled by seemingly endless amounts of drug money and United States military aid, a violent civil war has raged intermittently throughout the land for more than half a century. Washington D.C. and the multinational corporations must accept much of the responsibility for the chaos in Colombia. Anti-Communism, the War on Drugs and now the War on Terror – along with our national drug and oil addictions – have in turn expanded the climate of violence and victimization. These wars intensified the endemic poverty, government and corporate corruption, and socio-political upheaval within Colombian society.
According to Colombian sociologist Maria Teresa Uribe, "the conflict has the features of contemporary wars (new wars) in which drug-trafficking and paramilitaries or private militias play fundamental roles. It is a war that changes from one region to another with very fluid ties between the various armed forces; enemies in one region can be allies in another."1
Nevertheless, because of the wealth of Colombia's resources, there is "relative institutional, economic stability (and increased tourism) in the face of high levels of violence, destruction and death."2 Colombians go about the business of living with optimism and resolve. Their open and generous demeanor seems to mask their suffering while simultaneously communicating a longing for release from a terrible cycle of violence that has caused hundreds of thousands of deaths.
The artists in Apertura Colombia are engaged in keeping alive the events and emotions that shape the modern history of the country, in particular, the experience of living under conditions of seemingly endless war and terrorism.
Jesus Abad Colorado's award-winning photographs serve as testimonials to the despair, resilience and strength of those caught in the vicious maelstrom of violence that has encompassed Colombia's recent history. Miguel Angel Rojas, one of the masters of contemporary photography, loaned works from his major retrospective in the capitol city, Bogotá, that encompass the illegal coca industry and resulting drug wars. The equally significant artist, Luis Fernando Peláez, combines photography and sculpture together in poetic works of art that probe the deepest aspects of memory. Juan Fernando Herrán's solemn but beautiful photographs document a secluded field in which simply constructed crosses suggest the slaughter of innocents who have been memorialized.
Juan Manuel Echavarria's absolutely remarkable Monumentos series serves as a poignant response to the tragedy of war, taking its inspiration from W.H. Auden's poem "Beaux des Arts." These monuments are first constructed as sculptures before they are integrated into photographs of especially chosen "official" locations. María Elvira Escallon's project, From the Inside, investigates the aftermath of a devastating act of violence and the scant human evidence that remained. Libia Posada addresses the history of violence towards women. The battered women are presented in attire reminiscent of l8th and l9th century portraiture. The photographs in François Bucher's Short Wave series explores the detritus of a drug lord's abandoned home where past violence resonates like a distant echo. An internationally acclaimed artist, Óscar Muñoz's images categorically chart human loss or disappearance.
The powerful video and accompanying photographs of Luigi Baquero refer to the internal refugee crisis that has subjected the lives of millions of Colombians to abject poverty. José Alejandro Restrepo's exceptional video deals with issues of image, media and the distortion of the national memory. Luz Elena Castro's, Faces of Colombia, offers a powerfully somber portrait of the Colombian people. Andres Sierra's deeply intimate erotic project serves as a powerful metaphor for Colombia's tragic fate. Jaime Avila's Banderas Negras is a symbolic triptych that focuses on the complicity and conflict between the United States and foreign governments.
The works of art in this exhibition go beyond simple reportage or exposé. They document events and the emotional turmoil caused by terror, exclusion and loss. They demonstrate the artist's ability to come to grips with the violent modern history of Colombia and transform this history into a positive source of truth and regeneration. Further, they are works of universal import, created by gifted artists who are uniquely suited to understand and interpret the radical, violent zeitgeist of the 21st Century.
Curators: James Harithas and Ryan Perry
Curatorial advisor: James Lerager
1 María Teresa Uribe, Memory and Violence in Colombia, Memory, Place, and Displacement: A Journey by Jesús Abad Colorado, The UBC Museum of Anthropology, Medellin, 2006, p.7
2 Ibid, p.7