ALEXANDER ZEMLIANICHENKO JR
In Russia today there are two major political parties, nationalist and communist, and a large and very fluid number of very small parties. The largest demonstrations are fundamentally either one or the other major political persuasions. There are also many demonstrations by groups upon groups for rights and against repression. Groups join groups, for and against, until the numbers swell into the many thousands. These excellent news photographs by one of Russia's best photo-journalists, Alexander Zemlianichenko Jr, bring to life images of the Russian people standing up for their rights and beliefs.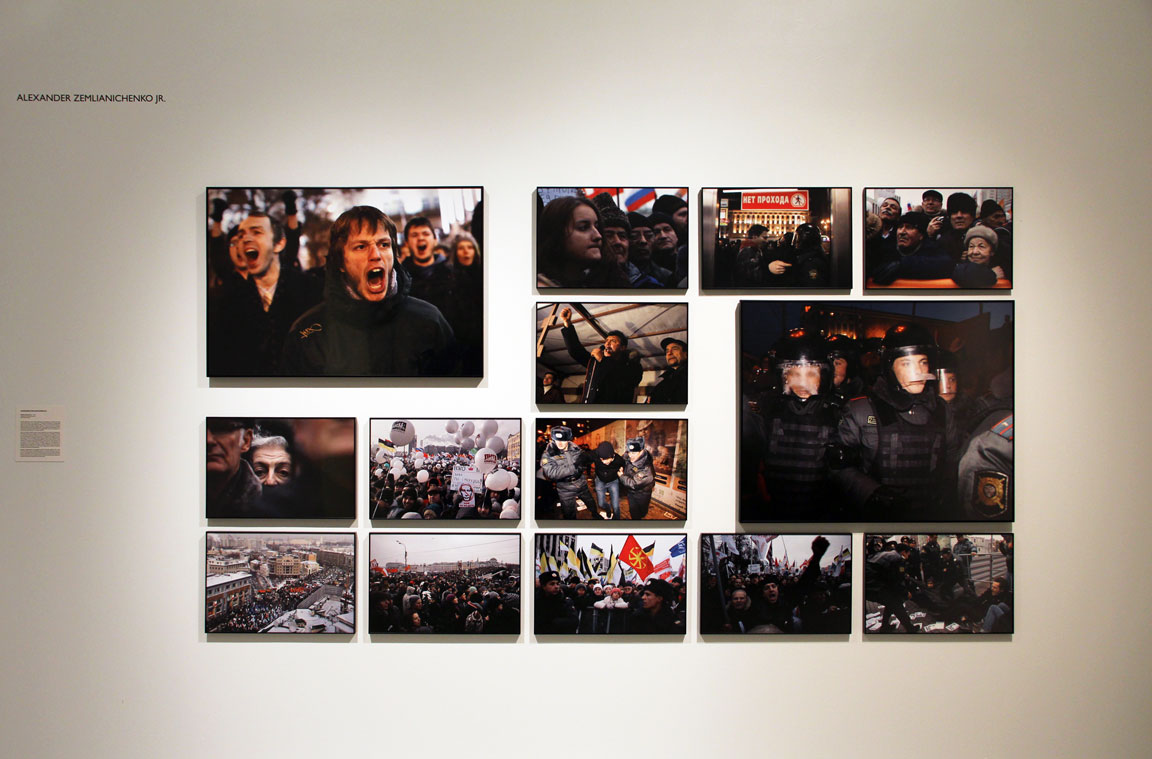 Alexander Zemlianichenko Jr's photographs, Installation view Station Museum of Contemporary Art, 2012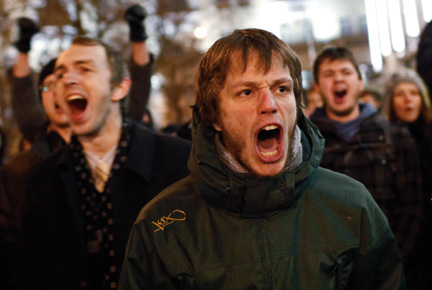 (AP, Associated Press Photo/Alexander Zemlianichenko Jr) Young protesters shout anti-Putin slogans during protests in Triumphal Square in Moscow, Russia, against alleged vote rigging in Russia's parliamentary elections., 2011, Inkjet on photo paper, 30" x 35"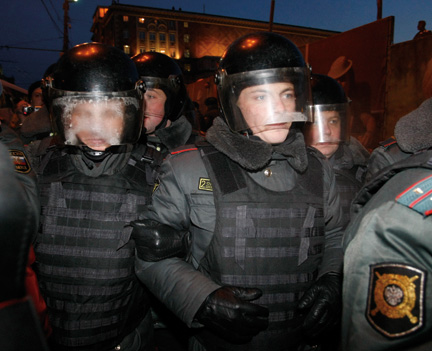 (AP, Associated Press Photo/Alexander Zemlianichenko Jr) Russian police officers, with their helmets' protective visor frost covered, block a square where demonstrators gather for an unsanctioned opposition rally in downtown Moscow, Russia, Tuesday, Jan. 31, 2012. The Russian opposition protests on the 31st of each month are a nod to the 31st article of the Russian constitution, which guarantees the right of assembly., 2012, Inkjet on photo paper, 35" x 40"
bio:
Alexander Zemlianichenko Jr was born in Moscow, Russia. He graduated from All-Russian State University of Cinematography (VGIK). After graduation and completing his service in the Russian military, he began working for the Red Star magazine. Since then, he has worked as a photographer for the international and Russian editions of Newsweek magazine, Ogonyok magazine, L'Express, the Los Angeles Times, as well as other Russian newspapers including the Rossiylskalya Gazeta. Since 2007, he has worked on assignments for the World Picture Network agency and for their clients. In 2007, he received a Russian Press Photo award and in 2008, was selected for the Eddie Adams Workshop. Since 2008, he has been collaborated with the Bloomberg News agency. This year he received the 2012 Best of Russia award for his 2011 portrait of a WWII veteran.