ANN HARITHAS
Ann Harithas' approach to making art has roots in photography, painting, assemblage, collage, and recycling. With these, she uses combinations of materials and non-traditional techniques to establish a new context for discarded materials. In a commodity-driven society, the political, economic and social problem of dumping, storing or finding new uses for the vast quantity of used, obsolete or discarded objects and materials is a major challenge. Internalizing this challenge is fundamental to her artistic process.
She rescues her materials from literally hundreds of magazines. For her latest works, she deconstructs her past collages, editing out certain elements and then adding to them newer images. On one level, the meaning of her imagery changes by simply changing the context of the images, the placement and orientation of one to the other. On another level, by transforming these images into personal expressions, she liberates them from pulp advertising and propaganda.
Harithas is responding to the need to create a fresh urban approach to art. Her art is a combination of traditional and non-traditional approaches of collage, photography and painting, expanding the community's vision of the cultural potential through her imagery by making something meaningful. Through her creations, she expresses her devotion to her Catholic and Texas roots, creations that not only explore our connection to the Native Americans but also to the disconnection between modern society and nature.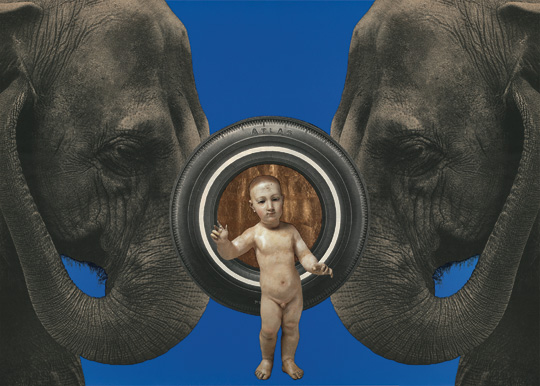 Ann Harithas, "Elephant Cherub Tire", 2012, Digital collage on plex and gold leaf on painted canvas, 48" x 67"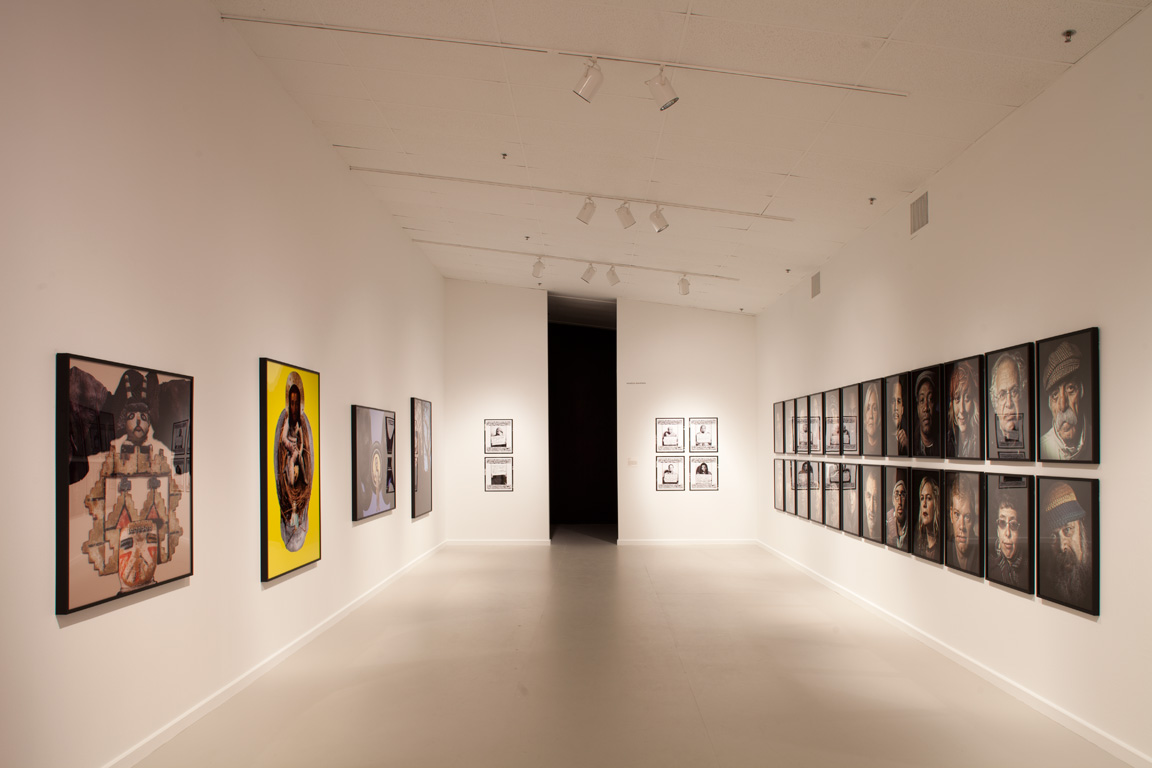 Left: Installation view Station Museum of Contemporary Art, Ann Harithas, 2012
bio:
Ann Harithas was born in Houston, Texas. She received her BA at University of Texas, in Austin, and MFA at Rice University, in Houston. "Collage has been part of my life as long as I can remember. My great aunt had her own glue for pasting the images she cut out of magazines into scrapbooks. I used these scrapbooks to learn my first words, and from this point I was hooked. For me collage is a language, the medium I use to express my thoughts, hopes and dreams." Harithas has had solo exhibitions in Texas and Washington, DC. She has participated in many group exhibitions in the United States, Mexico, Peru, India, and China. Harithas lives and works in Houston, Texas.