ERNESTO LEON
Occupy Houston
This is a historic moment – we do not know how long it will last. A new movement appears in Houston as the Occupy movements, nationally and globally, have grown and manifested as an unprecedented event in American society, which is inspiring other protests that are yet to come.
From what I have seen of Occupy Houston, the emotional response of the participants in the conversations and general assemblies among people of all backgrounds – from all races, all ideologies, the vast diversity of artists, the homeless, the workers, housewives, students, social activists, and dreamers all with something in common – can only be described with one word: "anger."
In Houston, curiously, this movement has flourished among NASA, the medical center, Houston port, the tweeds of highways — Houston, an oil city and a city of many immigrants from all corners of the world, from all paths of life.
I am a free and independent communicator, the kind who carries only a small camera. I see the city as a stage and its people as the actors in search of the soul of those who are concerned with the people, with their rights and their challenges. I seek to give a voice to the social activists who represent the other side – that other voice not heard. My work is to give a louder voice to those concerned with a better world, a more fair world.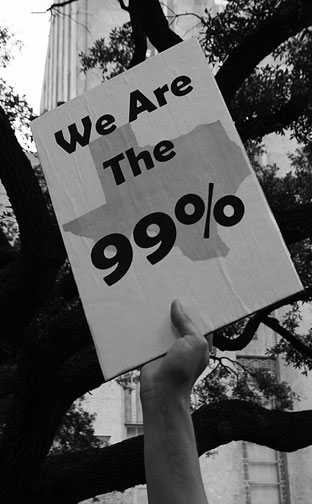 Ernesto Leon, "Occupy Houston", 2012, Inkjet on photo paper, 48" x 26"
bio:
Ernesto Leon was born in Caracas, Venezuela. Leon studied at the School of Art and Crafts in Madrid, Spain; the Restoration and Conservation at the National University of Mexico ( UNAM); and studied visual arts at NYU, New York City, NY. With more than 25 years of experience and many solo shows and group exhibitions, Leon has been invited to numerous international venues, and his work is part of private and public collections in the United States as well as abroad. He is involved in community affairs, independent media and non-commercial radio, and has weekly programs on Radio Pacifica and on Houston MediaSource TV. Ernesto's works revolve around themes such as cultural resistance, anti-globalization, anti-war, anti-imperialism, and anti-racism movements, along with natural environment concerns and discrimination. The power of media under people hands is the main subject at Leon's creative work. Leon produces art, community-media, perform lectures, and exhibits his work across the continent. He currently lives and works in Houston, Texas.