JOE CARDELLA
CONTEMPLATION
The time has come, though not of our choice, to contemplate the human condition in respect to saving our planet and Mother Earth. The inhumanity we have continued to show toward each other must be addressed, as well as the rape and pillage of our Mother Earth. The profits of the few are increasingly becoming aggrandized at the expense of the many. If we are all to survive, and truly survive, this economic condition must continue no longer.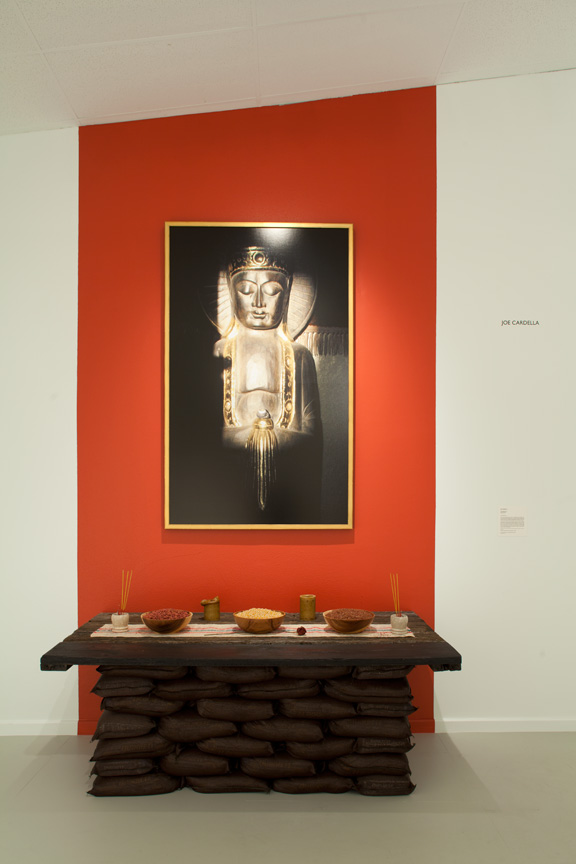 Joe Cardella, "Contemplation", 2012, Inkjet on photo paper and mixed media, Photo: 90" x 66", Installation dimensions vary
It is because of this continuous up trend of global economic greed and because of the disregard and ignorance of climate and planetary alignment change that we live in such perilous times. War is not a viable solution at this point of civilization but a shift away from such abhorrent solutions to the many problems we face is attainable if we are willing to accept and to let go our differences. Our conflicts are but the last gasps of a hierarchical global society unwilling to let go their illusions of world dominance. We must stand up. These few who are in control are destroying that which they torture to possess – a sad irony, and for nothing more than their personal gain.
The harvest of the Earth will easily sustain and feed the peoples of the Earth if only we allow it to do so.
THINK OF THESE THINGS. BE STILL AND KNOW. – Buddha
Joe Cardella, Publisher Emeritus, ARTLIFE Limited Editions
www.art-life.com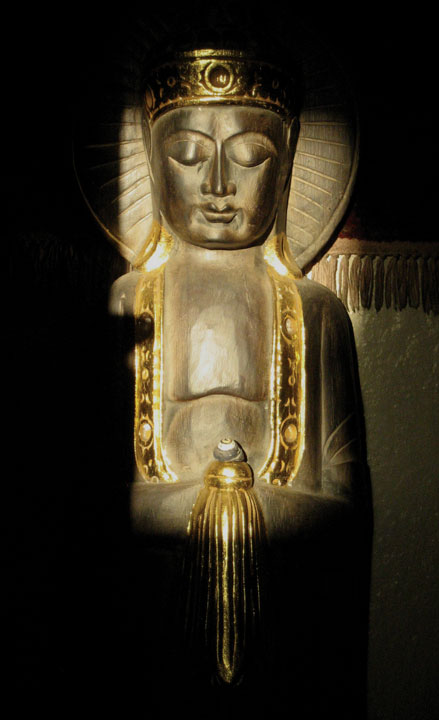 Joe Cardella, "Contemplation", 2012, Inkjet on photo paper and mixed media, Photo: 90" x 66", Installation dimensions vary
bio:
Joe Cardella was born in New Britain, Connecticut, in 1945. From 1967 – 1969, Cardella served in the US Navy as a Global Communications Specialist. He received his BFA in Design, Experimental Studios and Advertising from Syracuse University, in 1971. Cardella was involved with the Everson Museum, Syracuse, NY, from 1973-1974; Oakland Museum, Oakland, CA, in 1975; Mexican Museum, San Francisco, CA, in 1976; Santa Barbara Museum of Natural History, in 1979; and the Ventura County Museum of History and Art, CA, in 1980. He is the founder and publisher of ARTLIFE LIMITED EDITIONS, Santa Barbara, CA, in 1981. "Monthly from 1981-2006, ARTLIFE is the Longest Continually Published Artists' Periodical of the Twentieth Century." Publisher Emeritus, ARTLIFE LIMITED EDITIONS, www.art-life.com, www.art-life.com/MOCA, ARTLIFE MUSEUM on Facebook, MrArtlife1 Channel on YouTube. Cardella currently resides in Ventura, California.