VANESSA BAHMANI
WE ARE THE 99 PERCENT
1,000 Occupy Wall Street Portraits taken at Occupy NYC and Occupy Oakland, CA.
My project is a portrait-series taken at Occupy Wall Street, NY and Occupy Oakland, CA. The goal is to photograph over 1,000 portraits from Occupy NYC andOccupy Oakland combined. I simply set up a photo booth on site, handed people a dry-erase board and a marker and asked them to write their reasons for being at Occupy Wall Street. The thoughtfulness and sincerity that people have shown has inspired me to pursue this work and expand it further.
I've made a conscious decision to work with a large film camera, known as a medium format camera, using black and white film. I chose to do this because people realize they have to sit still much longer than if I were shooting digital, but more importantly it allowed people the extra time to feel the emotions of their written sign, and think about their roles as active participants in this historic moment. The end result is always a quiet and personal portrait.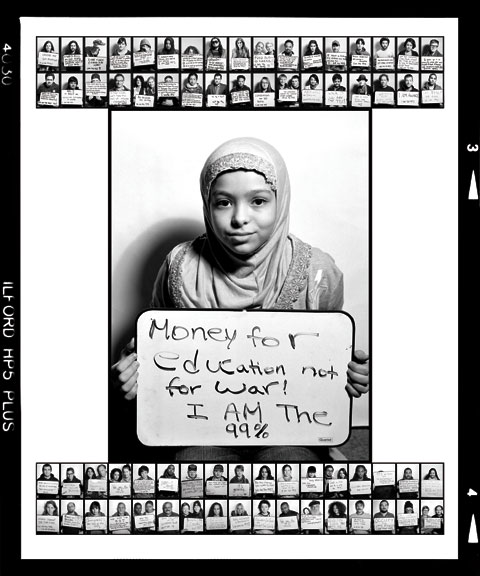 Vanessa Bahmani, From the series: "We Are The 99 Percent", 2011, Inkjet on photo paper, 24" x 20"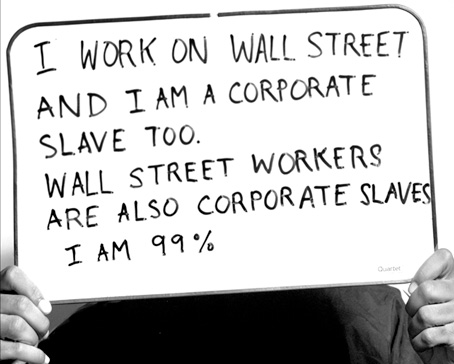 bio:
Vanessa Bahmani was born in Guatemala City, Guatemala and raised in Berkeley, CA. She graduated from UC Berkeley, CA, with a degree in Ethnic Studies. She earned her MFA degree in Photography from School of Visual Arts in New York, NY, in 2009. Bahmani has exhibited her work at the Power House Books Arena in Brooklyn, NY, in 2008; The ISE Cultural Foundation, New York, NY, in 2009; and the Ramscale Gallery, NYC during the Manhattan Cocktail Classic, in 2010. In 2009, Vanessa collaborated with recording Artist Rachel Fine and exhibited artistic photographs of Ms. Fine at the Red Bull Space NYC. In 2011, Vanessa had a solo show at the Museum of Southern Food and Beverage in New Orleans, and was exhibited at the RUSH Arts Gallery in NYC, in 2011, as part of the prestigious CURATE NYC project. Bahmani's Photography won her much acclaim. In 2009, she was a nominee for the NY Photo Festival and was awarded first place at the Neo Pop Realism International Art Competition. Bahmani continues to photograph documentary work, continues to teach photography, and exhibits her work regularly. She currently lives in Brooklyn, NY.