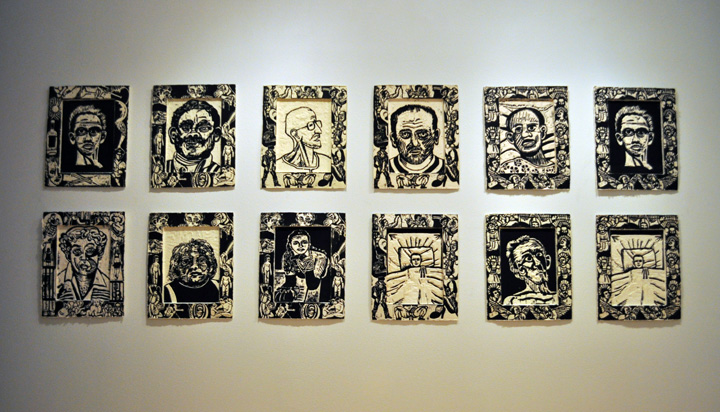 Eric Avery, "The New Face of AIDS – Patient Portraits in Frames of HIV Risk", 1997 – 2010, edition of 10 molded paper woodcuts on handmade paper
My Patients
In the United States, approximately one million people are infected with HIV.  Twenty five years into the epidemic we well know the ways that the virus can lead to infection.  What is less well understood are the cofactors that contribute to new infections and complicate the treatment of those already infected.  Evidence exists that psychiatric disorders are common in people living with HIV.  In many, the psychiatric disorder was present before HIV and was associated with the HIV risk exposure and infection.  After infection with HIV, these disorders impair quality of life and often complicate treatment adherence and modifying risk behaviors.
For sixteen years I have worked as a psychiatrist in the HIV Clinic and as a psychiatry consultant on the medical wards at The University of Texas Medical Branch in Galveston, Texas.  In the early 1990s, many of my patients were dying of AIDS.  By 1996, when better medicines became available, the terrible reality of dying of AIDS was transformed into the struggle to live with HIV/AIDS.
Through the years, as I sat and talked with my patients or stood at the patient's bedside during ward rounds, some patients gave me permission to draw their portraits in my small sketchbook.  In my studio, I redrew the small sketches onto woodblocks to make a set of woodcut portraits called The New Face of AIDS.
My patient's stories, while always individual, often shared two common themes; 1) Traumatic childhoods (verbal, physical, emotional and sexual abuse associated with low self-esteem, shame and depression; 2) Street drugs (marijuana, alcohol and cocaine) used by my patients in an attempt to alleviate internal pain.  Struggles with sexual orientation  and "coming out" were often part of my patient stories.
Both male and female survivors of childhood abuse often find themselves caught in cycles of compulsive behaviors, which replicate parts of a traumatic past.  In an effort to dissociate from these painful living memories, street drugs are used.  Reliving a traumatic past and using drugs to alleviate pain often were factors contributing to the HIV infection.
As I listened to my patients, I translated these common themes into a set of five woodcut frames representing this complex part of the HIV story.  The first frame shows the four forms of child abuse; the next, the cycle of abuse and substance use; the third shows compulsive sex; the fourth, a prisoner women's story and the fifth, the frame of angels is saying "arrivederci" to those who are gone.
Because the frames are generalized representations of HIV risk, an individual's portrait could fit into different frames.  Because of this, these prints do not reveal specific parts of the stories the patients told me.  Hopefully they will help you understand the complex construction of the HIV reality and care needs of many people living with HIV/AIDS.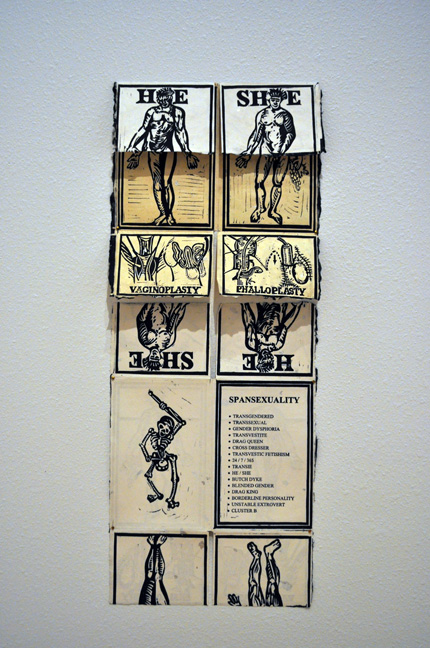 Eric Avery, "Spansexuality", 1997, linoleum block print on handmade paper
---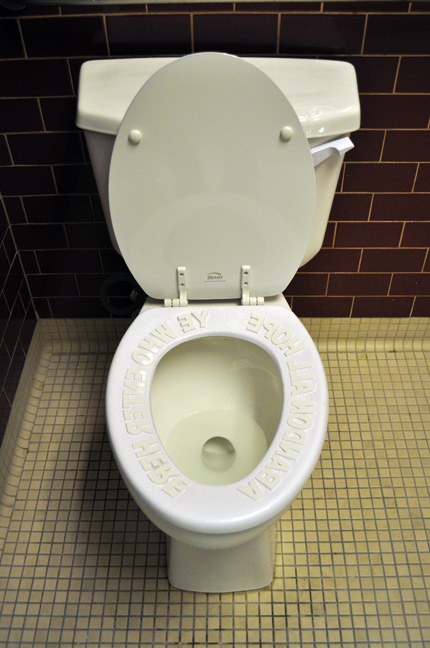 Eric Avery, "Print Back", 2009, sandblasted toilet seat
---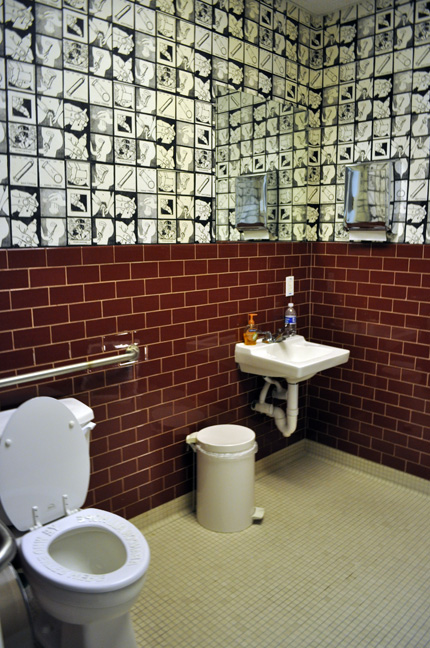 Eric Avery, "How to Use a Male and Female Condom", 1995, photo relief engraving on mulberry pape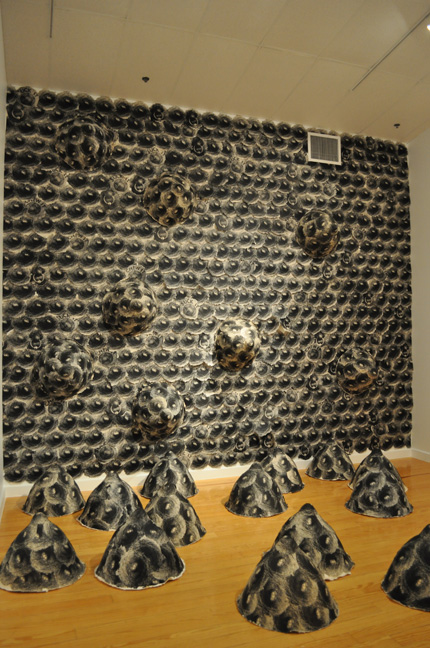 Eric Avery, "The Skin of My Mother", 2010, photo engravings on on hand-made Kozo paper (wall installation) & "Stalactits", 1997 & 2010, photo engravings on hand-made Kozo paper on molded paper form (floor installation)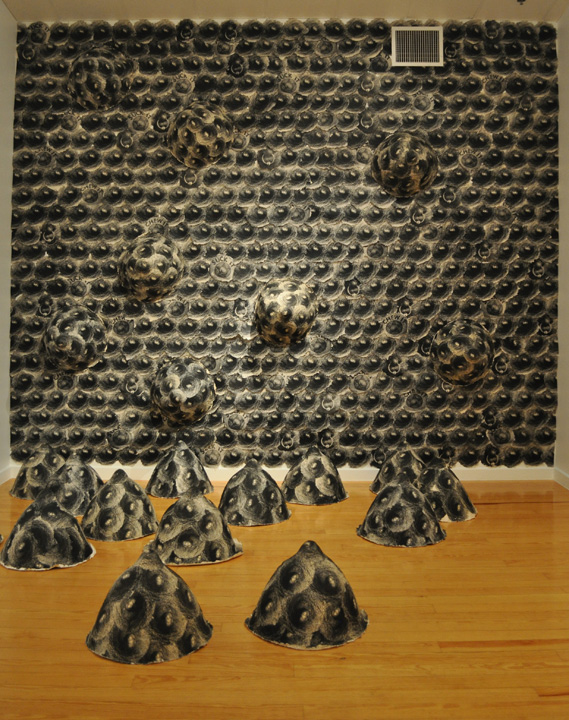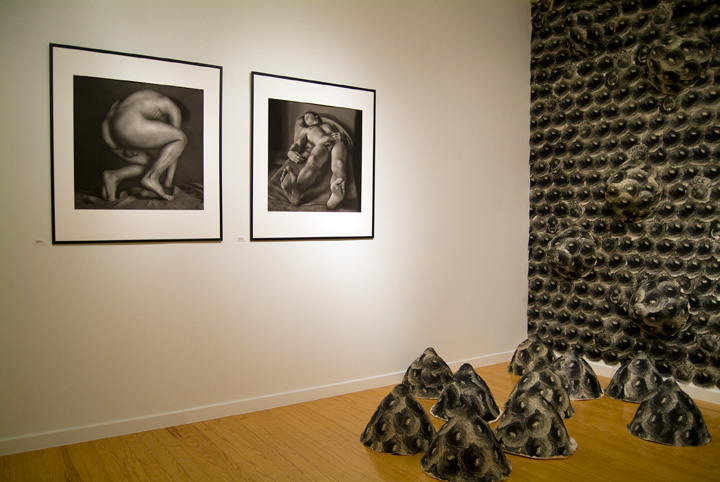 Eric Avery, (left) "Dear Robert", 1990, (Collaboration: Eric Avery and Roger Haile, photographer), digital photographs on rag paper & (right) "Resurrection", 1990, (Collaboration: Eric Avery and Roger Haile, photographer), digital photographs on rag paper