Zanele Muholi
Only Half the Picture
In her series Only Half The Picture, South African Artist Zanele Muholi's portrayal of black lesbian sexuality is unprecedented and alien to African cultures.  As a photographer and prominent activist she offers us a break from the stereotypical and challenges racist and sexist thinking that otherwise detracts one from seeing "oneself rather than only to be seen by others."  Muholi's imagery is unapologetic and forces you to cross into unfamiliar territory.
Being
The Being series continues to explore the love and intimacy within our relationships regardless of the on-going pain and struggles that we face.  My projects are about our histories, struggles and lives.  Lovers and friends consented to participate in the project, willing to bare and express their love for each other.  Each photograph features a couple in their different settings of their daily lives, and within their daily routine.
I have the choice to portray my community in a manner that will turn us once again into a commodity to be consumed by the outside world, or to create a body of meaning that is welcomed by us as a community of queer black women.  I choose the latter path, because it is through capturing the visual pleasures and erotica of my community that our being comes into focus, into community and national consciousness.  And it is through seeing ourselves as we find love, laughter, joy that we can sustain our strength and regain our sanity as we move into a future that is sadly still filled with the threat of insecurities – HIV/AIDS, hate crimes, violence against women, poverty and unemployment.
excerpt from: Mapping Our Histories: A Visual History of Black Lesbians in Post-Apartheid South Africa by Zanele Muholi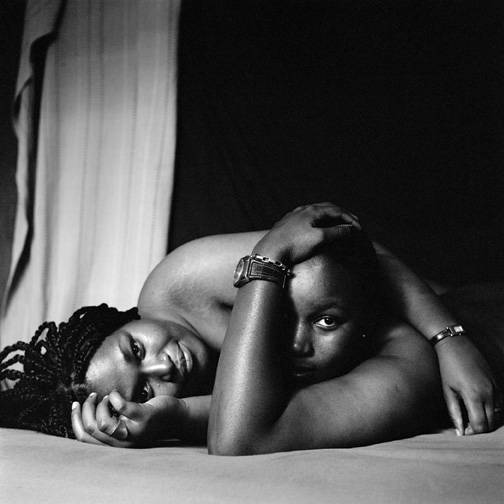 Zanele Muholi, "Apinda Mpako and Ayanda Magudulela, Parktown, Johanneburg", 2007, from the series: "Being", digital print