Carlos Runcie-Tanaka is an artist with superb artistic skills, compelling visual insights and a profoundly spiritual sense of mystery. He was born in Lima, Peru; his heritage is Peruvian, Japanese and English. Lima is the multi-cultural capital of Peru on the Pacific coast of South America. With over eight million inhabitants, Peru's demographic consists of Indigenous people, Europeans, Americans and Afro-Peruvians. The predominant population are the Mestizos – they are of mixed blood of European and Indigenous ancestry. This cultural diversity is important to issues of personal and ethnic identity in all of contemporary art. Tanaka is engaged in integrating his various sources and influences. His artwork presents contemporary universal symbols of interethnic unity. He has absorbed the lessons of traditional pottery and pioneered an approach that goes beyond obvious or direct references to traditional Peruvian, Japanese and European art. As a result, Tanaka's works also bring the strands of his identity together with ancient mysteries that have a powerful contemporary resonance.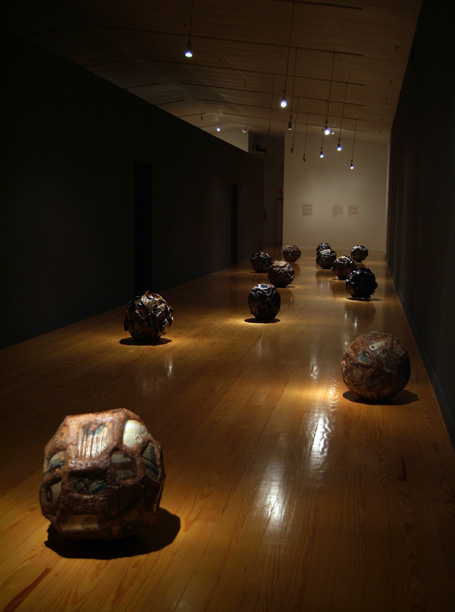 CARLOS RUNCIE TANAKA, "Huayco / Kawa / Río", 2003-2006, Variable dimensions, Fragments of dinnerware, stoneware – multiple firings in gas kiln, 1300ºC., Diameter of each sphere: 60 cm. Ceramic fragments produced between years 1988 and 2005, broken in the kiln and used to create new spherical forms. The artist associates this production to the ritual abandon made by Japanese Master Potters of broken pieces of pottery that are thrown away into the river.
---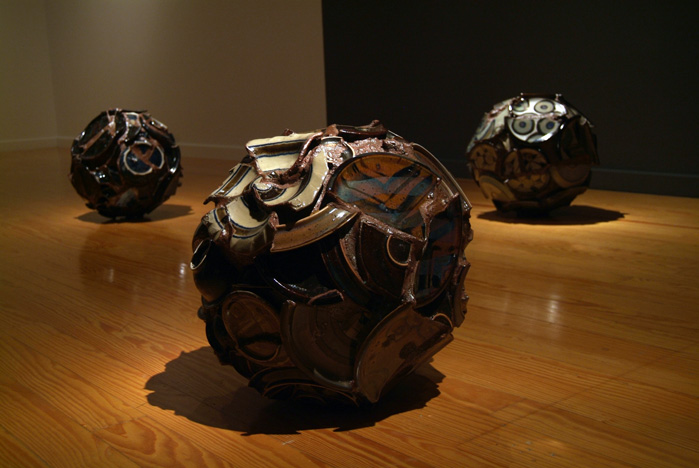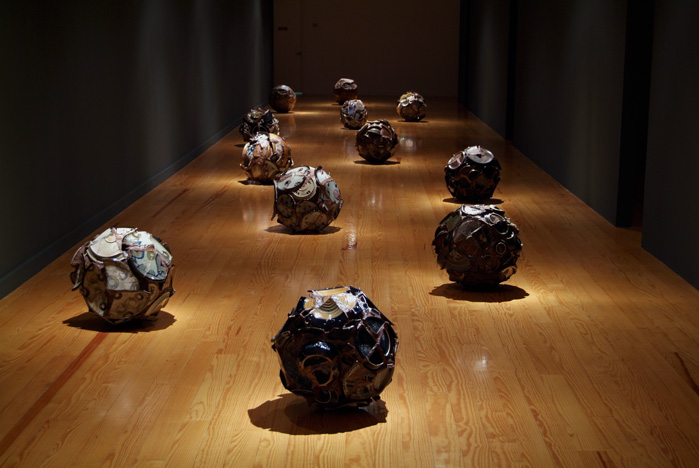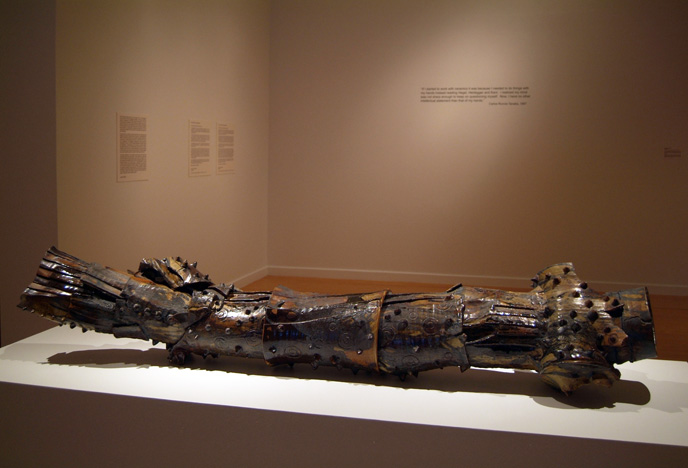 CARLOS RUNCIE-TANAKA, "Progresión orgánica", 1988-89, 165 x 37 x 33 cm., Stoneware – Multiple firings in gas kiln, 1300ºC. Thrown and altered segments which are then assembled through multiple firings. Painted and glazed with iron oxide and stains.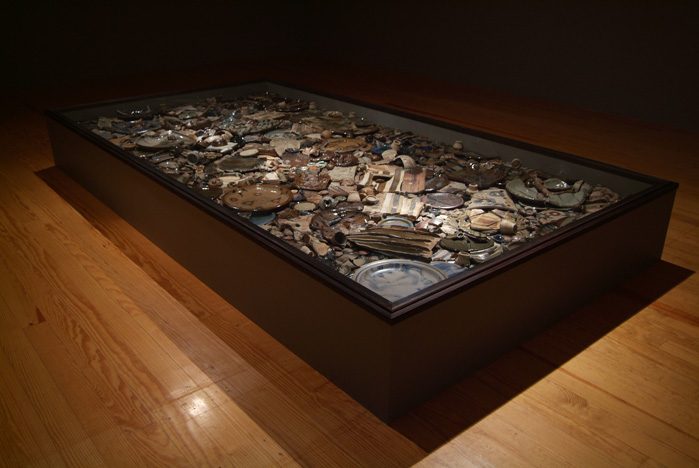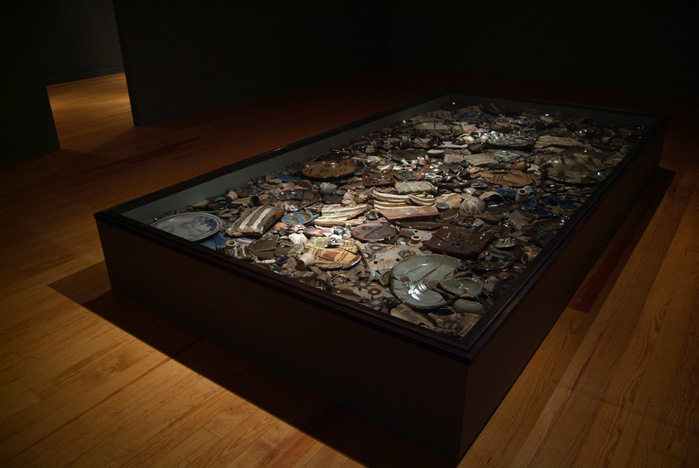 CARLOS RUNCIE TANAKA, "Manto", 1978-2006, 378 x 204 x 47 cm., Installation – glass case containing ceramic fragments, Stoneware, gas fired, 1280-1350ºC. "Textile" made of fragments of ceramic objects produced and broken between years 1978 and 2006. These fragments, broken and then reattached, are an attempt to see Peru as a country where many cultures and races meet in search of a common identity. different geographies one nation one world.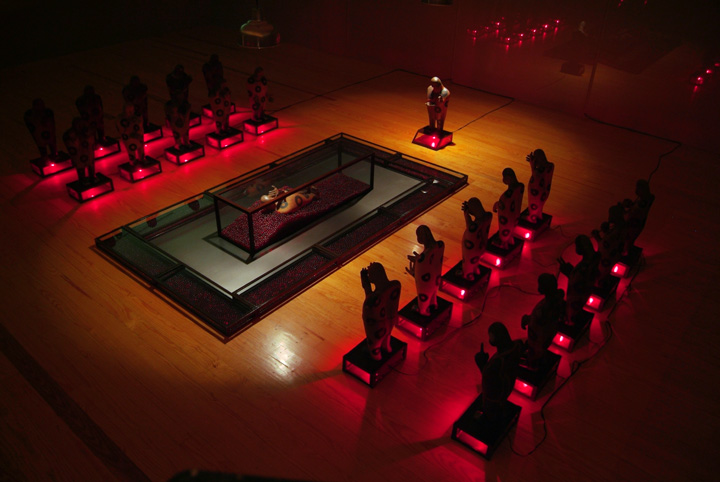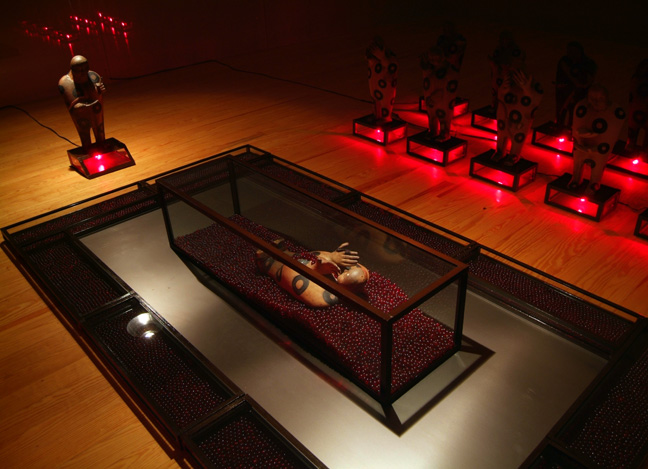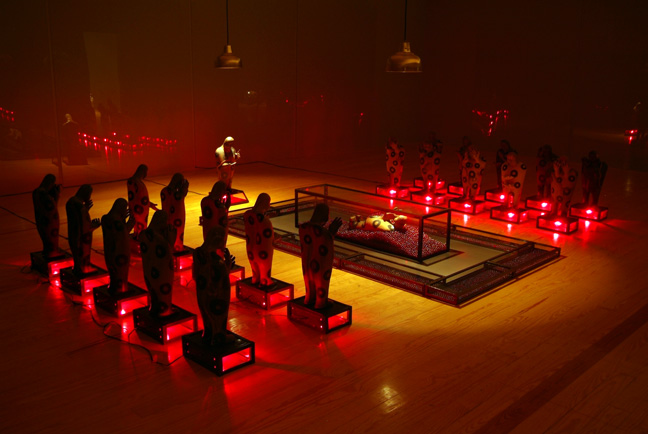 CARLOS RUNCIE TANAKA, "Tiempo detenido / No Olvidar", 1997-2006, Variable dimensions, Installation – 22 ceramic figures, 11 glass/metal cases with red light, 10 glass/metal cases containing red marbles, 1 glass/metal urn containing 1 ceramic figure and three lamps hanging from the ceiling in a room with inner walls covered completely by glass panels. Taking inspiration from his hostage experience at the Japanese Ambassador's Residence where he was held captive with many others by the MRTA (Movimiento Revolucionario Túpac Amaru) in Lima, December 1996, the artist creates this installation with allusions to violence and the lack of communication. Time detained – Do not forget
CARLOS RUNCIE-TANAKA (born Lima, 1958) – Once a philosophy major at the Universidad Católica del Peru, Carlos Runcie-Tanaka chose instead to dedicate himself to the art of pottery making, undertaking studies in Brazil, Italy and Japan. He has had numerous solo exhibitions in Latin America, the United States, Japan and Italy, and he has participated in group and other collective exhibitions in Peru and abroad, representing his country in contemporary art exhibitions such as the IV and V Havana Biennial (1991 and 1994), the 49th Venice Biennale (2001), the 8th Cuenca Biennial, V Barro de America Biennial in Caracas and the 26th Sao Paulo Biennial (2004).  In the last few years Runcie-Tanaka has also been invited to teach at prestigious American and Japanese universities as a guest professor and artist-in-residence.  Since 1978 he has run a pottery studio in Lima, where, aside from his artwork, Runcie-Tanaka creates functional pieces made from stoneware clays and local materials that are fired in gas kilns reaching temperatures of 1,300ºC – 2,375ºF.