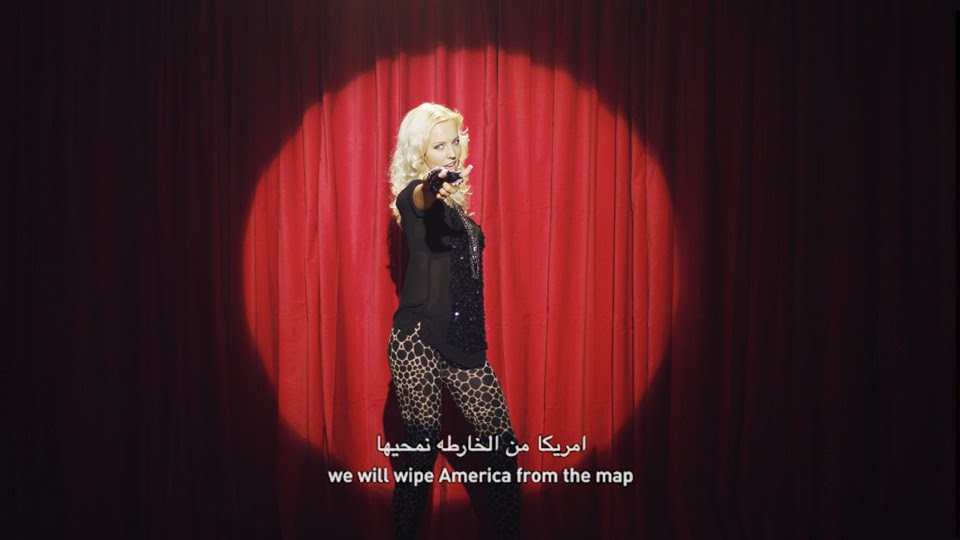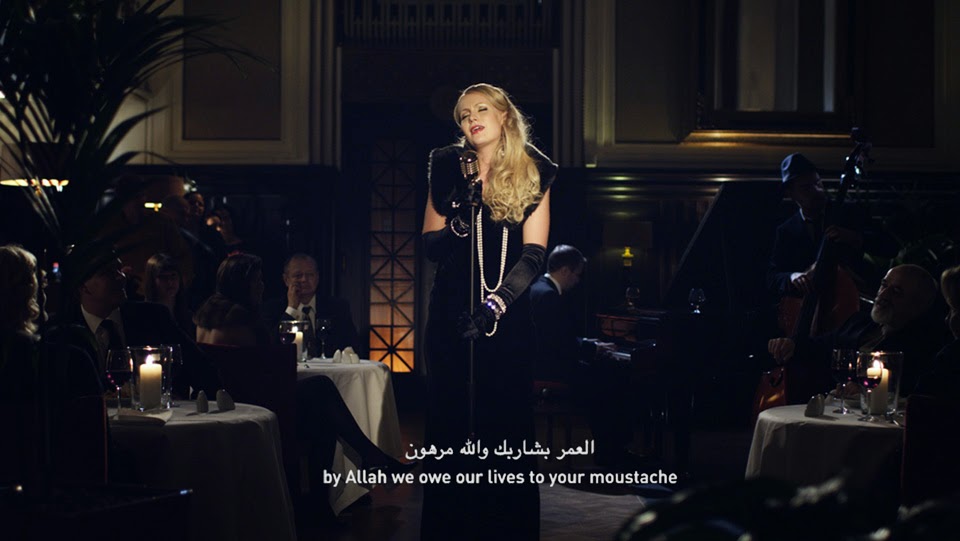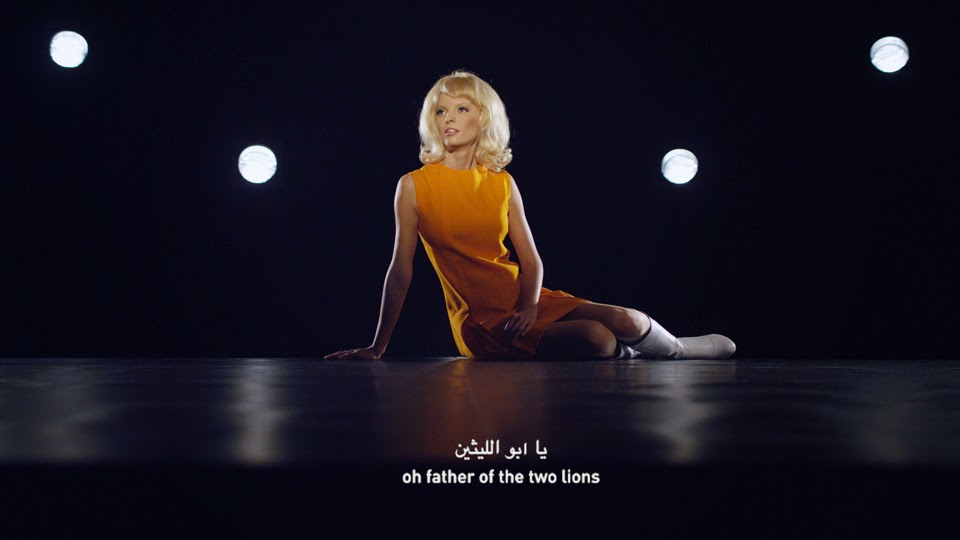 Adel Abidin, "Three Love Songs", 2010. Three-channel video installation, Duration: 8 min. 41 sec., Courtesy of the artist and Hauser and Wirth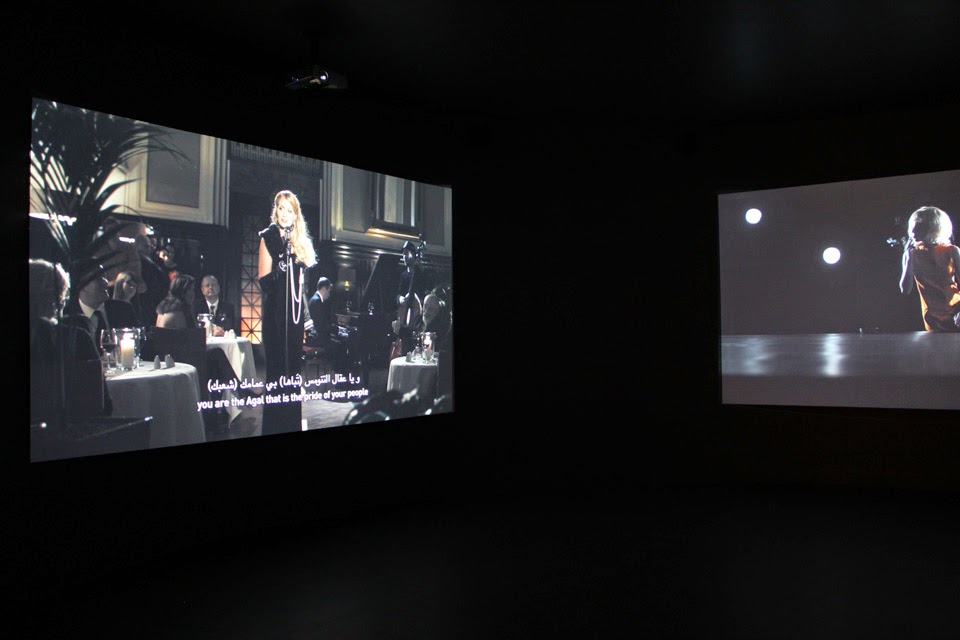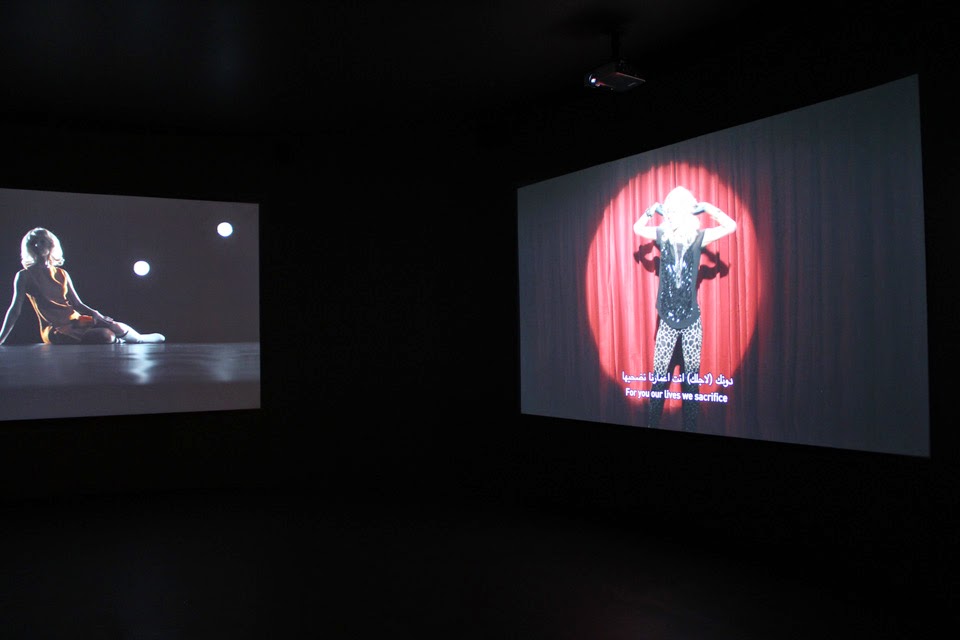 Adel Abidin
Three Love Songs, 2010
Three-channel video installation
Duration: 8 min. 41 sec.
Courtesy of the artist and Hauser and Wirth
Three Love Songs explores the multiple ways to use and manipulate images to create juxtapositions of meanings from the mundane to the extreme. This piece examines terror and love, and how façades are played through song, specifically Iraqi songs that were commissioned by Saddam Hussein, used to glorify the regime during the decades of his rule.
The installation syncs three stylized music videos (lounge, jazz, and pop) that each features an archetypal western chanteuse: young, blonde, and seductive. Each video's dramatic "look" creates a different atmosphere but the songs dedicated to Saddam Hussein tie them together. The lyrics are sung by the performers in Arabic (Iraqi dialect) and are subtitled in English and Arabic. The singers do not know what they are singing about, but they are directed to perform (through voice and gesture) as though the songs were traditional, passionate love songs. It is this uncomfortable juxtaposition—between the lush visual romanticism and the harsh meaning of the lyrics, between the seduction of the performer and comprehension of the viewer—that forms the main conceptual element of this work.
About
Adel Abidin is a visual artist. His multimedia practice explores the complex relationships between culture, politics, and identity. Using a sharp palette of irony and humor, Abidin gravitates towards social situations dealing with elusive experiences and cultural alienation. Abidin uses his cross-cultural background to create a distinct visual language often laced with sarcasm and paradox, while maintaining his ultimately humanistic approach.
Abidin was born in Baghdad, Iraq, in 1973 and currently lives and works in Helsinki, Finland. He has exhibited in both group and solo exhibitions, including shows at the Museum of Contemporary Art Kiasma, Helsinki; DA2 Domus Artium, Center of Contemporary Art, Salamanca, Spain; the 10th Sharjah Biennial, UAE; the 17th Biennale of Sydney, Australia; and the 52nd and 54th Venice Biennale, Italy. In 2010, he exhibited his well-known video installation Three Love Songs (2010) at Mathaf: Arab Museum of Modern Art in Doha, Qatar.
In 2011, he presented his critically acclaimed video installation Consumption of War. Abidin's exhibitions in 2012 included: L'institut du Monde Arabe, Paris, France; a major solo exhibition at ARTER in Istanbul, Turkey; and at Kunsthalle Winterthur, Switzerland. He has also been selected to participate in a group show in Tokyo, Japan, at the Mori Art Museum. In 2013, his 2006 video installation 52 Guaranteed Affections was selected to be part of the big celebrated anniversary group exhibition at the Mori Art Museum. Abidin's work has been part of a group exhibition at the Mead Gallery in the United Kingdom. He has also exhibited at Hauser & Wirth Gallery in London, UK. The New York Times selected his work Al-Warqaa (2013) as the main piece of Middle Eastern art during Art Dubai, UAE.