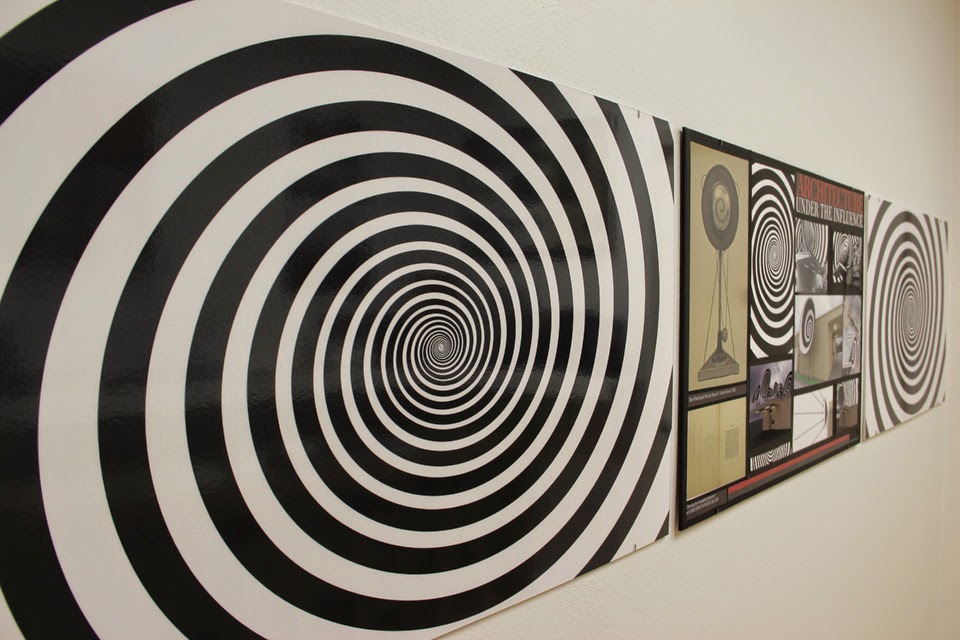 Maura Sheehan
Architecture Under The Influence, 2014
Satellite dish and paint
Dimensions variable
A white disk with a bold, black SPIRAL painted on its concave surface, spinning a syncopated pas de deux with Salvatore Scarpitta's installation In Hoc Signo (Highway Sign) (2000). Like a hat at a tilt, the way Jesse Lott dons a cap at a rakish and debonair angle, Architecture Under The Influence is influenced by what Mel Chin once said about his installation The Manila Palm (1978–present) at the Contemporary Arts Museum Houston: It manifests the idea of an art museum as an "oasis," a wellspring, and a refuge.
The Spiral is an idea accumulator, an optical magnet, a churning generator, attracting and funneling ideas and inspiration. The museum in turn, distills, decodes, and disseminates what's accumulated. Together, the curving spiral and the museum's boxy base of a building create a collaborative cultural ecology.
The image of a spiral has a visceral pulse. It implies constant motion. Our eyes spin, turn, and wind up its lines, generating momentum and inducing a mild hypnosis in the venerable tradition of Duchamp and Man Ray's rotary experiments to destabilize vision in Anemic Cinema (1926).
Architecture Under The Influence will provide the roadside service of an optically induced, one-blink hypnotic hallucination. A protective oculus, it would be the Station Museum's Third Eye.
– Maura Sheehan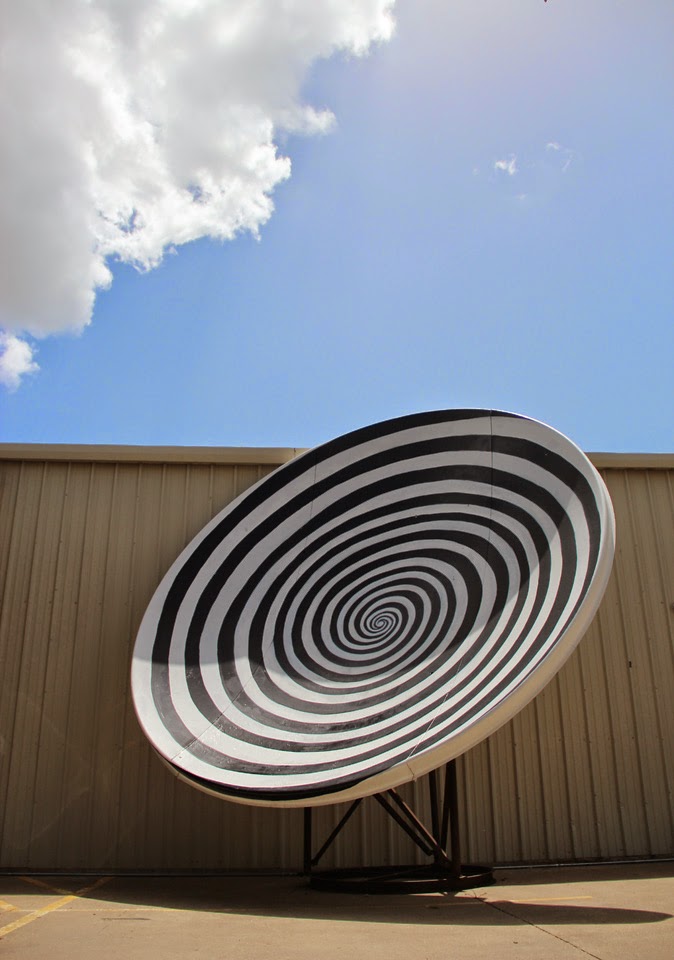 About
Installation artist and sculptor working with a wide range of unconventional materials, Maura Sheehan focuses on making work that is accessible to as broad an audience as possible, with an emphasis on activating a dynamic between the art, ideas, and their context.
Sheehan's work has been exhibited in the United States and abroad, including shows at the LIU, Humanities Gallery, Brooklyn, NY (2013); the Vision Festival, Roulette, NY, and the Nave Museum, Victoria, TX (2012); Arts for Arts, Teatro LATEA, Clemente Soto Vélez Cultural and Educational Center, New York, NY, and Pierogi Gallery, NY (2010); ARTIFARITI, West Sahara, Africa, and Galerie Berlin Am Meer, Berlin, Germany (2010); Centro Andaluz de Arte Contemporáneo, Seville, Spain (2000, 2006); Sirius Arts Centre, Cork, Ireland (2001); and Museum of Contemporary Art Kiasma, Helsinki, Finland (1997). Sheehan is director of MAP (Manhattan Art Program), a non-profit educational organization for underserved children, and teaches in the Fine Arts Department at the School of Visual Arts in New York.