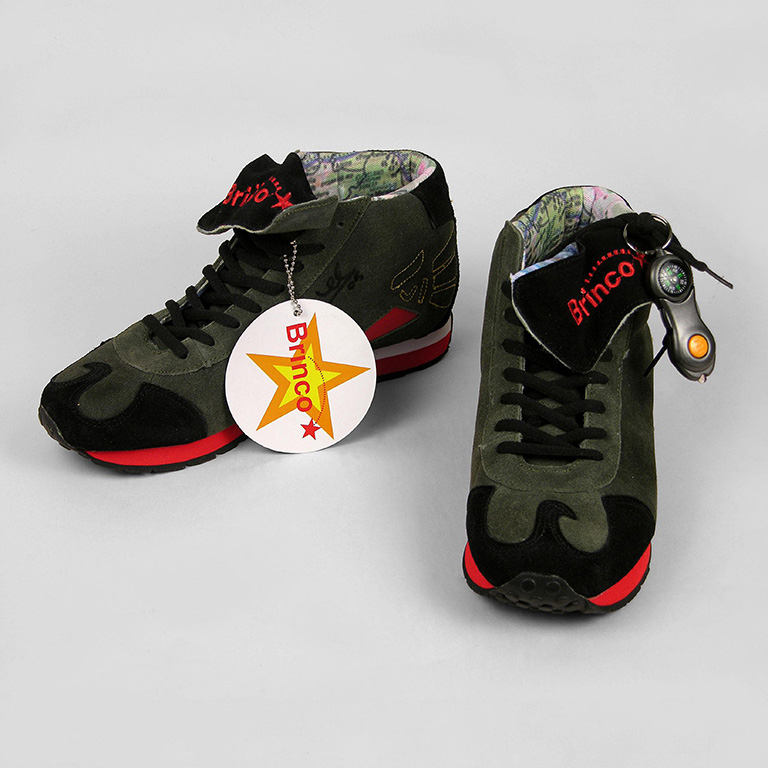 Judi Werthein, "Brinco" (Jump), 2005, Mixed media
Judi Werthein
Brinco (Jump), 2005
Mixed media
Brinco (Jump) is an American corporation that designs and fabricates sneakers specifically to cross the Mexico–US border. The sneakers were distributed free of charge to people in Tijuana attempting to cross the border illegally. Its inner sole includes a map, a flashlight, and a compass, as well as pockets to hide money and medicine. Printed on the back of the sneaker there is an image of Santo Toribio Romo the official saint of the Mexican migrants as recognized by the Vatican. Underscoring the tensions sparked by the global spread and mobility of the maquiladoras (factories that migrate in search for low labor wages), the sneakers are manufactured in China, imitating the same manufacturing strategies and models of exploitation in depressed economies outside the United States by American footwear companies. In counterpoint to its potential for utilitarian use by Mexican migrants, the sneakers were sold as a one-of-a-kind art object in the United States, responding to the avid consumerist culture. Brinco inserts itself on the flows of labor and goods across the border and addresses issue of the inequality among world economies and markets—the contradiction between free movement of goods and trade and the restricted movement of people. Brinco illustrates the existing contradictions between fashion, competition in the manufacturing industry, and migratory flows—themes that lie—as well as the heart of the dynamics of labor geography in today's world.
Biography
Through products, projects, and videos that are exhibited, marketed, and displayed in a global context, Judi Werthein's artwork confronts issues regarding identity, commerce, and the social policies that govern them. She is founder of El Centro de Investigaciones Artisticas in Buenos Aires, Argentina.
Her work has been shown in both solo and group exhibitions, including institutions such as; Museum of Contemporary Art, Tokyo; the Tate Modern, London; Art in General, New York; De Appel, Amsterdam; Vera List Center for the Arts and Politics, New York; Moderna Museet, Stockholm; The Aldrich Museum of Contemporary Art, Ridgefield, Connecticut; Musée d'art Contemporain de Montréal; The Bronx Museum for the Arts, New York; and the Center for Contemporary Art, Vilnius, Lithuania. Werthein participated in the 11 Lyon Biennial, France; Gotteburg Biennial, Sweden; Manifesta 7, Bolzano, Italy; Bucharest Biennial, Rumania; InSite_05, San Diego/Tijuana, USA/Mexico; La Bienal de Pontevedra, Galicia; and the 7th Bienal de La Habana, Havana, Cuba.