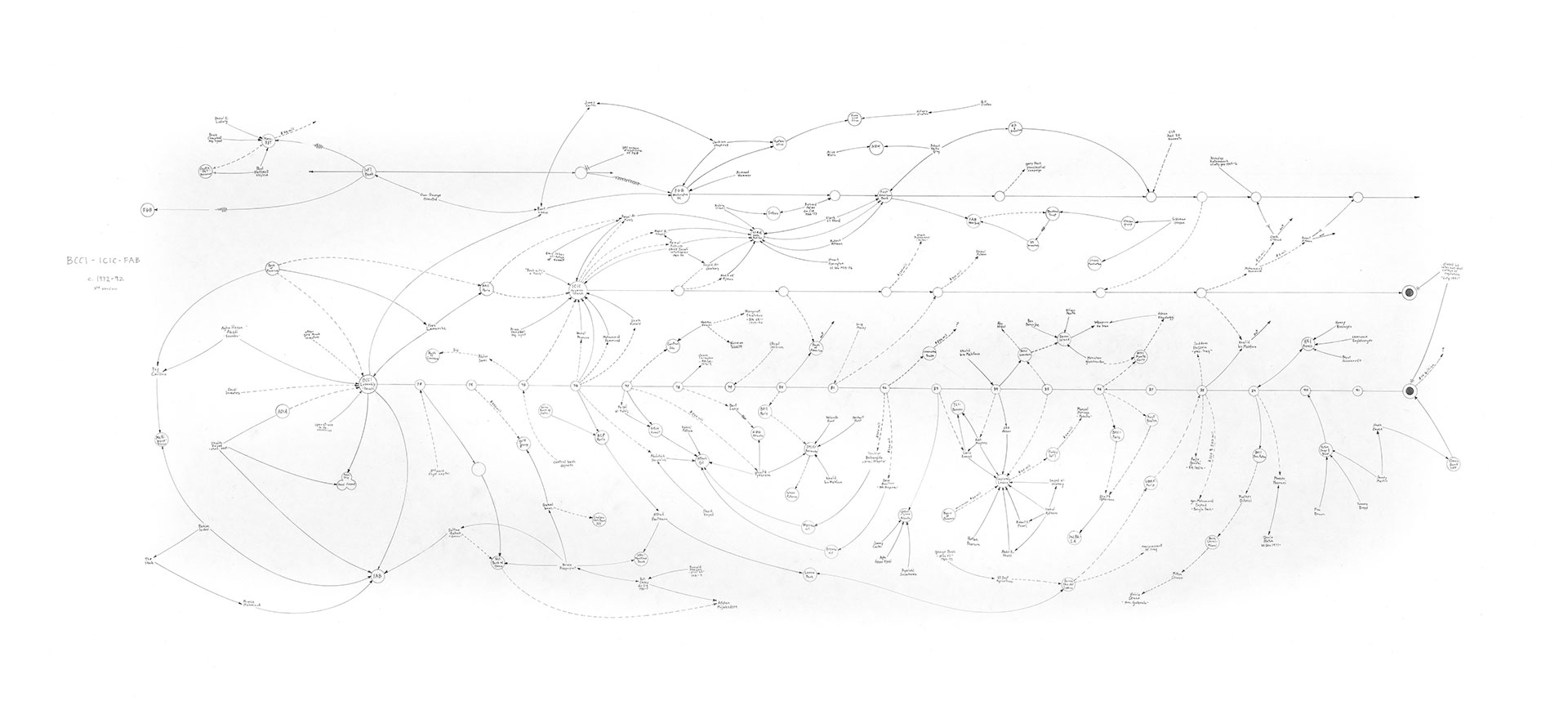 Mark Lombardi, "BCCI, ICIC and First American Bankshares c.1972-92", 3rd Version, 1996
Mark Lombardi
Crossing the Line: Drawings 1994–98
In 1994 I began a series of drawings I refer to as "narrative structures." The first drawings focused on the recurring American savings and loan crises of the late 1970s and 80s, including works on Lincoln Savings, Home State of Ohio, Silverado of Denver, and Sharpstown State Bank (Houston). In this group, one finds numerous instances of campaign finance-inspired political intervention in the regulatory process that ultimately proved very costly to taxpayers and depositors.
Western governments play a vital role in the scheme by condoning theft and pay-offs and encouraging the formation of businesses designed to collect, launder and reinvest the loot. In drawings on IOS of Geneva, World Finance of Miami, and Nugan Hand Limited of Sydney, Australia, the activities of a number of notorious (and well-connected) flight capital specialists are reviewed. At one time each of these firms controlled an elaborate network of ghost companies, secret trusts, offshore accounts, and other opaque financial instruments that were used by "friendly" political elites throughout the world to transfer plundered assets from one country to another, usually without a trace.
Some large international banks occasionally combine flight capital services like those mentioned above with a broader political agenda. BCCI, the shadowy Arab bank that plotted with American powerbroker Clark Clifford (and others) to illegally acquire First American Bank of Washington DC, also provided credit facilities for "black operations" like arms smuggling, espionage, guerrilla warfare and political bribery. Banca Nazionale del Lavaro, a large state owned Italian bank, connived with US and British officials in a plan to lend $5 billion to finance the Iraqi arms build-up of the mid 1980s. The Vatican Bank helped scores of wealthy Italians evade taxes (for a fee) while at the same time extending succor and loans to armed right-wing extremists in Brazil, Uruguay, and Argentina.
Biography
Mark Lombardi (March 23, 1951–March 22, 2000) was an American neo-conceptual artist who specialized in drawings that document alleged financial and political frauds by power brokers, and "the uses and abuses of power." Lombardi was born in the town of Manlius, New York, just outside Syracuse, New York. He majored in art history at Syracuse, University, and graduated with a BA in 1974. While still an undergraduate, Lombardi had a job as chief researcher for a 1973 art exhibit Teapot Dome to Watergate—a multimedia collage, all of whose elements focused on various US governmental scandals; it was motivated by the then-ongoing Watergate scandal.
In 1975, James Harithas (the former director of the Everson Museum of Art in Syracuse) hired Lombardi to be an assistant curator at the Contemporary Arts Museum in Houston, Texas, where Harithas had become the director. Lombardi worked there for approximately two years, until 1976. He later took on a position as a general reference librarian for the Fine Arts department in the Houston Public Library, started a regional artist archive, and authored two books, one on the drug wars and another on the neglected and forgotten art genre of panoramas. During this time, Lombardi was also an abstract painter of no particular note; he pursued painting as a hobby during his career as an archivist and reference librarian. After a divorce in October 1996, Lombardi moved to Williamsburg, Brooklyn at the urging of his friend Fred Tomaselli.
There, he participated in a group show at the Drawing Center, called Selections: Winter 1997, followed by two solo art shows: Silent Partners, shown in November 1998 at Pierogi 2000 in Brooklyn, and Vicious Circles, a work drawing upon Jonathan Kwitny's book of the same name dealing with Mafia involvement in the legitimate commercial markets, shown in 1999 at the Devon Golden Gallery in Chelsea. He also participated in another group show, Greater New York: New Art in New York Now in February 2000 at the P.S. 1 art gallery. Then on March 2000 Lombardi moved all his work to Pierogi 2000, bolted his apartment from the inside and allegedly hung himself, the day before his birthday and three years after he had moved to Williamsburg.