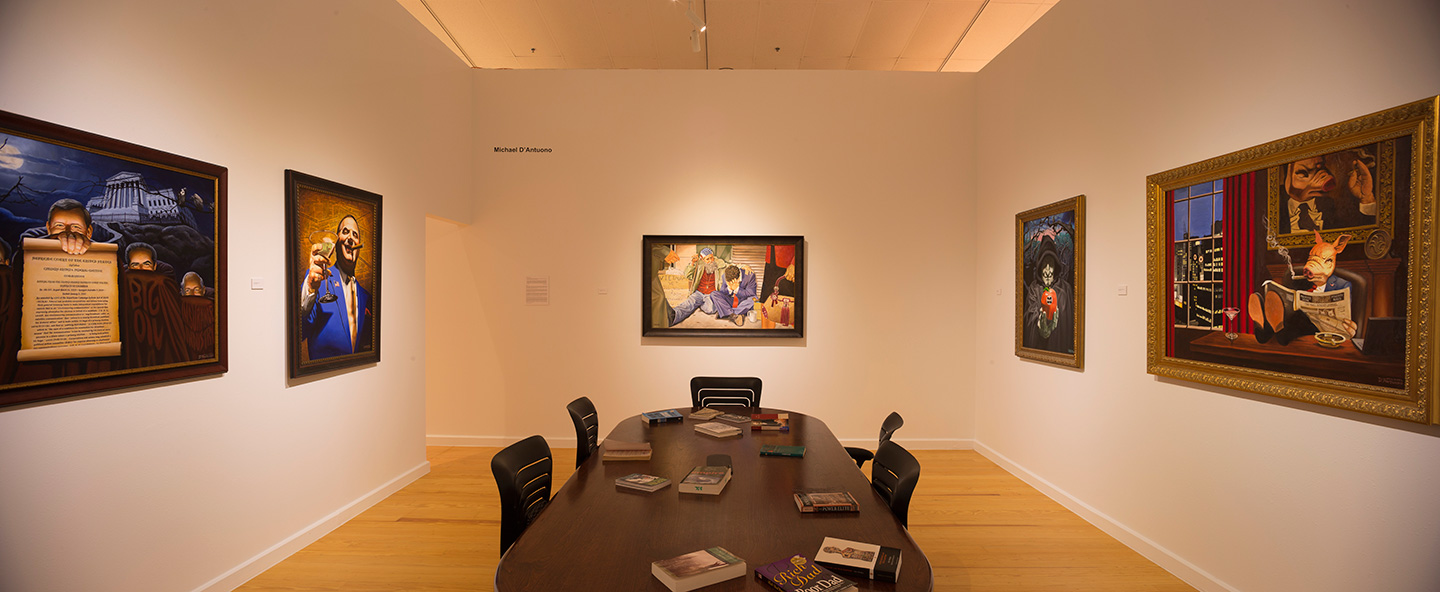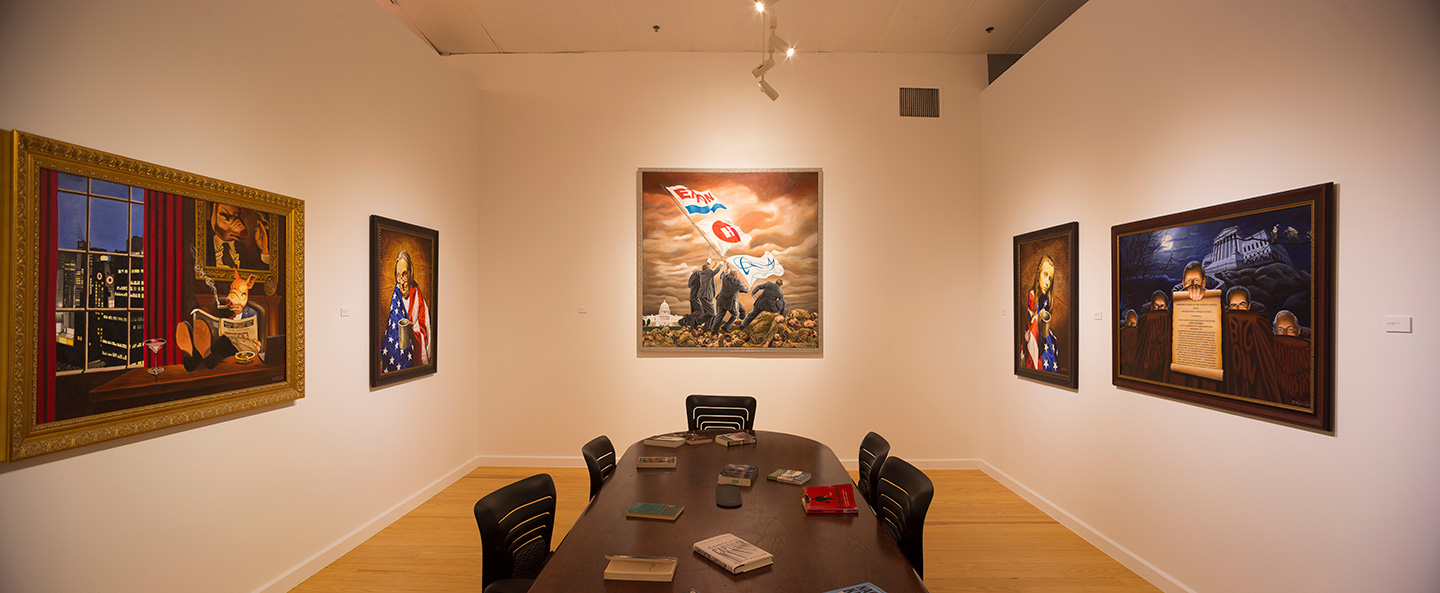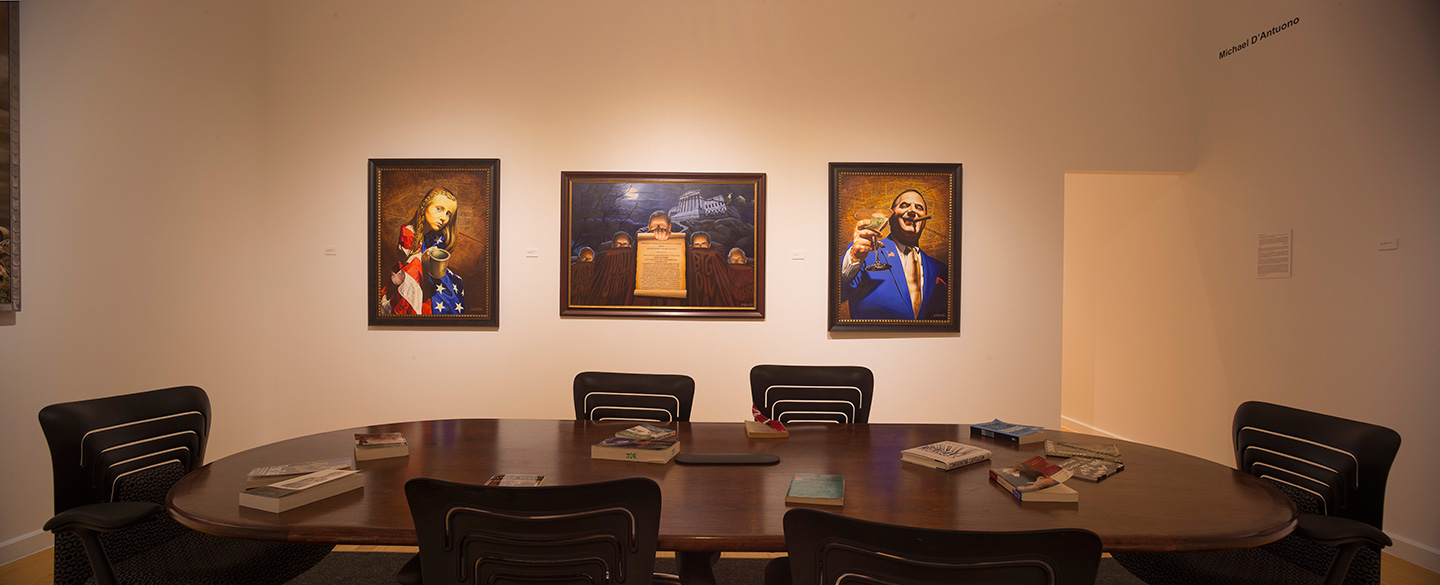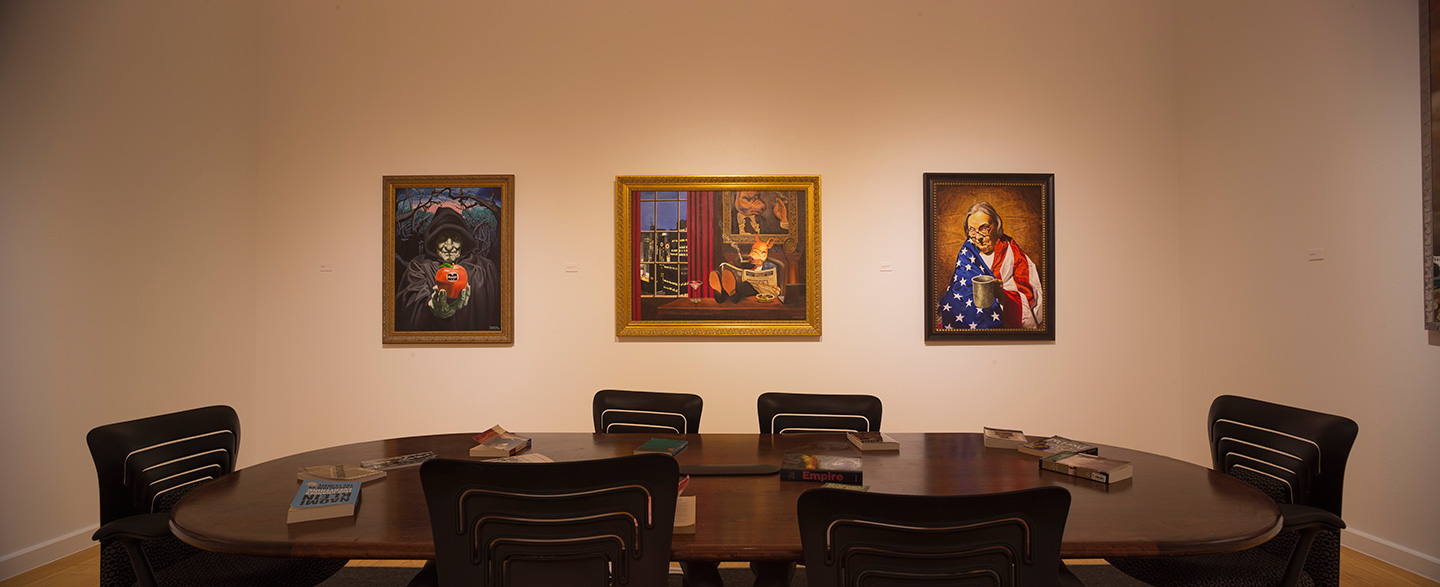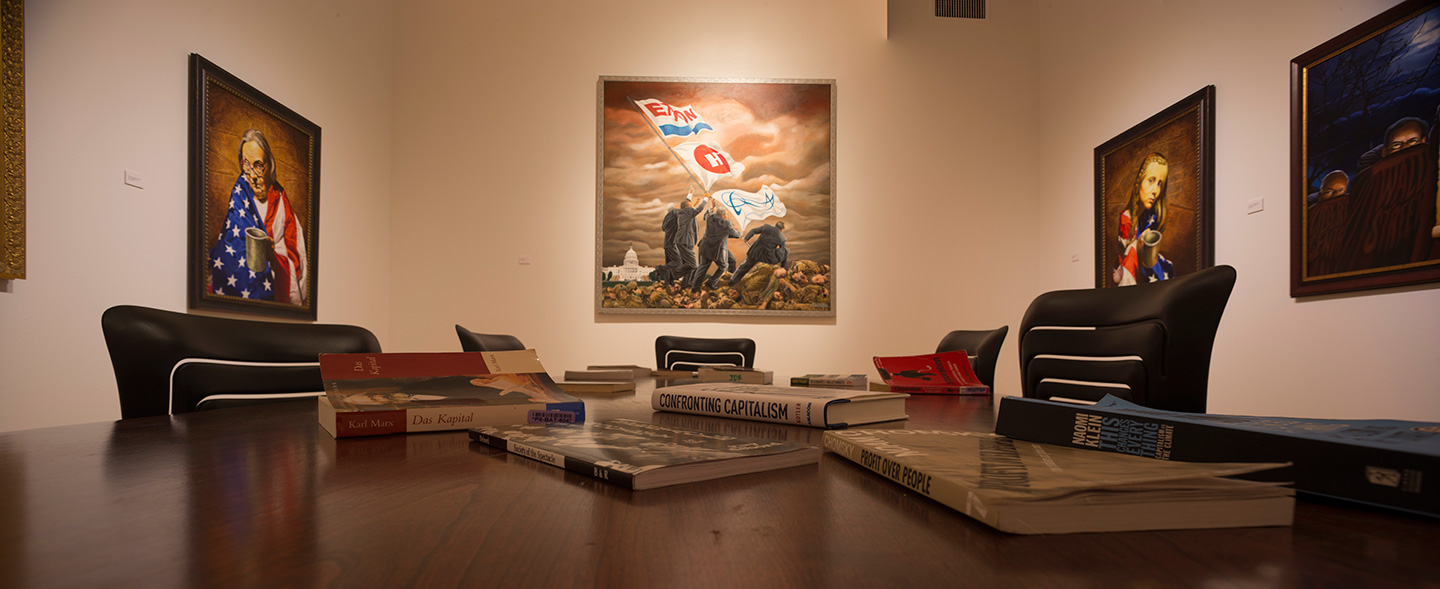 Michael D'Antuono, installation view, 2015, Station Museum of Contemporary Art
Michael D'Antuono
My art is meant to create discourse, challenge people to think more deeply about serious issues and inspire them to improve sociopolitical conditions.
After 911, we waged the "War on Terror" by attacking a country that had no responsibility for the attack. A dozen years, thousands of lives and trillions of dollars later we are about to escalate our military involvement in the Middle East to thwart a group of terrorists we basically created. This painting questions why we stay mired down in a self-perpetuating war. Was it to protect our country? Or was it to protect certain corporation's profits? The frame of this painting is comprised of the dog tags of over two hundred American soldiers who died in Iraq before reaching the legal drinking age.
– Michael D'Antuono
Biography
Michael D'Antuono studied illustration at Parsons New School of Design. His artworks have been used for the front pages of the Wall Street Journal and the Washington Post. As an art director at New York ad agency DMB&B, D'Antuono produced notable award-winning campaigns including the Fixodent & Forget It campaign which is still running twenty-seven years later.
As an advertising insider, D'Antuono is able to appropriate and reassign the manipulation of public opinion for political agendas. D'Antuono's painting, The Truth, depicts President Obama wearing a crown of thorns in front of the presidential seal in a crucifixion-like pose. Intended to let the diverse interpretations of the piece expose the effect of political prejudice on subjectivity, the piece ignited such great protest that D'Antuono was forced to cancel his planned installation in New York's Union Square Park on President Obama's 100th day in office.
The painting became an international news story with the artist receiving thousands of angry emails from the religious right, who interpreted the art as blasphemy. The artist then exhibited the painting at an art exhibition in Boston in 2012. Once again the painting created a firestorm. Former presidential candidate Herman Cain denounced the piece and the president of the Catholic League for Religious and Civil Rights called for its removal. Glenn Beck devoted a show to defending the artist's First Amendment right to exhibit his art, and then for a later show invited Michael as his guest.
Enraged that George Zimmerman had the gall to auction his first painting on eBay, thus capitalizing on his notoriety for killing an unarmed black teenager D'Antuono put his 2013 painting A Tale of Two Hoodies for auction on eBay with 50% of the proceeds to go to the Trayvon Martin Foundation. On that very same day George Zimmerman completed his auction at a little over $100,000. As D'Antuono's piece was on track to pass the price of Zimmerman's, eBay shut down the auction for violating their strict policy of not selling any items related to the KKK. Ironically, eBay was already selling over 1,600 other items listed on their site related to the KKK when they removed the painting. D'Antuono seeks to challenge sociopolitical issues through illustrative paintings juxtaposing controversial imagery and media performances disseminated through populist media. His paintings are in the collections of numerous populist icons ranging from Arnold Schwarzenegger to Pete Seeger.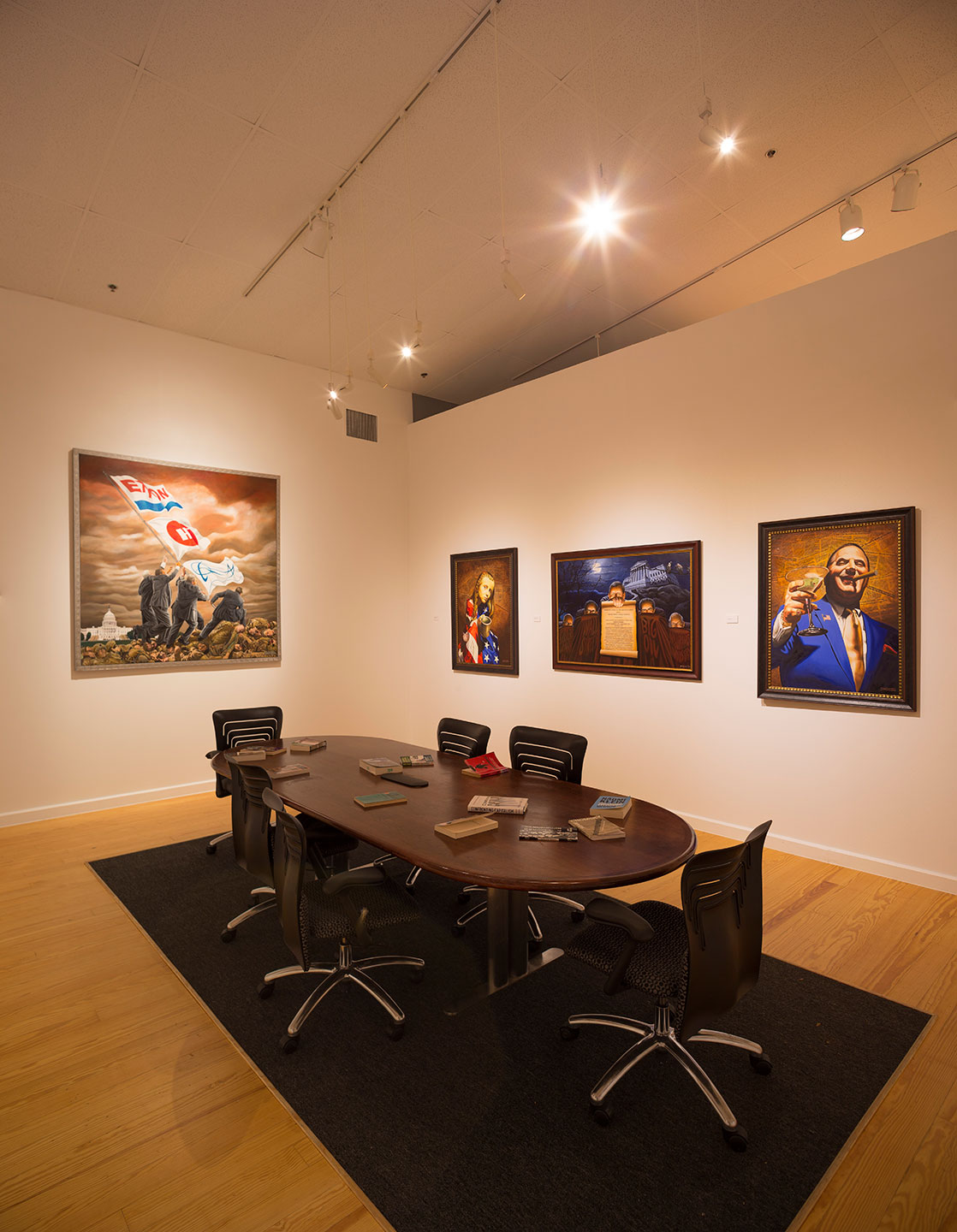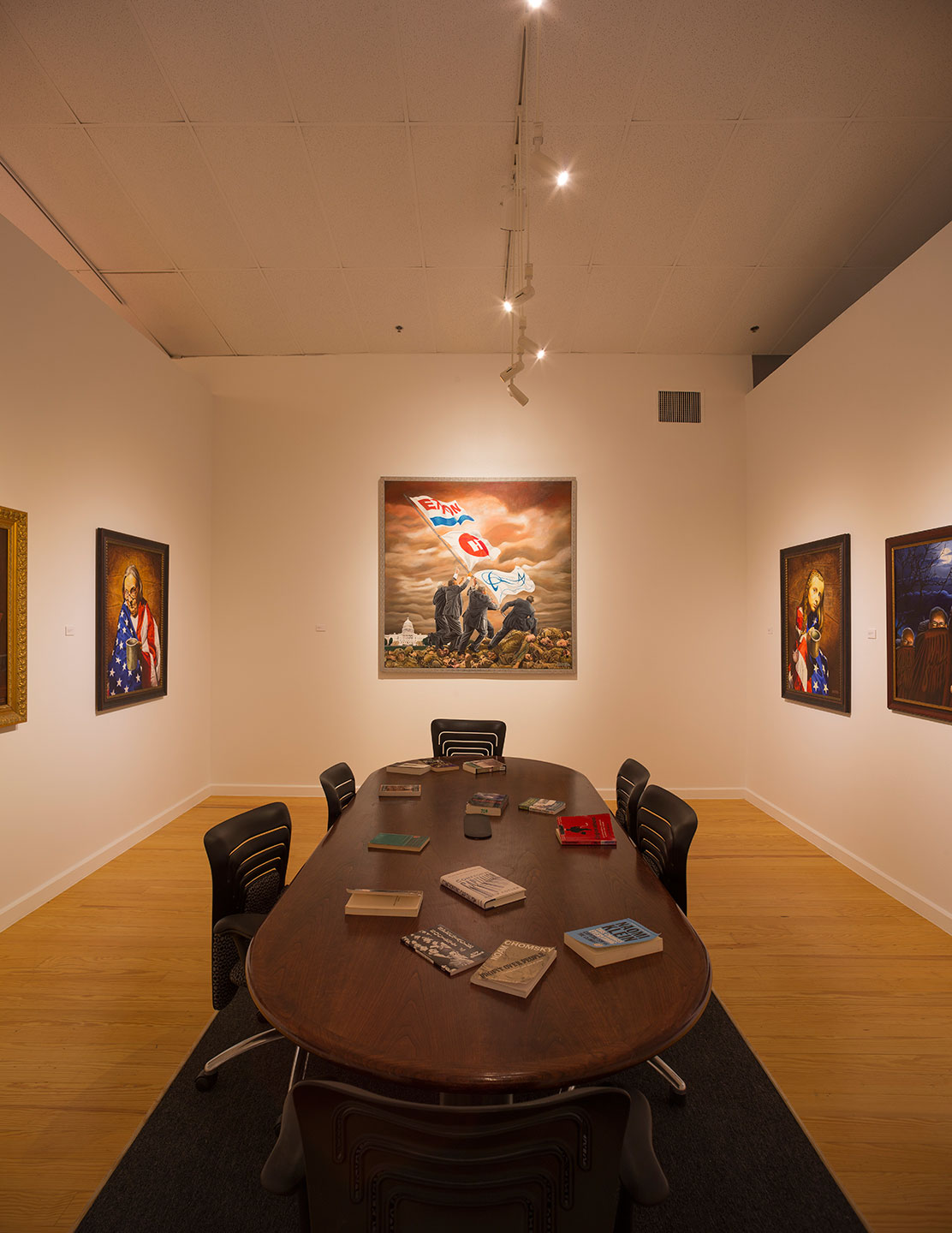 ---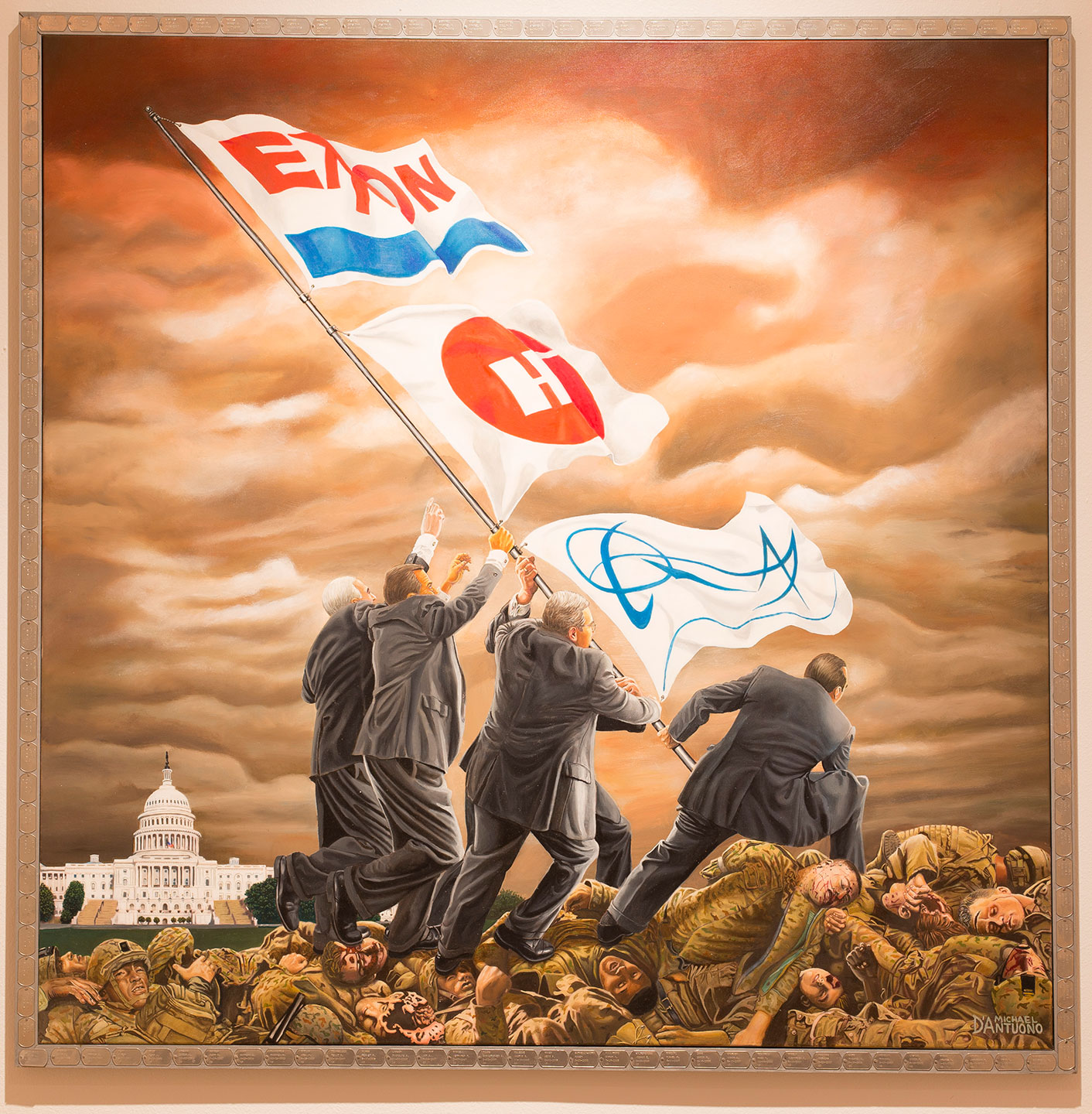 Michael D'Antuono, "Profit & Loss", 2015
---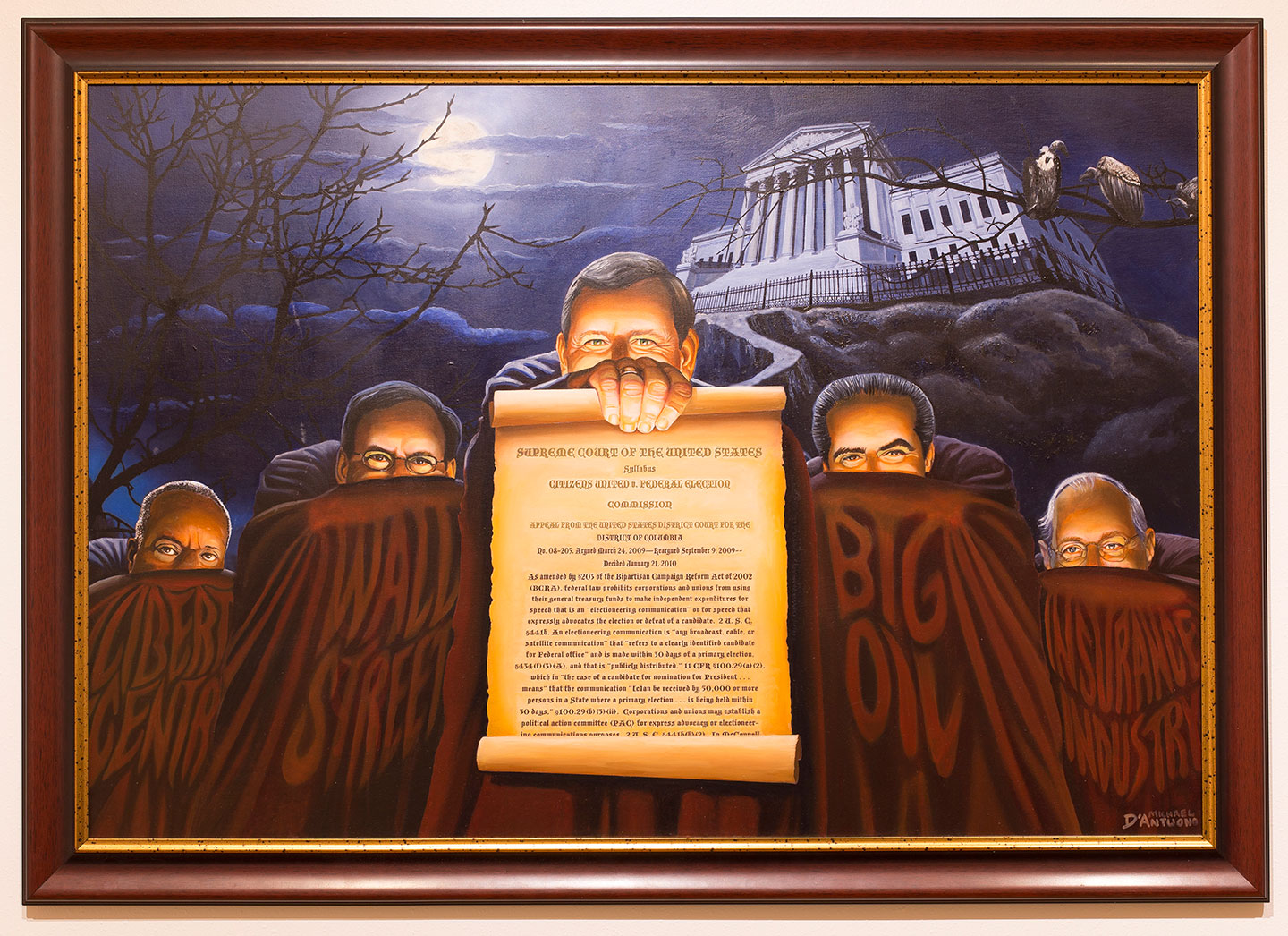 Michael D'Antuono, "Court Blanche – Citizens United"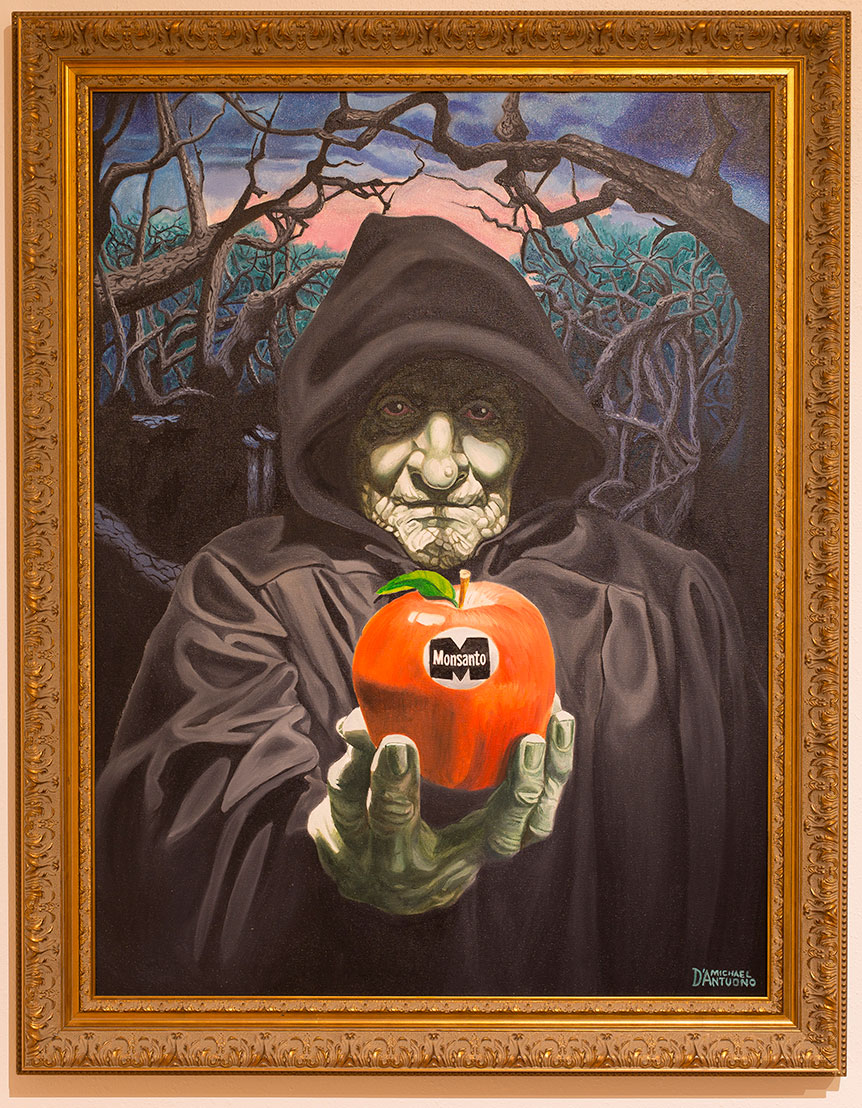 Michael D'Antuono, "BAD APPLE (Genetically Modified Food)"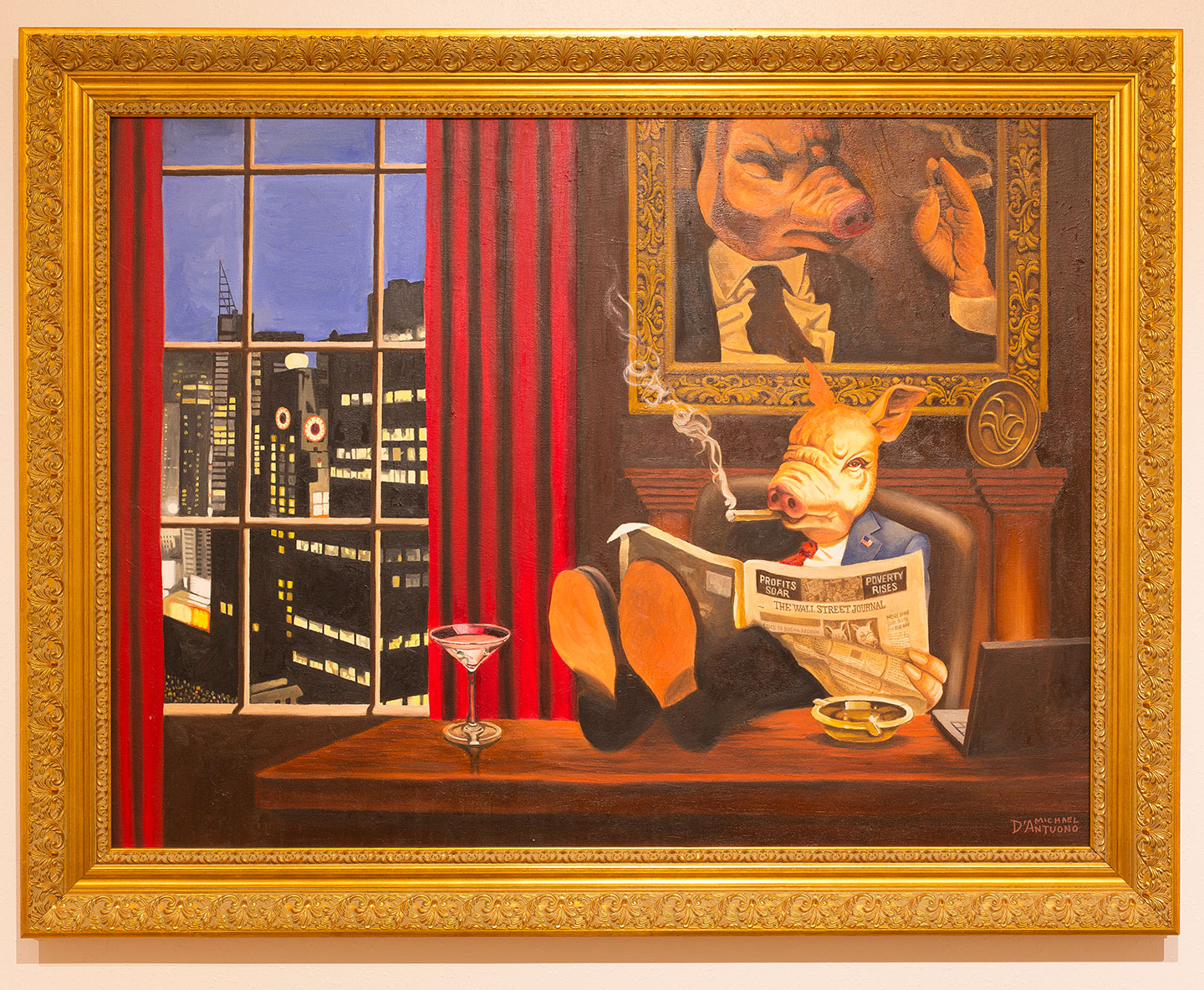 Michael D'Antuono, "Occupying Main Street (wealth disparity)"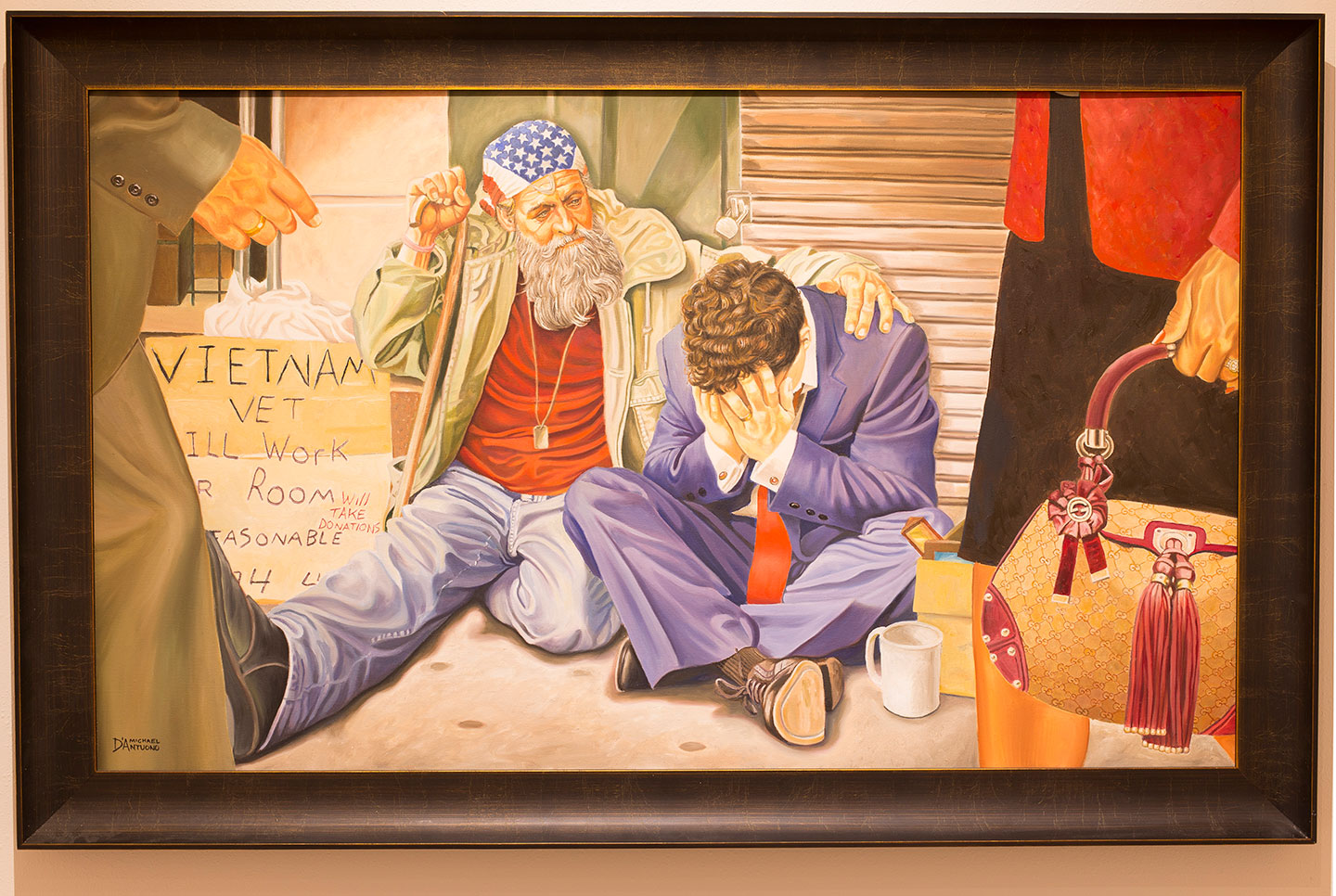 Michael D'Antuono, "DOWN & OUTSOURCED"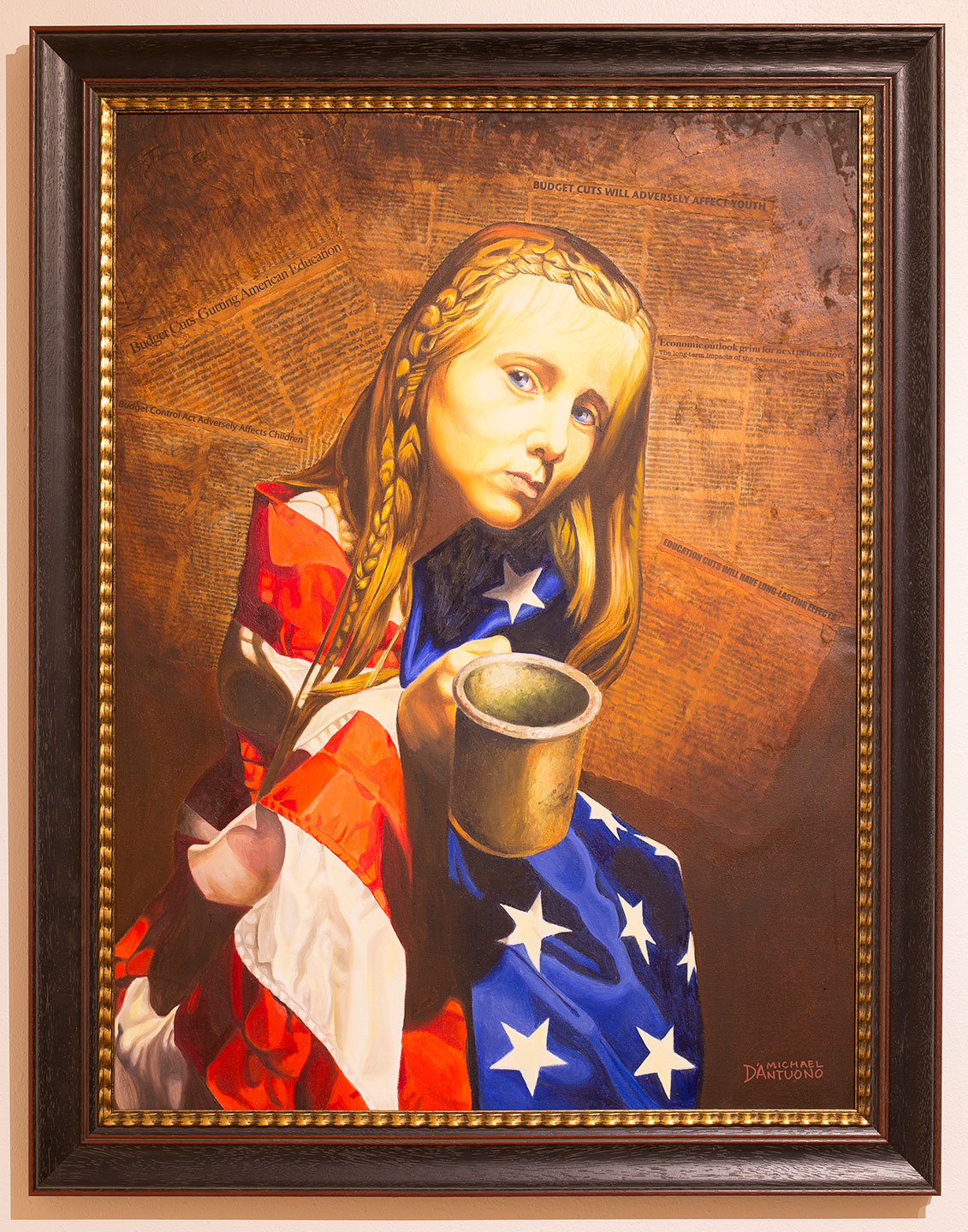 Michael D'Antuono, "Portraits of Redistribution – Candy From Babies"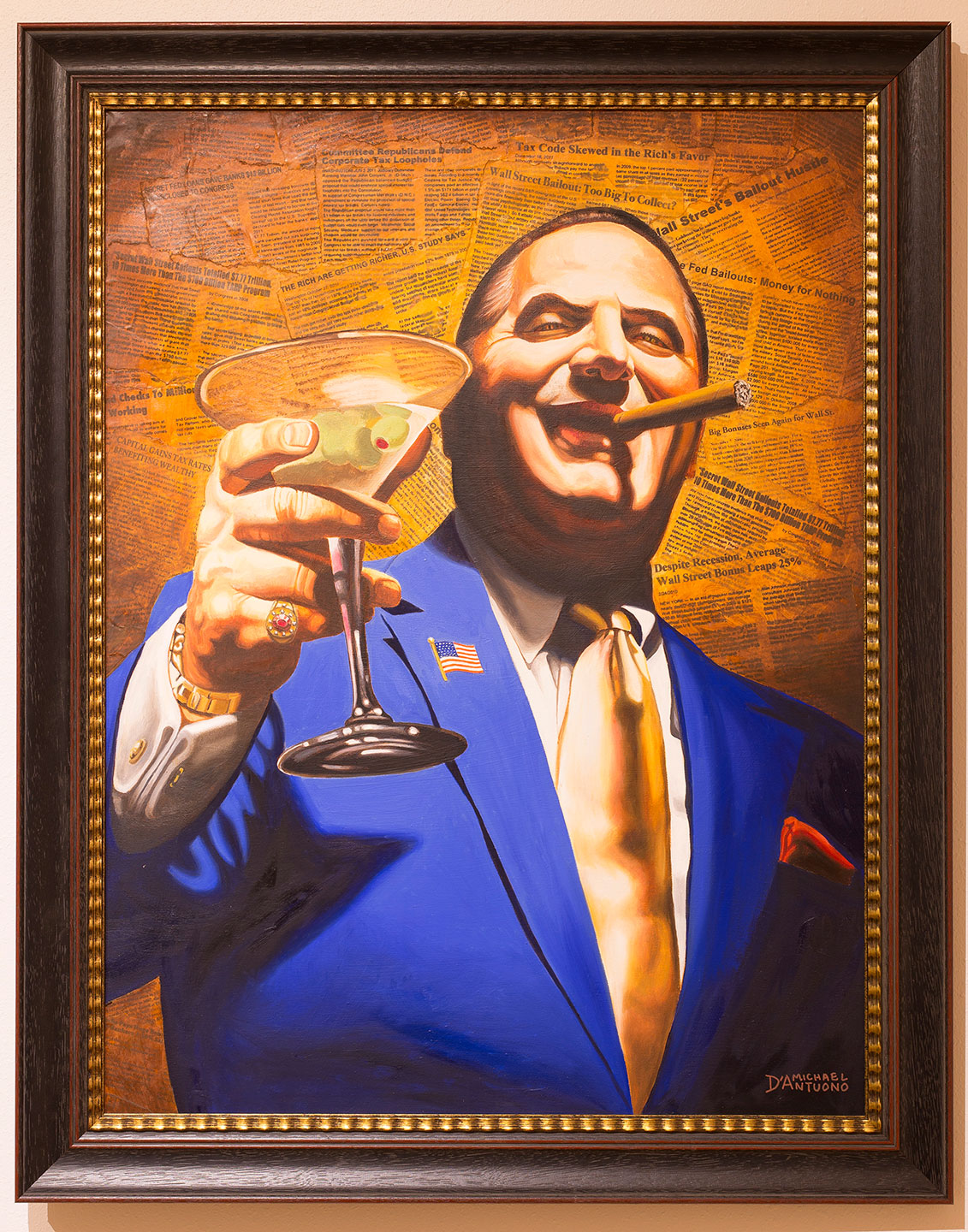 Michael D'Antuono, "Portraits of Redistribution – Too Big To Jail"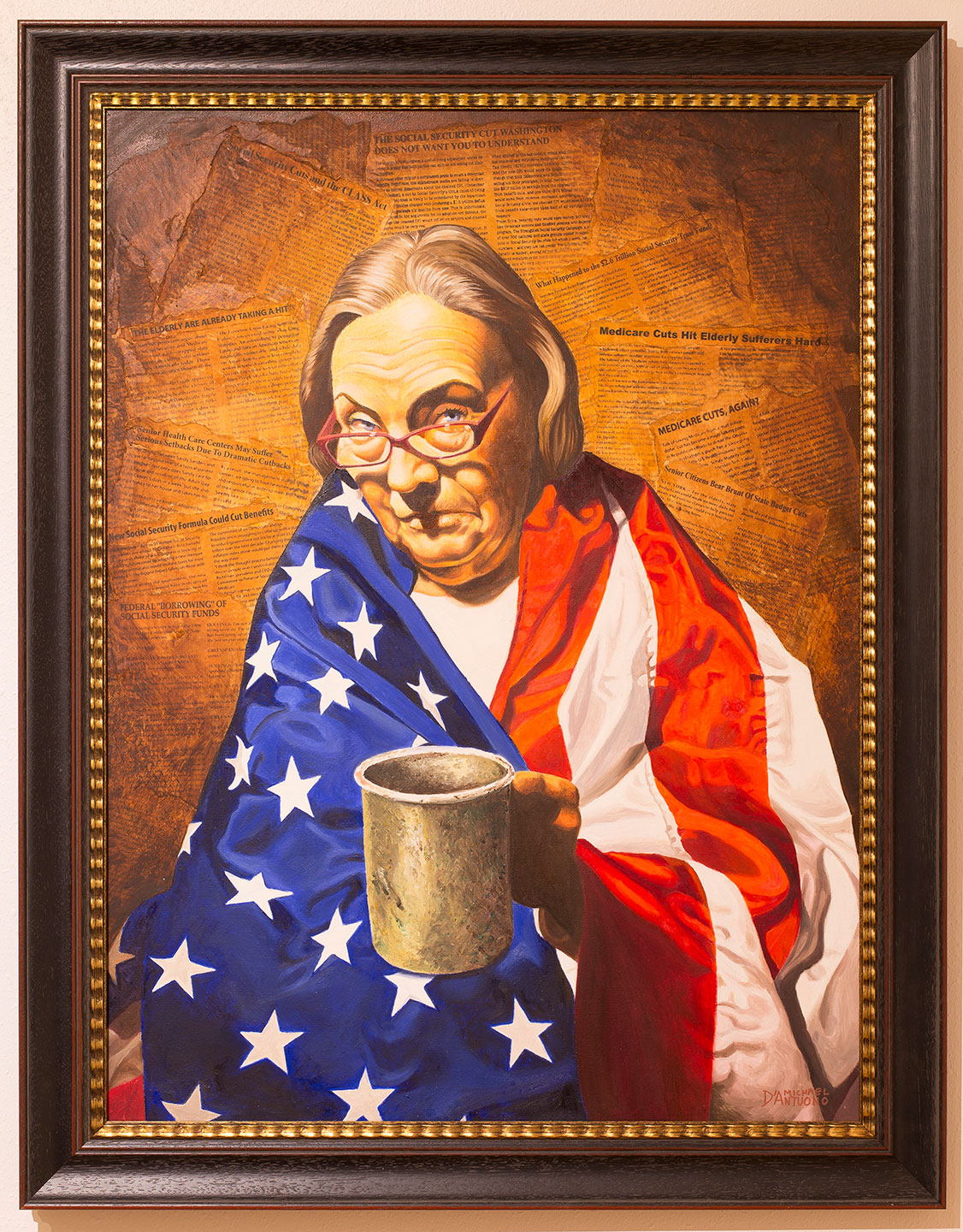 Michael D'Antuono, "Portraits of Redistribution – Social Insecurity"