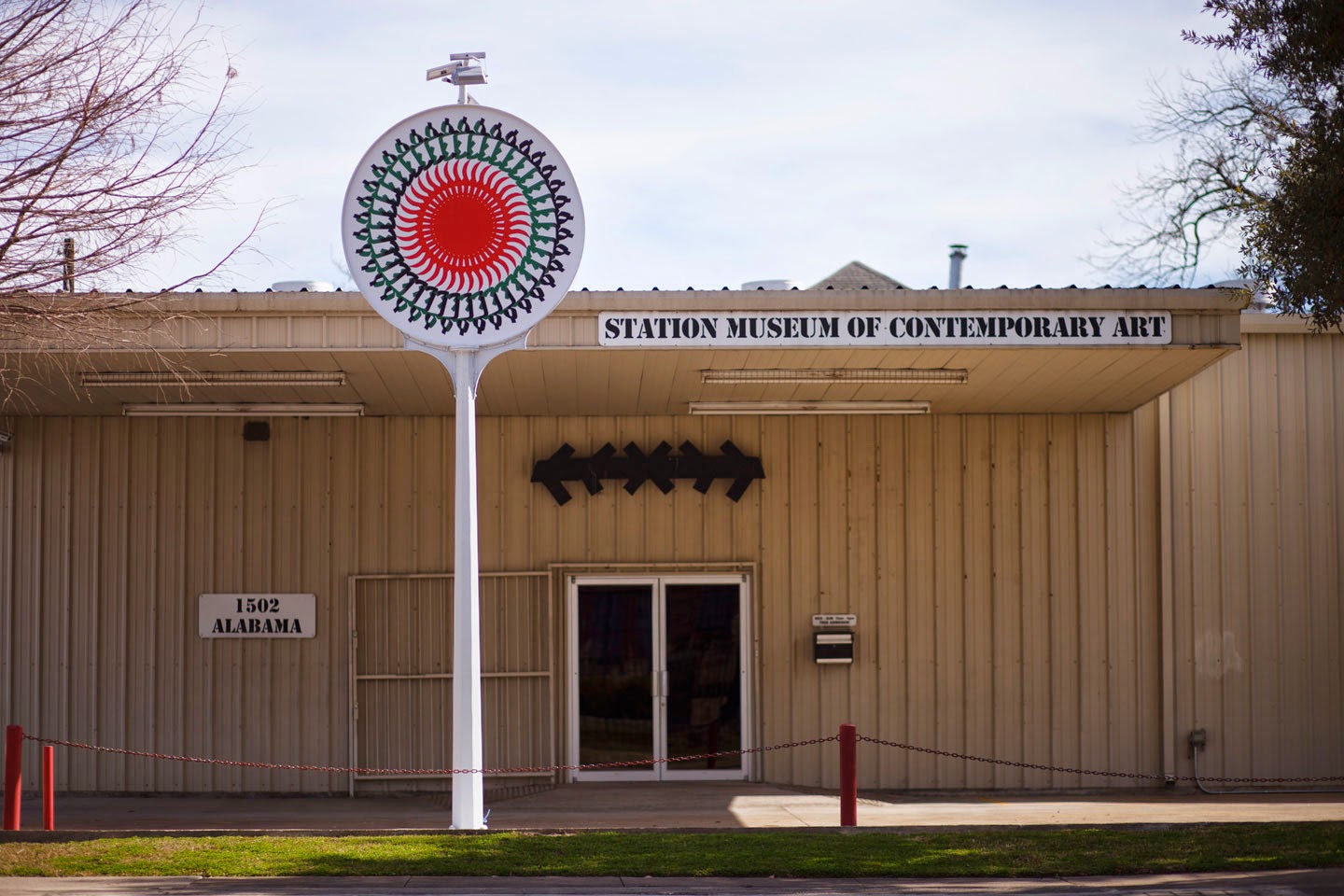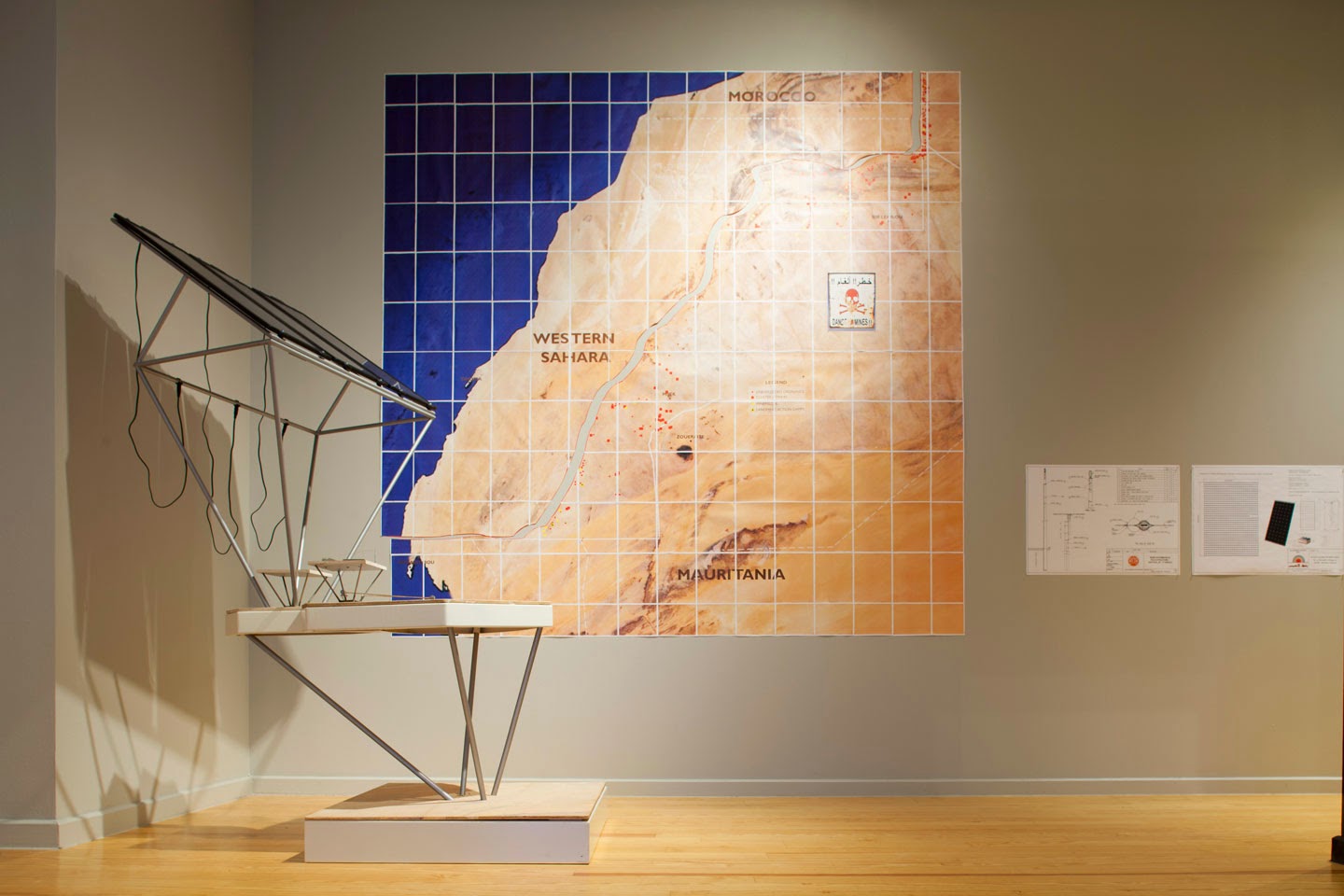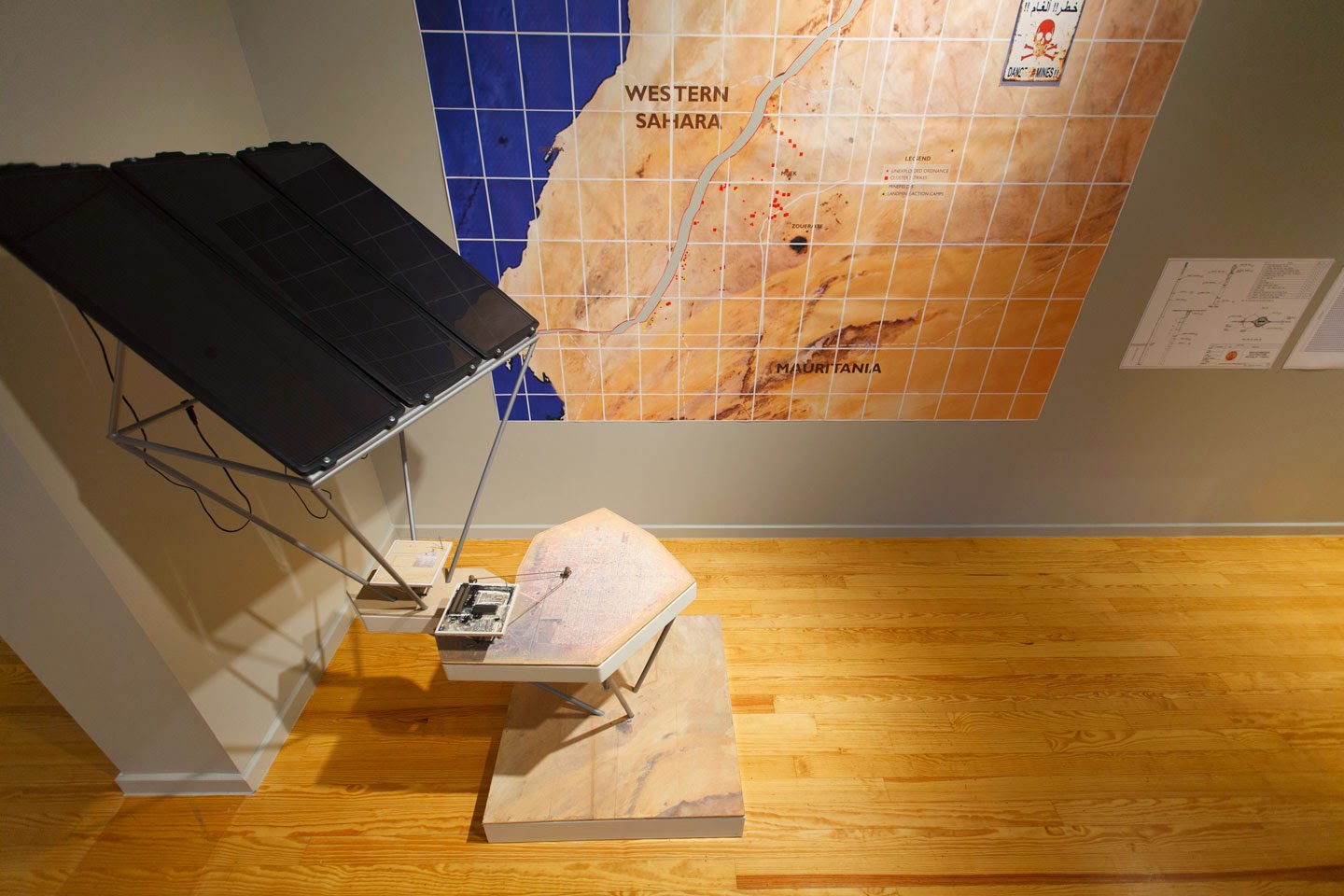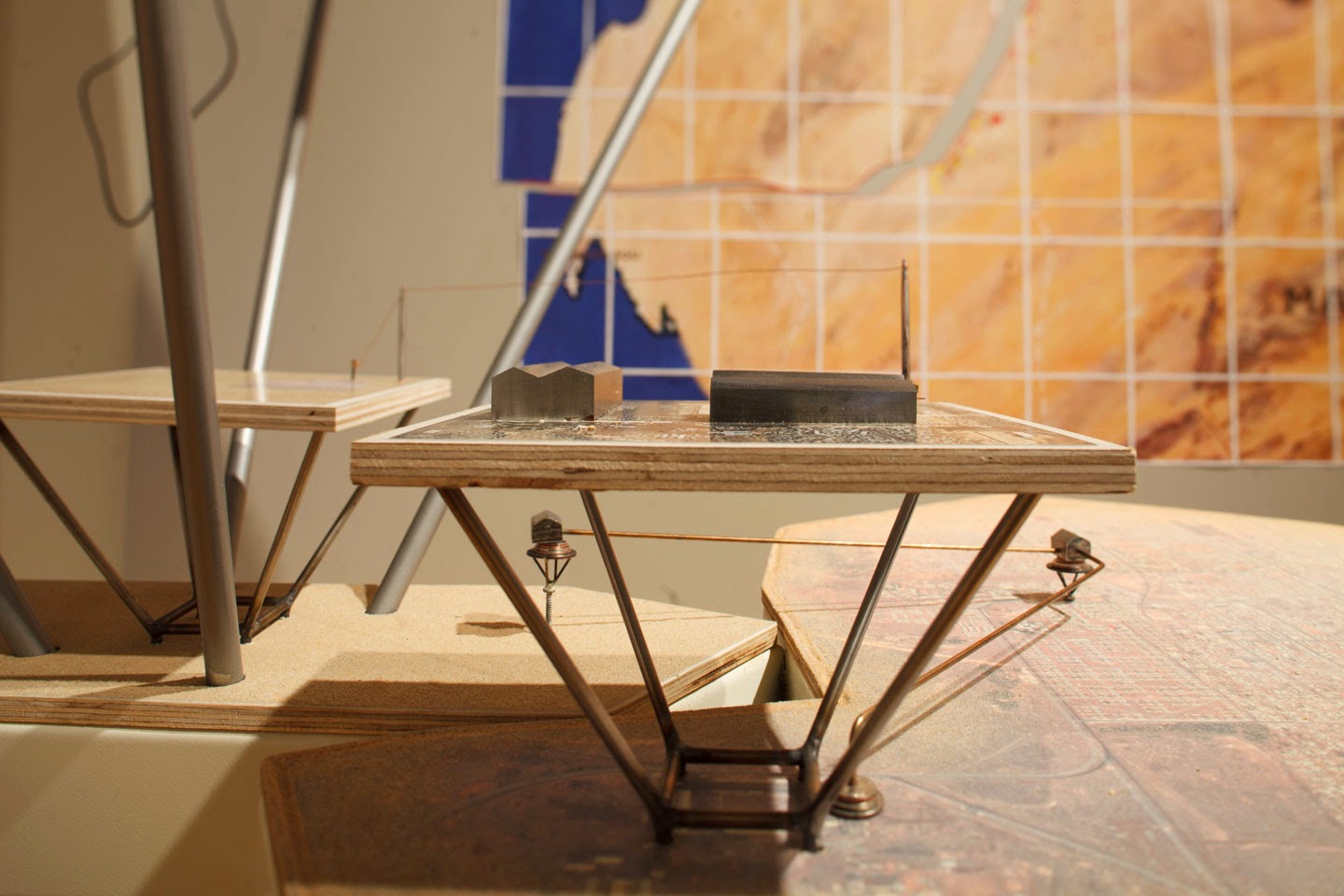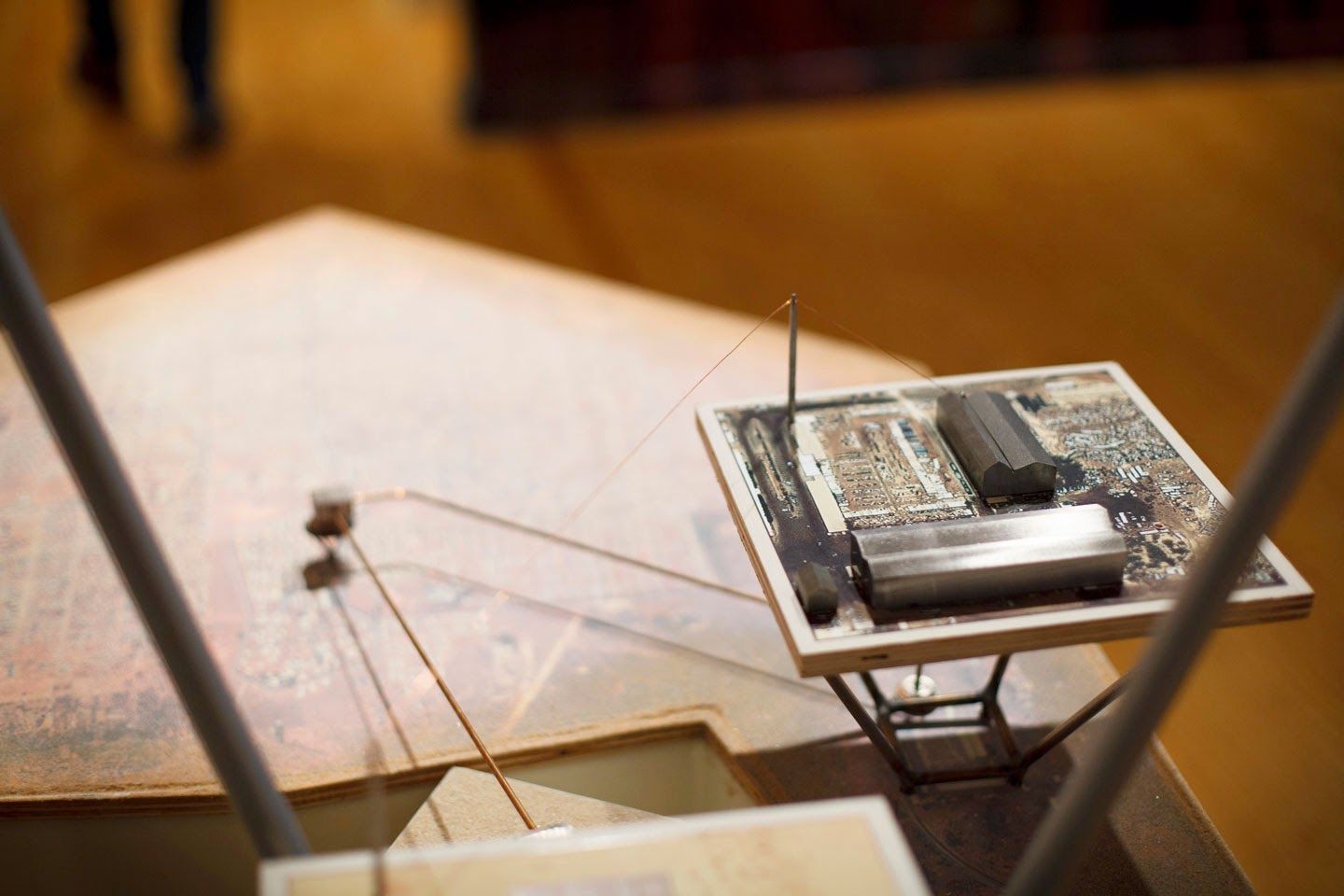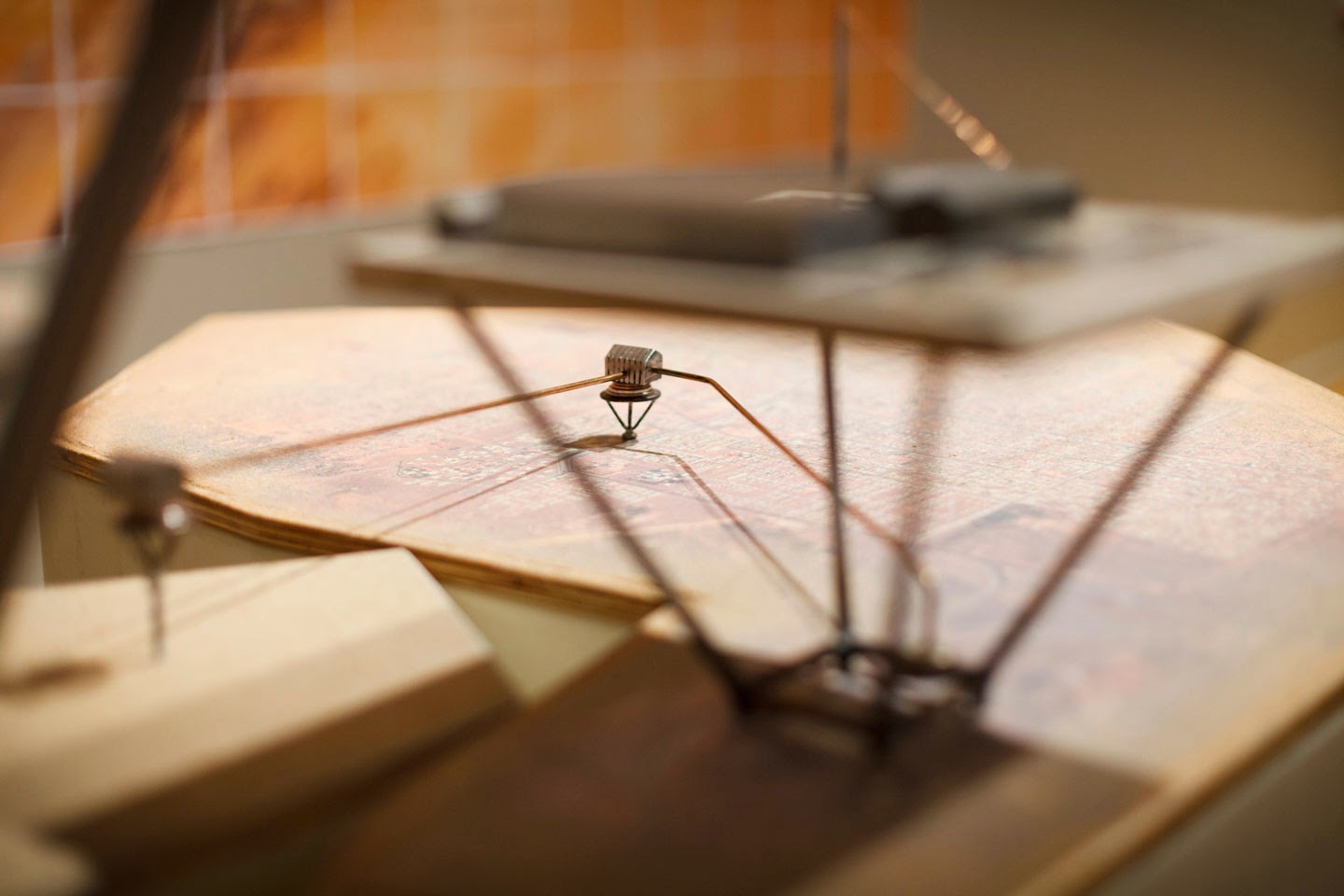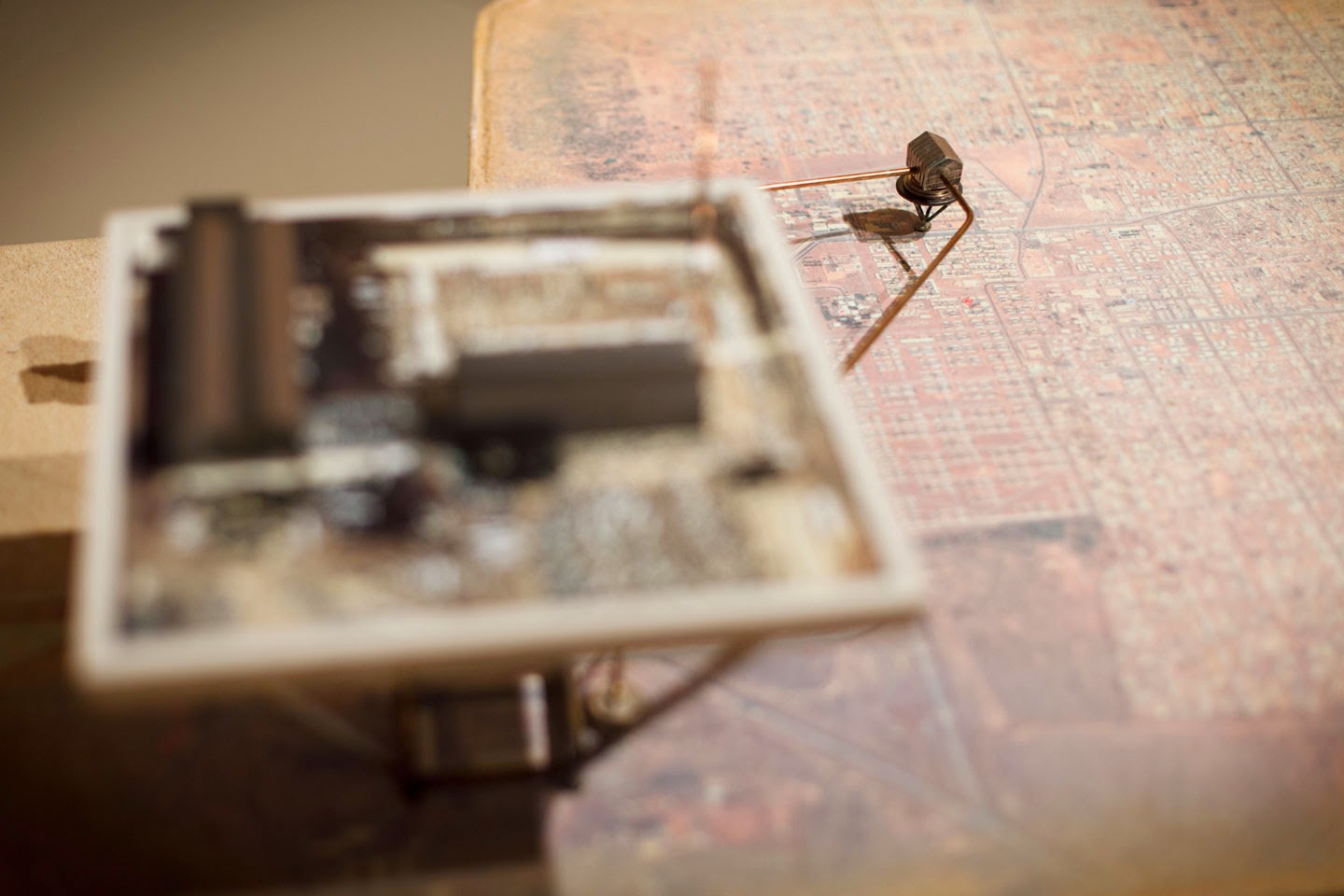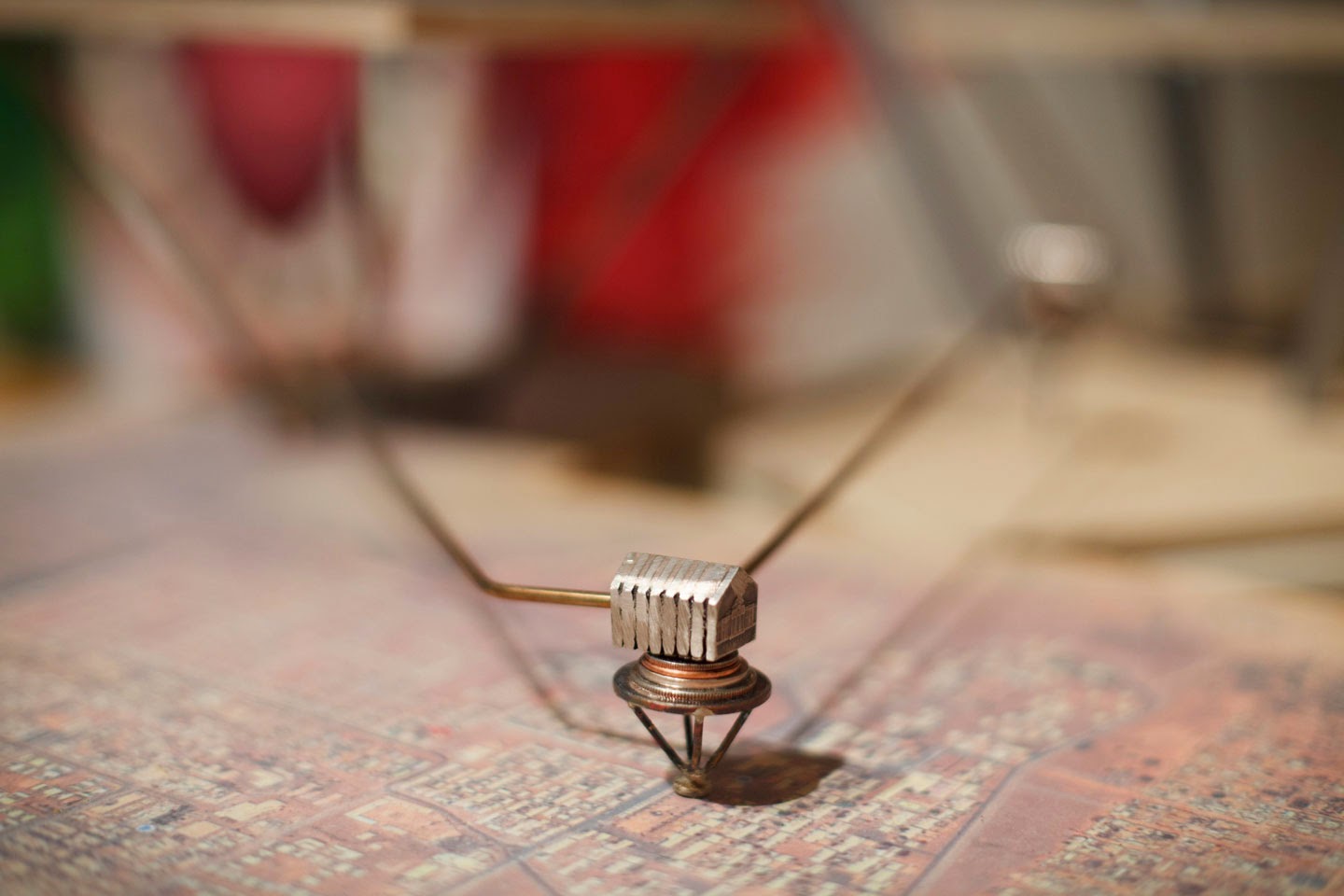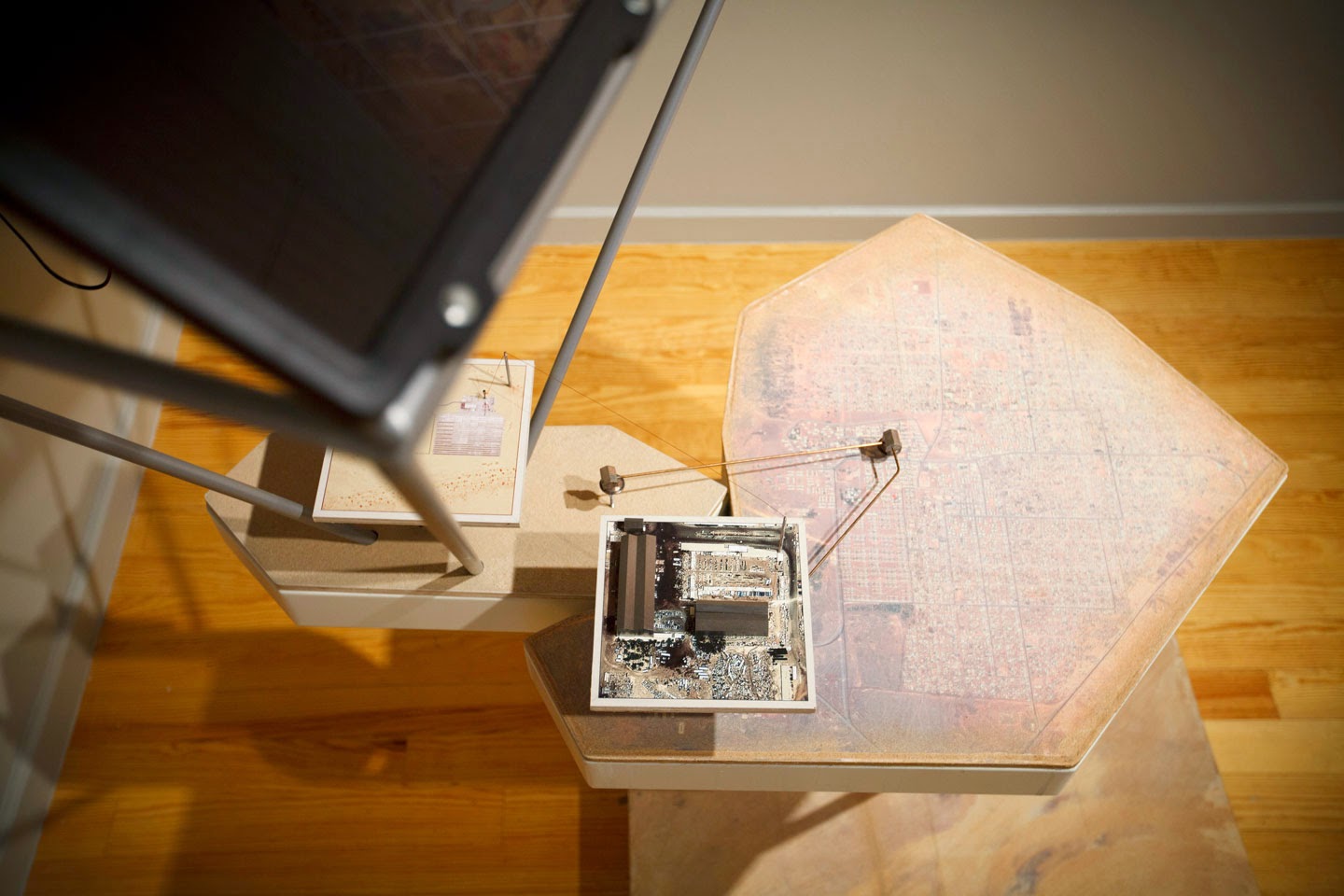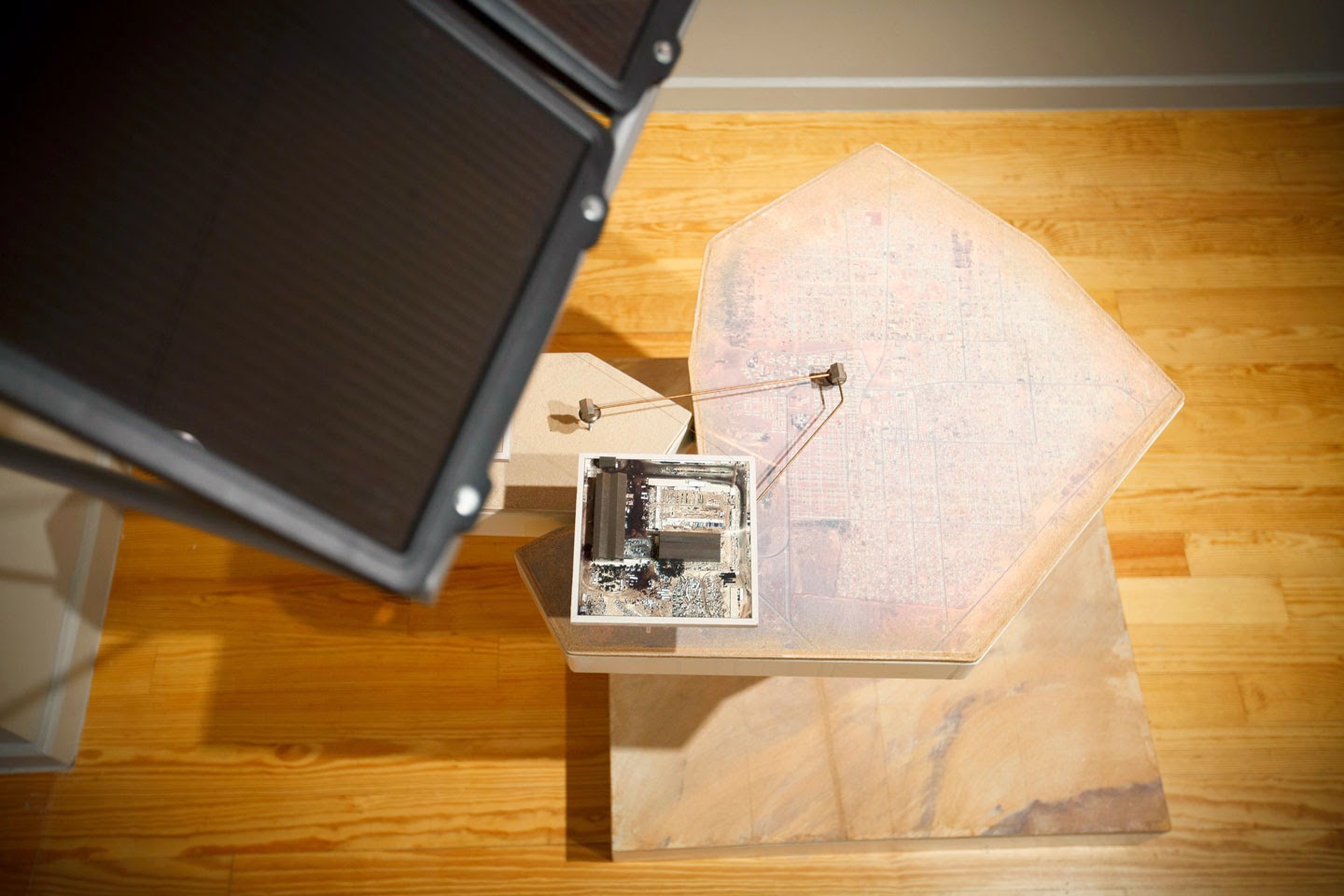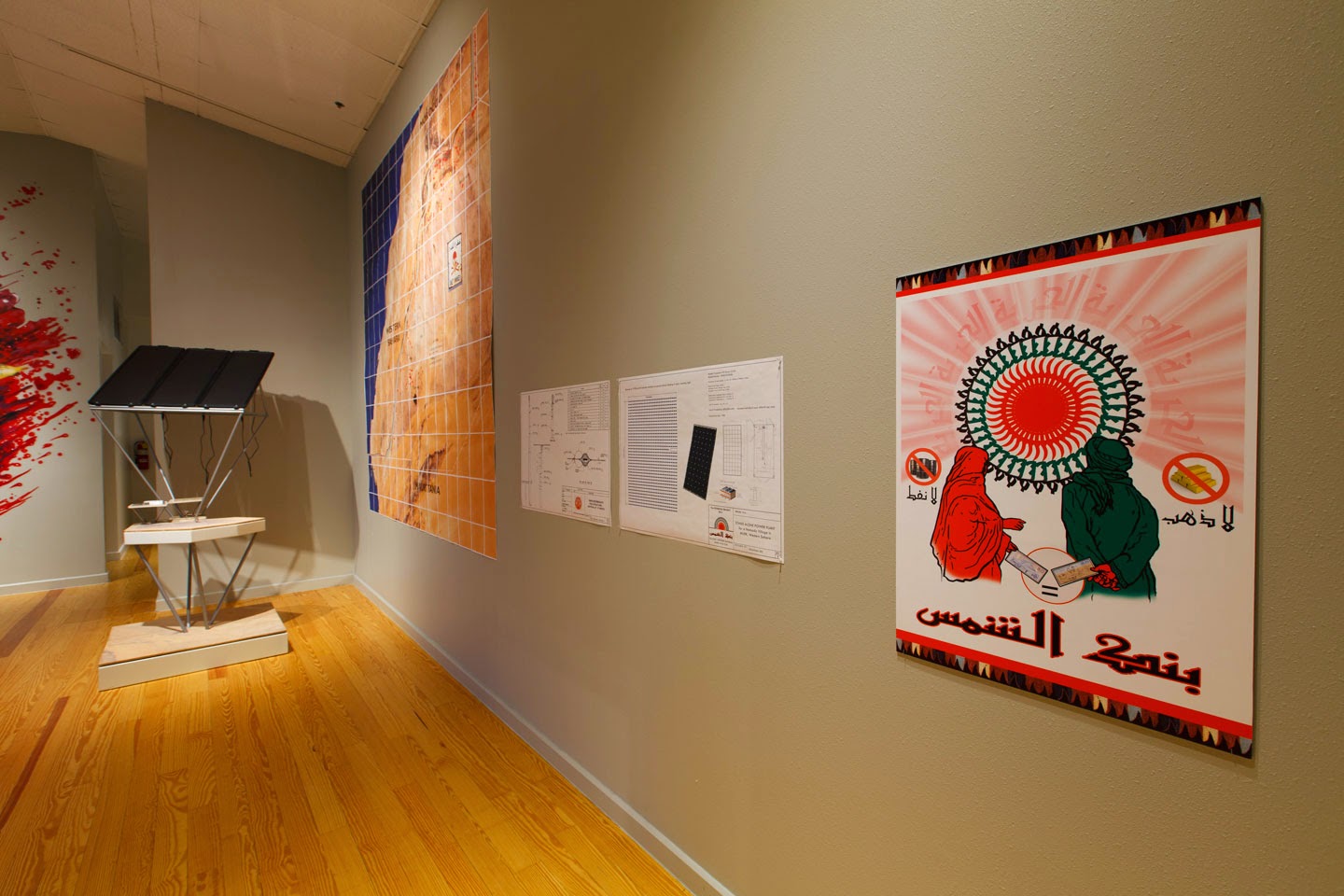 Mel Chin, "Bank of the Sun", 2014, Mixed Media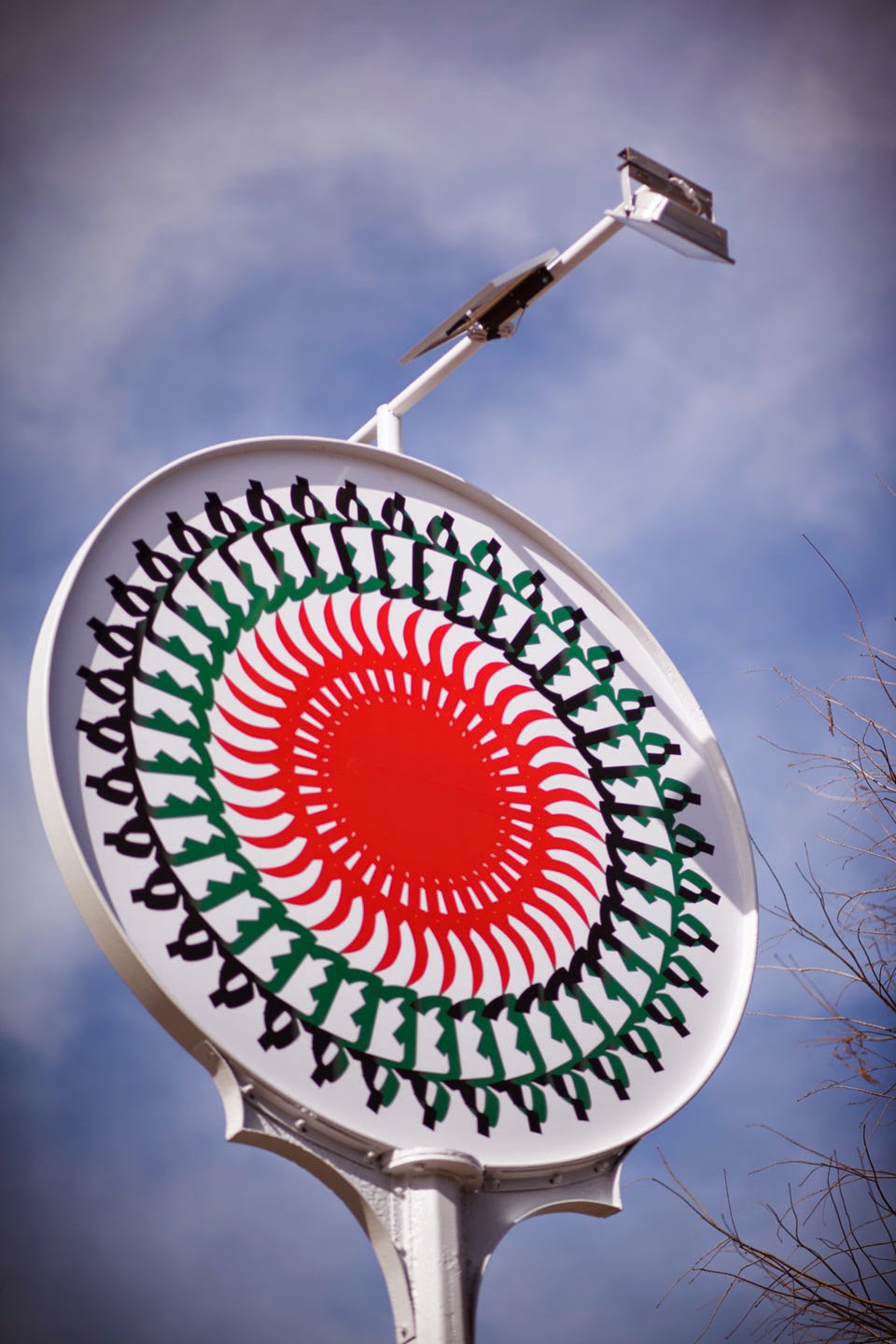 Mel Chin
Degrees of Paradise, 1991
Kurdish-woven carpet, wool, video monitors, laser disc playback, sheetrock, wood, metal tubing, rubber, slate
In 1989 Mel Chin conceived The State of Heaven, a proposal to make visible the unseen destruction of the ozone layer. Chin envisioned a handmade carpet (a scale version of the Earth's atmospheric envelope) what would be destroyed or rewoven according to scientific data on the conditions of the ozone's deterioration. Chin considers Degrees of Paradise to be the precursor to The State of Heaven and is the outgrowth of collaboration between Chin, Kurdish weavers, and modern physicists.
Degrees of Paradise is installed in three adjoining galleries. The viewer begins by entering a vestibule, which is flanked to the right and left by two triangular rooms. In the vestibule viewers encounter; this depicts the earth's atmosphere unfolding as a dying lotus flower. The room to the left contains a triangular, hand-knotted wool carpet suspended above the viewer. The carpet's design is based off satellite data of global cloud coverage taken in April 1989 and imaged by a supercomputer. Chin selected fifteen degrees of this digital image of the sky, and presented it to Kurdish weavers in Damlacik, Turkey to recreate in wool.
The room to the right of the vestibule contains fourteen video monitors installed in a triangular formation in the ceiling. These screens display multi-dimensional fractal images of climatological change, from a program developed by McGill University physicist Shaun Lovejoy. With the help of Lovejoy's team, Chin was able to create a "sky" that simulates cloud formation and dissipation using fractal mathematics. Together the two triangular galleries balance one another, honoring both old and new, craft and science, through their simultaneous depictions of the sky.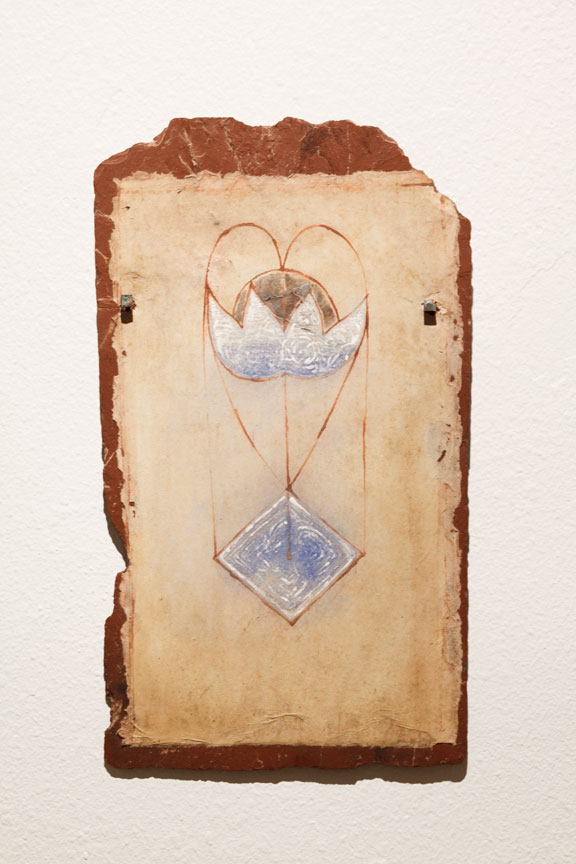 ---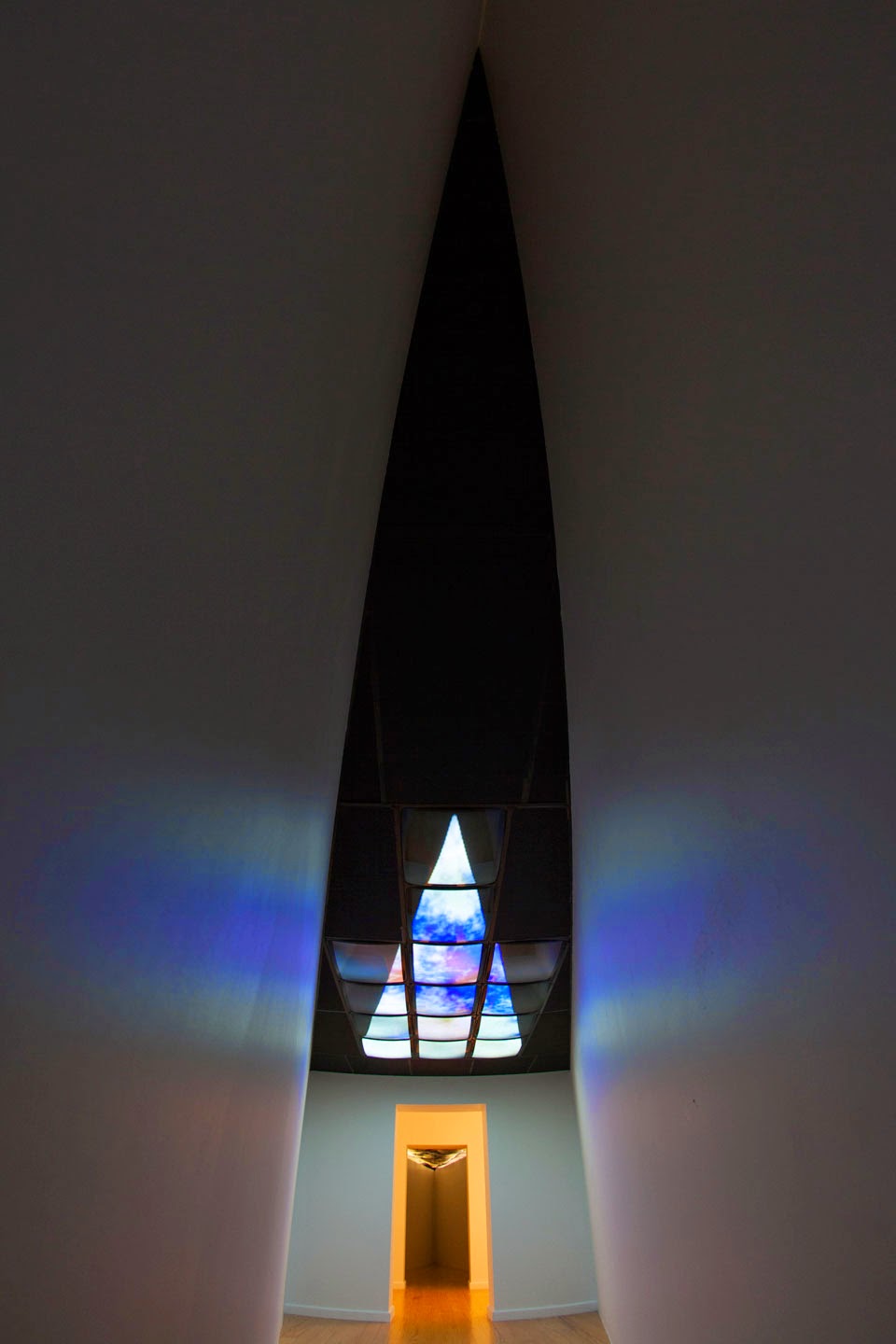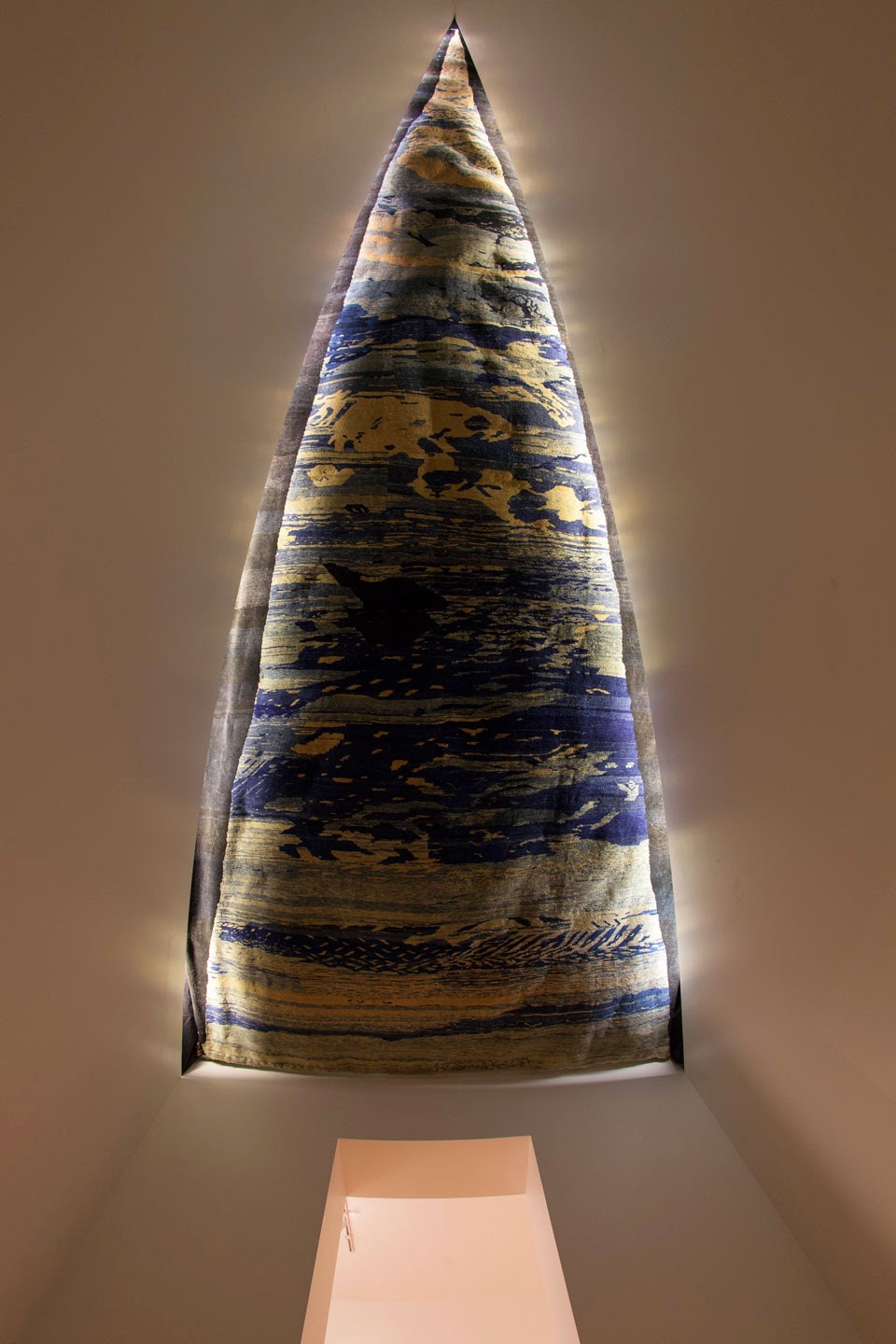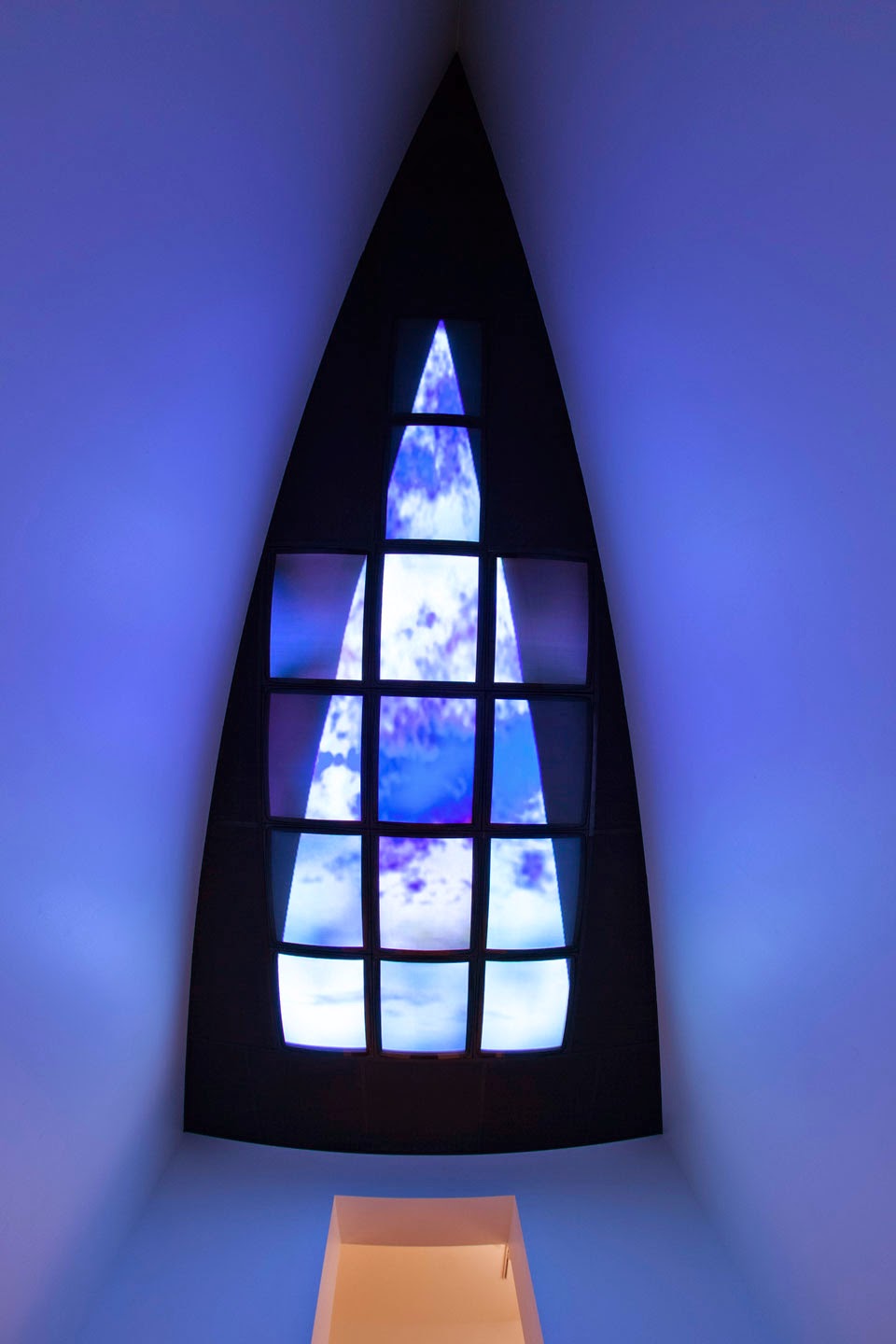 Mel Chin, "Degrees of Paradise", 1991, Kurdish-woven carpet, wool, video monitors, laser disc playback, sheetrock, wood, metal tubing, rubber, slate
Summary Biography
Mel Chin was born in Houston, Texas in 1951 and began making art at an early age. Chin's art, which is both analytical and poetic, evades easy classification. Politics, ecology and economics are but a few of the disciplines that intersect in his work. He insinuates art into unlikely places, including destroyed homes, toxic landfills, and even popular television, investigating how art can provoke greater social awareness and responsibility. Chin's politically engaged projects also challenge the idea of the artist as the exclusive creative force behind an artwork. "The survival of my own ideas may not be as important as a condition I might create for others' ideas to be realized," says Chin, who often enlists entire neighborhoods or groups of students in creative partnerships. Chin's work was documented in PBS' Art of the 21st Century in 2001. In KNOWMAD, Chin worked with software engineers to create a video game based on rug patterns of nomadic peoples facing persecution. Chin also promotes "works of art" that have the ultimate effect of benefiting science; in Revival Field, Chin worked with scientists to create sculpted gardens of hyperaccumulators — plants that can draw heavy metals from contaminated areas — in some of the most polluted sites in the world.
Chin received a B.A. from Peabody College in Nashville, Tennessee, in 1975. With numerous awards and grants from organizations such as the National Endowment for the Arts, New York State Council for the Arts, Art Matters, Creative Capital, and the Penny McCall, Pollock/Krasner, Joan Mitchell, Rockefeller and Louis Comfort Tiffany Foundations, Chin has created many commissions, public art installations and one-person exhibitions around the world. Venues for solo exhibits have included: Storefront for Art and Architecture, NYC; Hirshhorn Museum and Sculpture Garden, Washington, DC; Walker Art Center, Minneapolis; the Menil Collection, Houston; and the Fabric Workshop, Philadelphia. Projects and public commissions have been installed at diverse sites such as New York City's Central Park, Pig's Eye Landfill in St. Paul, Floriadepark in rural Netherlands, Eco Tec International in Corsica, Marin County's Headlands Center for the Arts, Pittsburgh's Three Rivers Arts Festival; New York Times Magazine, West Queens High School, and the City of Corpus Christi. Group show venues have included: Fifth Biennial of Havana; Museu d'Art Contemporani de Barcelona; Kuntsmuseum Bonn; Kwangju Biennale, Korea; Smithsonian Museum, D.C.; Museum Of Contemporary Art, Los Angeles; and the Whitney Museum of American Art, P.S. 1, and Museum of Modern Art, New York.