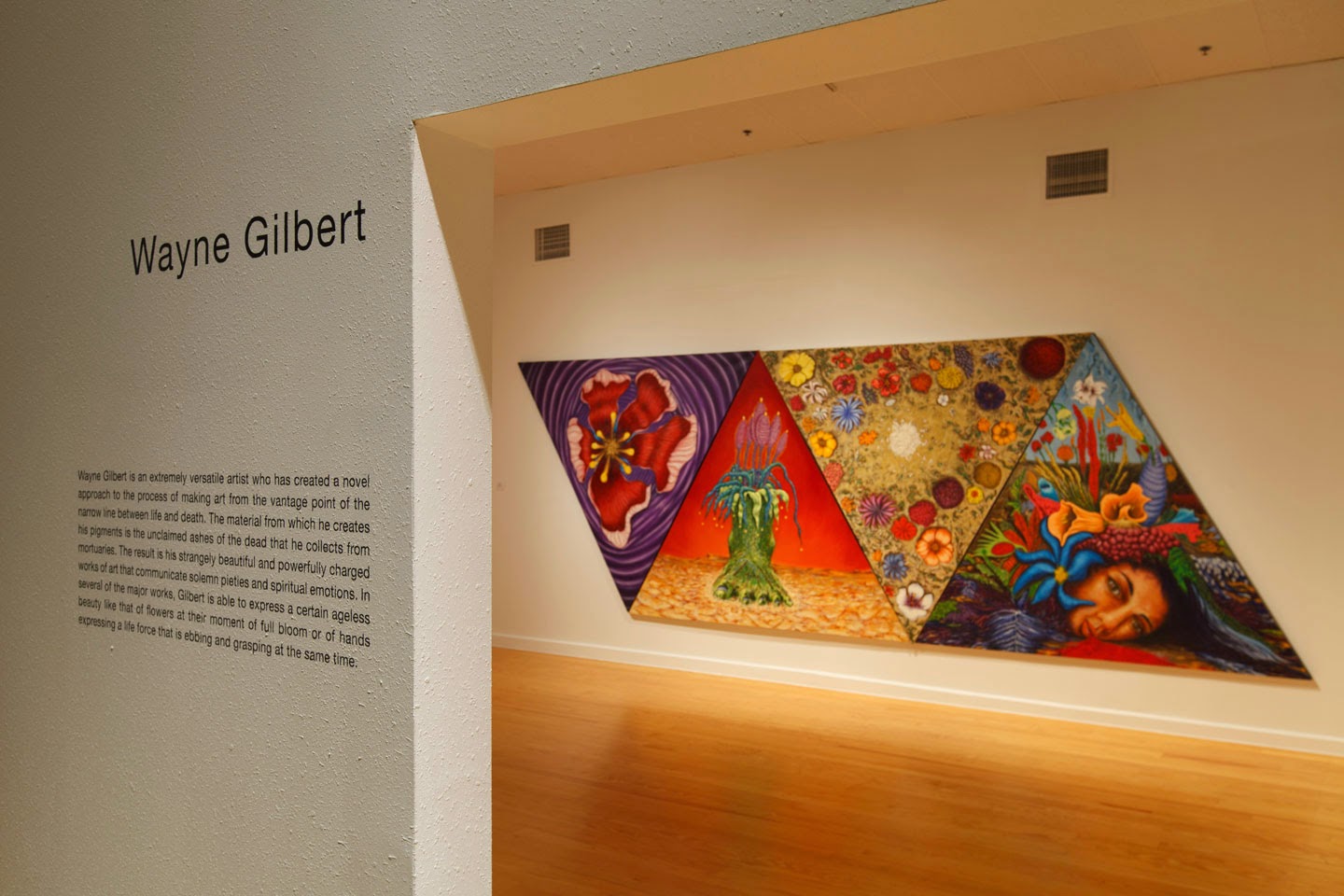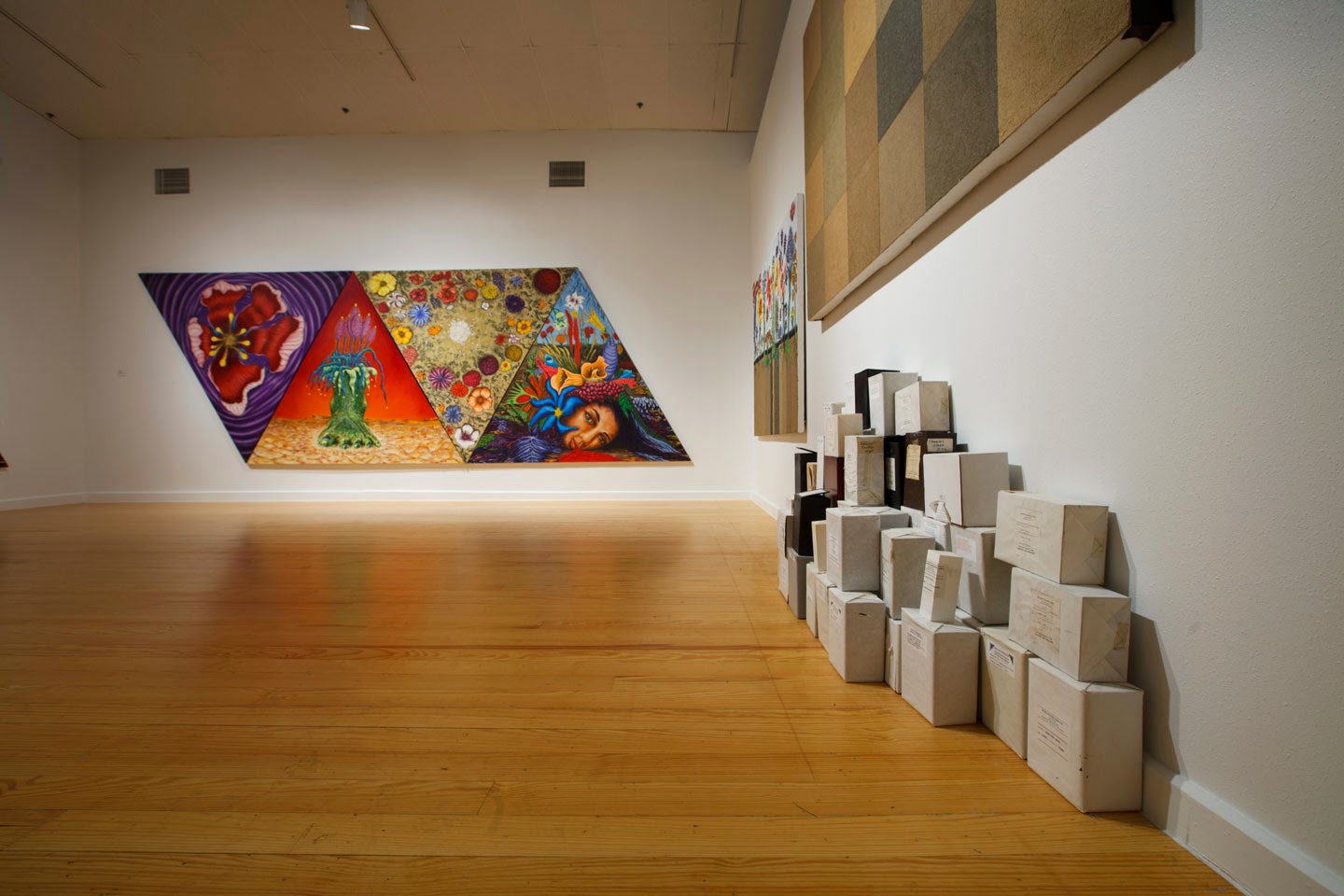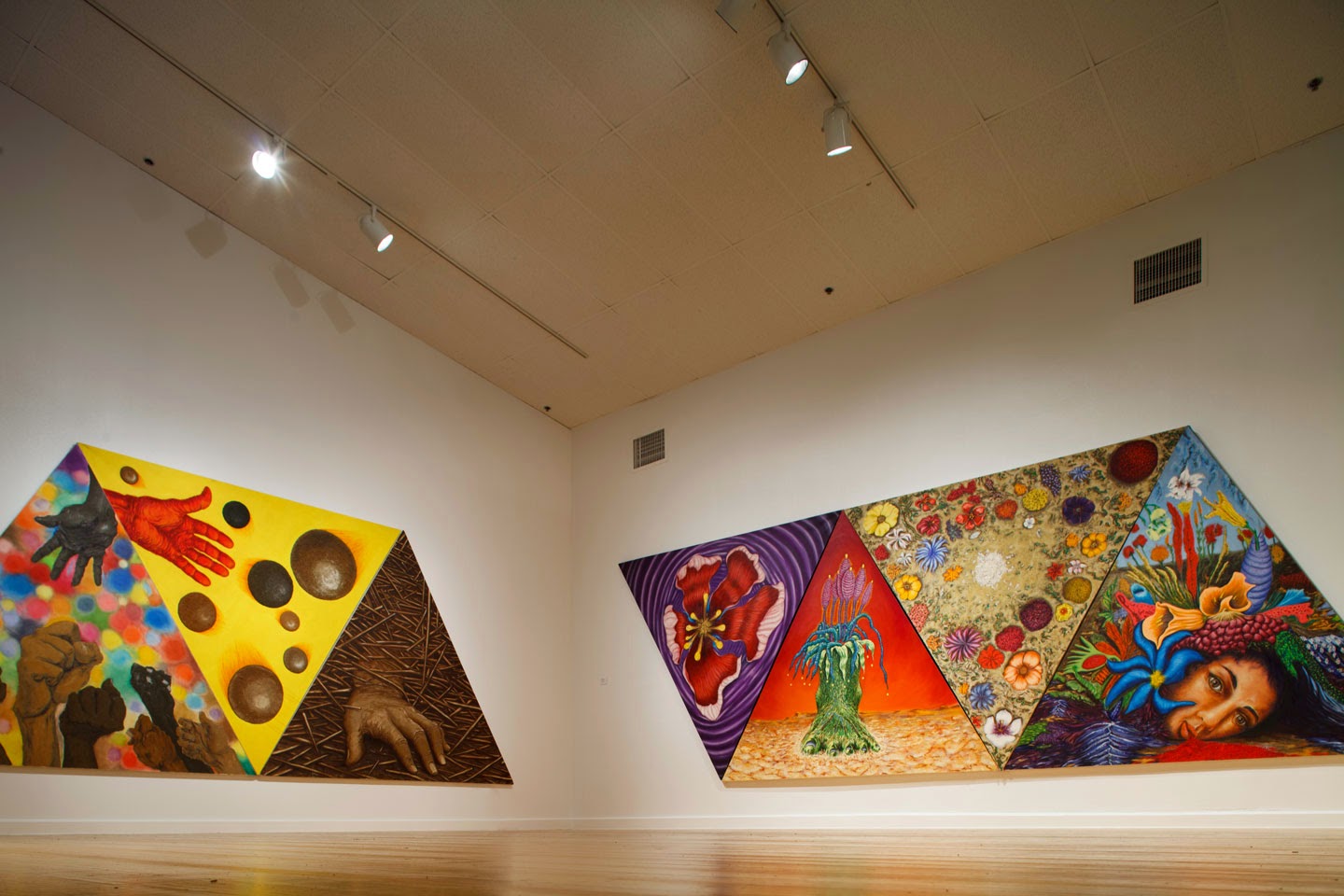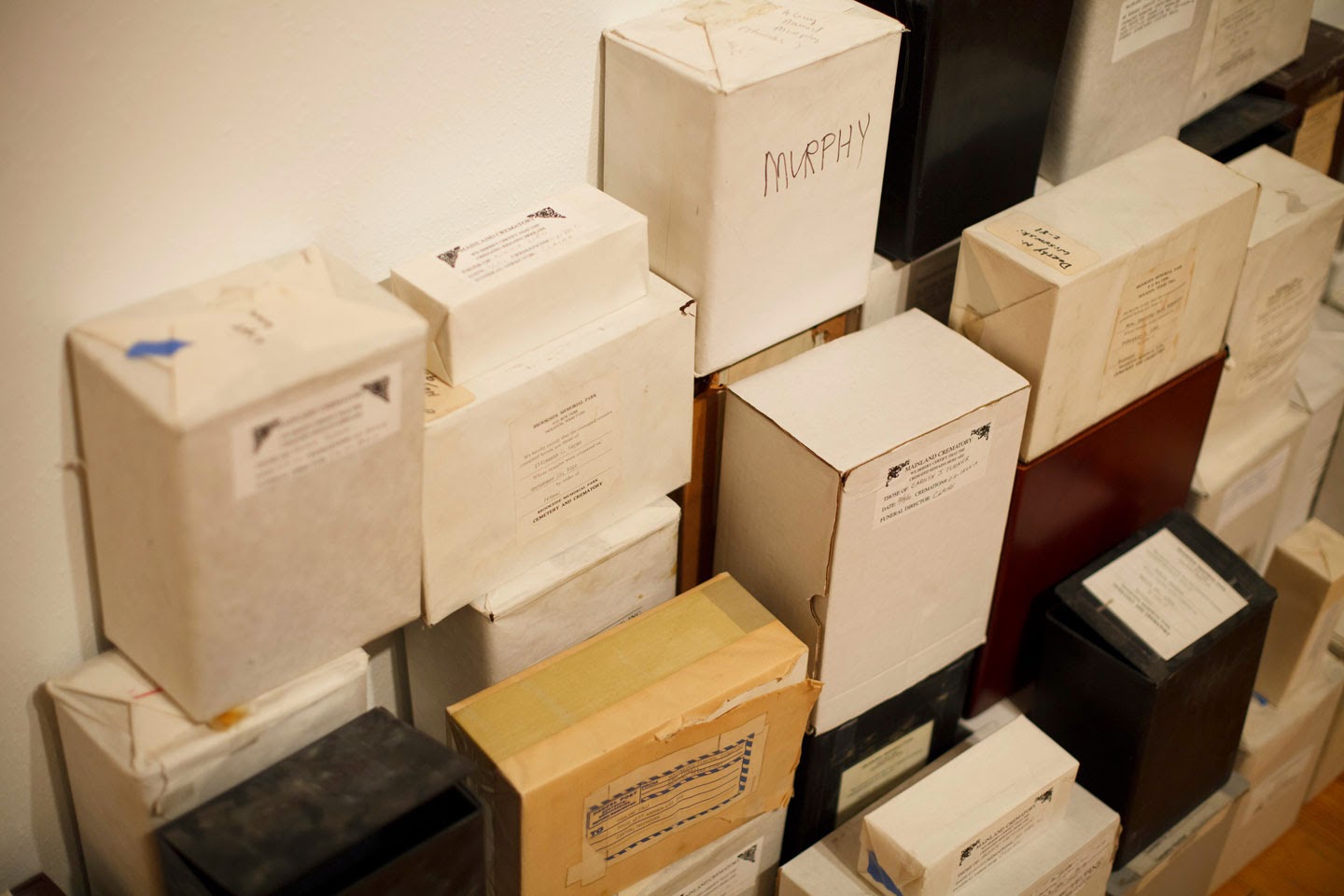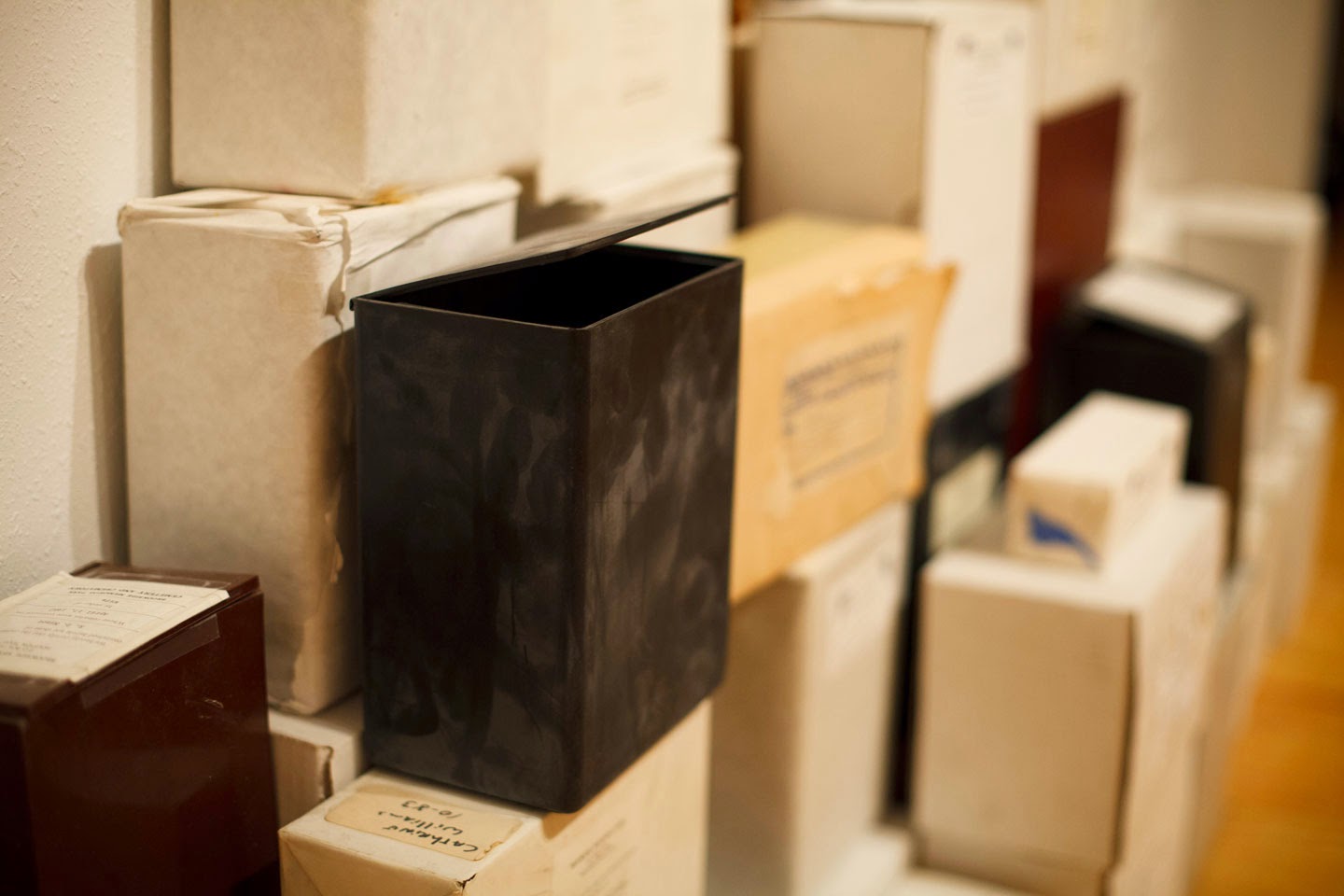 Wayne Gilbert, Installation View, 2015, Station Museum of Contemporary Art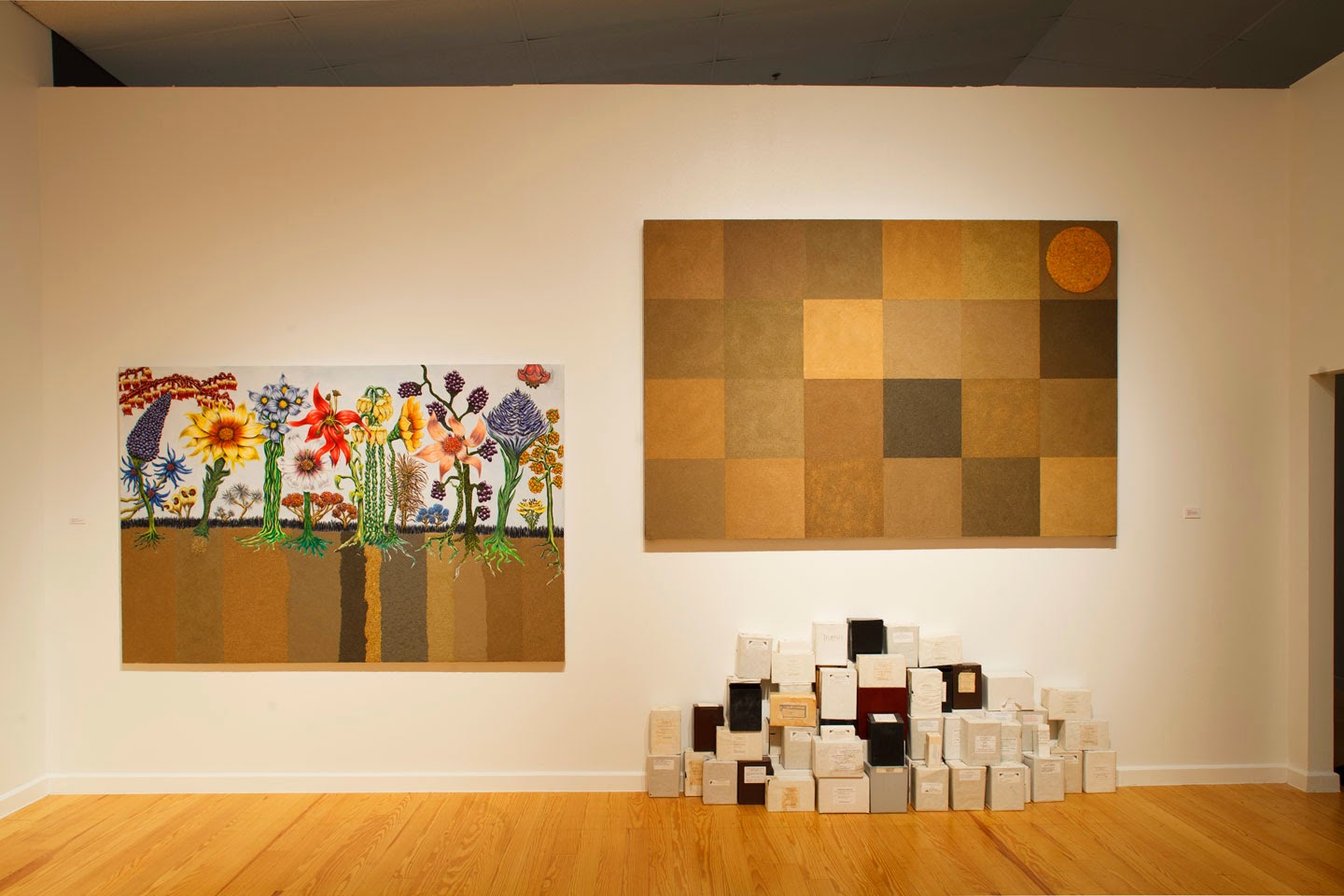 Wayne Gilbert, (left) "Rites of Spring", 2014, Oil and human cremated remains on canvas; (right) "Alone", 2015 Installation: Oil and human cremated remains on canvas, and boxes of unclaimed remains.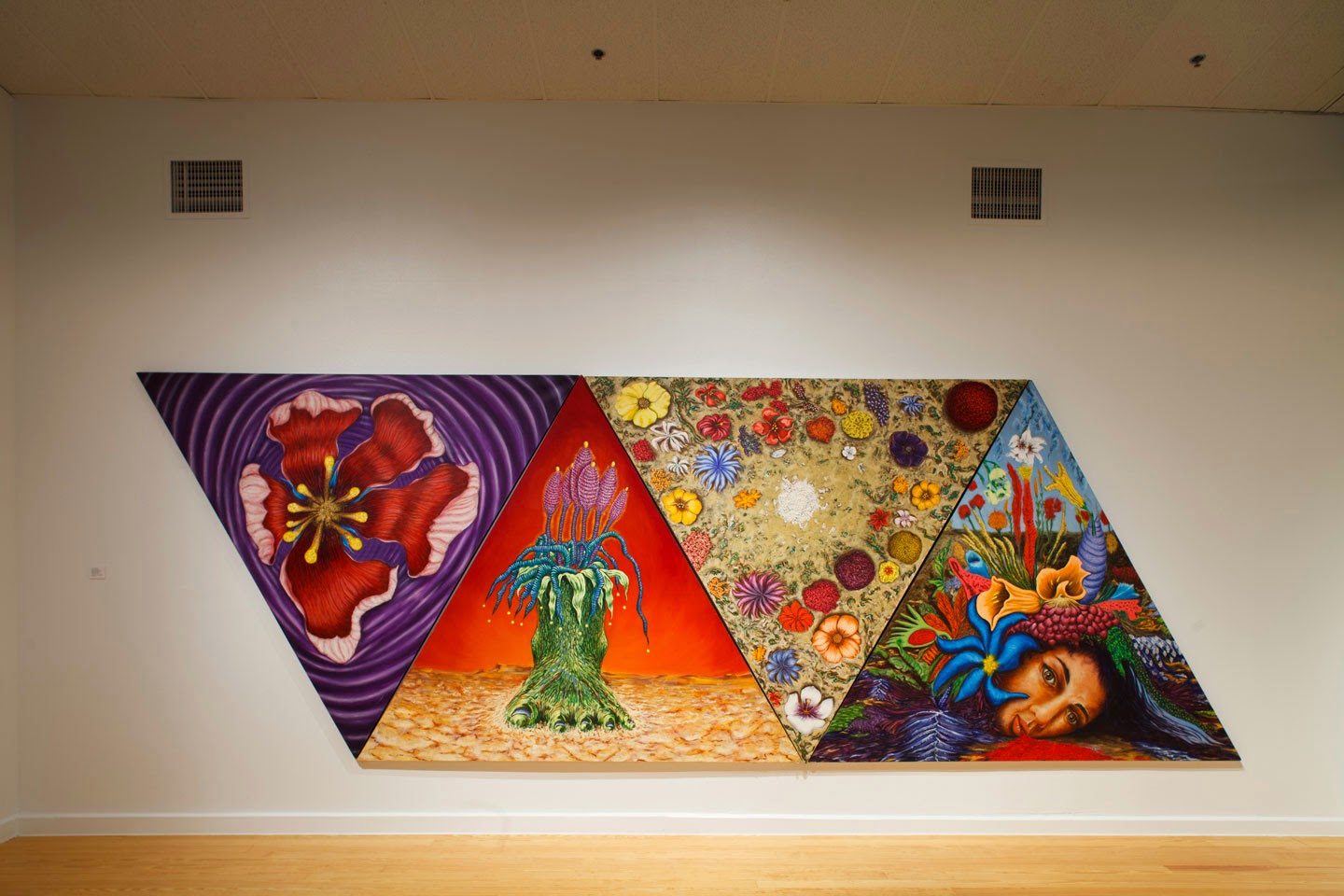 Wayne Gilbert, From Left to Right: "Raging Orchid"; "A Foot in the Desert"; "Silent Flowers"; "Anna's Garden", Oil and human cremated remains on canvas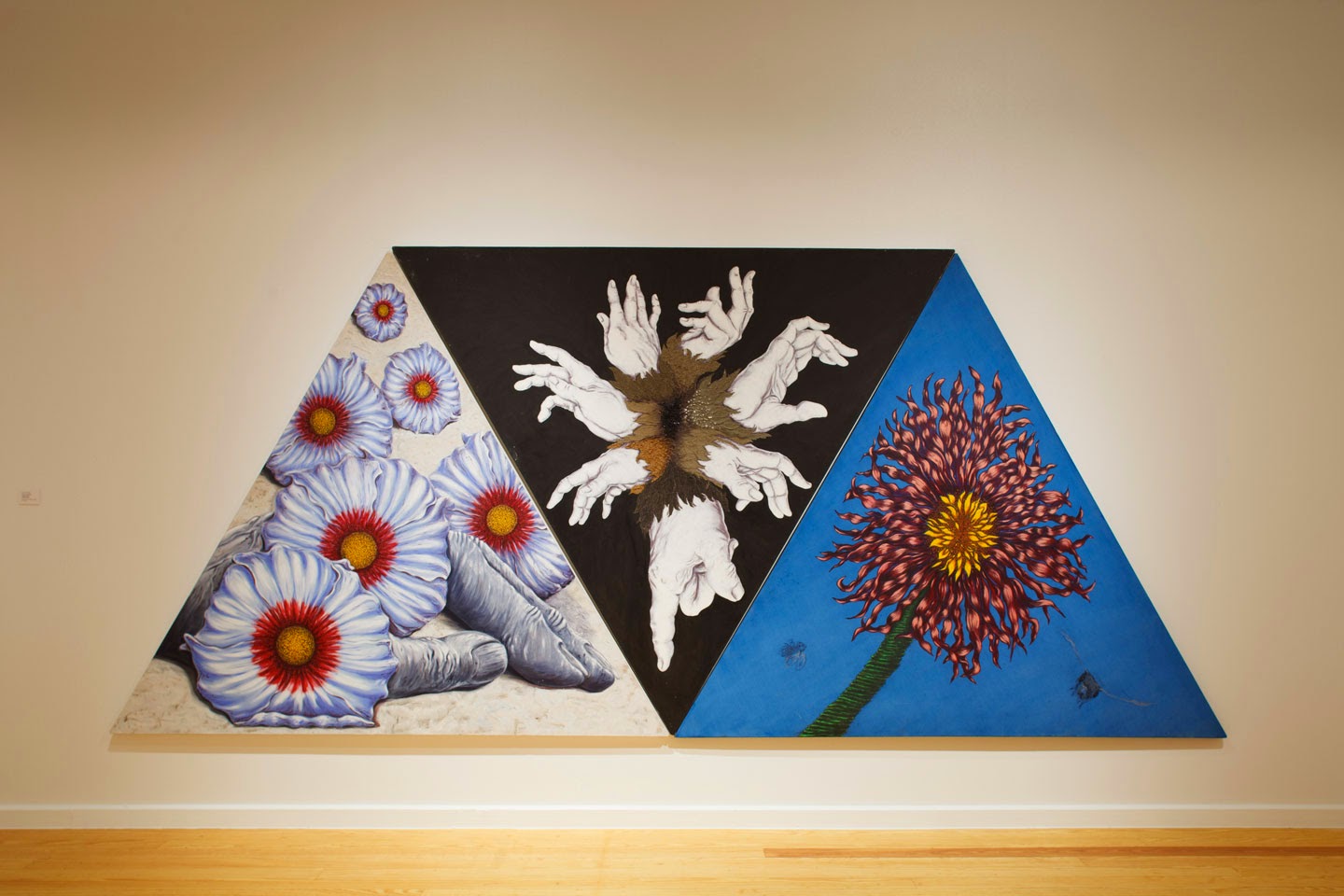 Wayne Gilbert, From Left to Right: "End of the Day"; "Pointless"; "Pollination", Oil and human cremated remains on canvas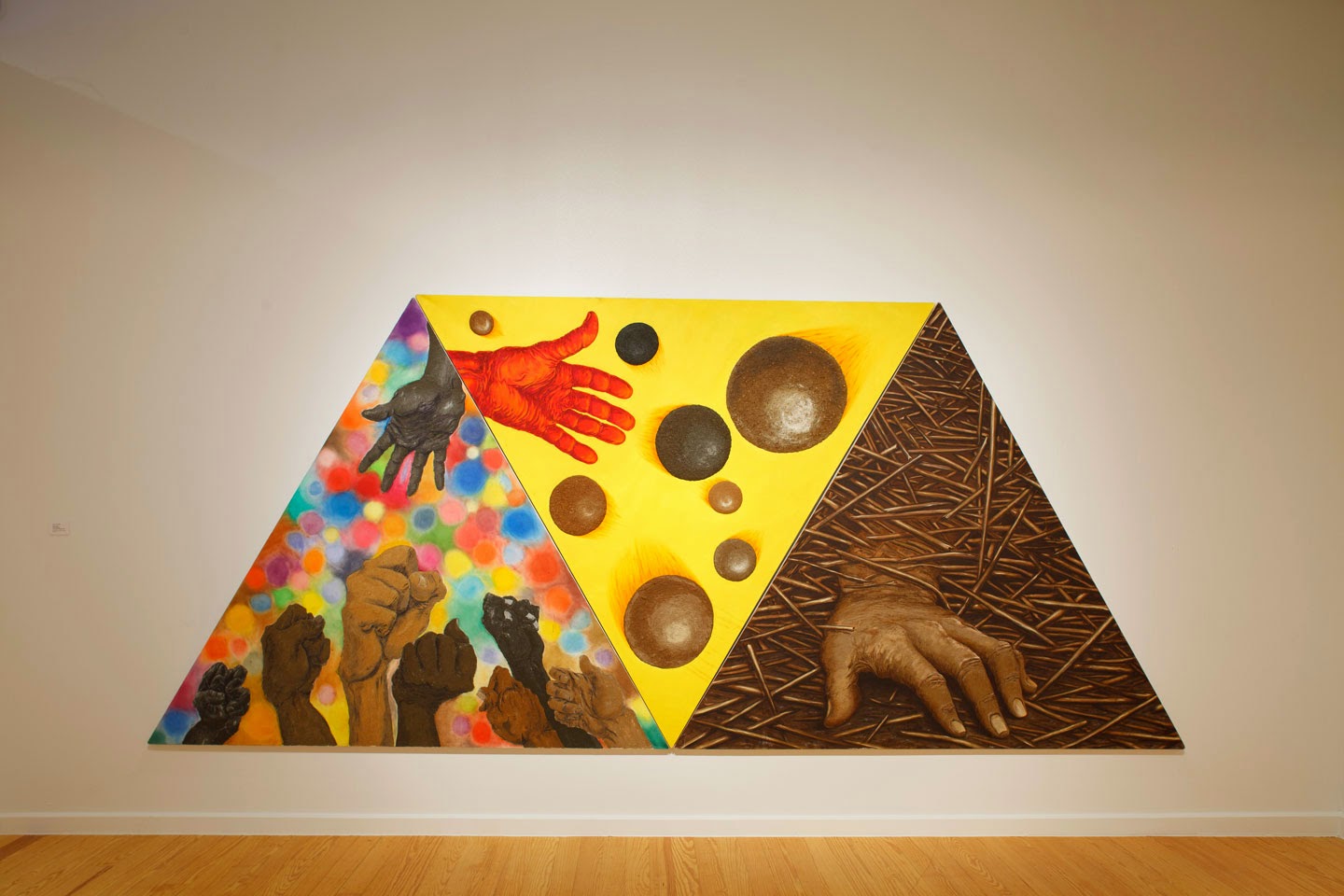 Wayne Gilbert, From Left to Right: "Reason"; "God's Balls"; "A Guy Named Murphy", Oil and human cremated remains on canvas
Wayne Gilbert is an extremely versatile artist who has created a novel approach to the process of making art from the vantage point of the narrow line between life and death. The material from which he creates his pigments is the unclaimed ashes of the dead that he collects from mortuaries. The result is his strangely beautiful and powerfully charged works of art that communicate solemn pieties and spiritual emotions. In several of the major works, Gilbert is able to express a certain ageless beauty like that of flowers at their moment of full bloom or of hands expressing a life force that is ebbing and grasping at the same time.
Summary Biography
Wayne Gilbert is an ordinary artist in an extra-ordinary city full of great artists and art. He has an undergraduate degree from the University of Houston in Painting, and a Masters from Rice University. He was a founding member of the Rubber Group in 1996 until 2004's. Their multiple discipline extravaganzas were bohemian rough and stayed well out of the mainstream. In 2001 Wayne founded the 101 Space in downtown Houston, above the Massage School on Washington Blvd where he presented new and eclectic exhibitions until 2007 when he opened Ggallery.
Wayne Gilbert uses the cremated remains of Americans left at funeral establishments as well as donated by families, mixed with a clear gel medium to create works of art that question the purpose of art to humanity and humanity to art. The discipline is intended to relate to and question the academic substance as it relates to the theory and critical analysis of art making. What is art? Why does it matter? Who defines a work of art? What is it about this peculiar and mystifying human undertaking that can result in such a huge world wide industry and sometimes be relegated to the lofty world of "priceless". The range of imagery is wide and does not follow any specific lineage, but rather entertains the momentary flicker of a thought as it might relate to our philosophical, theological, physical or mental trip through this wonderful and fascinating eschatological journey.
Wayne has had many solo and group exhibitions nationally and internationally. He has been a guest speaker at Bard College, Annandale on the Hudson, New York, Rutgers University, New Jersey, and Texas Tech, Lubbock, Texas. He has curated exhibitions, in Trujillo, Peru, Santiago, Cuba, Salwedel, Germany, Seattle ,Washington, Marfa, Texas, Arlington, Texas to name a few.
Wayne as an artist, well that's another story. Thank you, WD/