NOVEMBER 2003 – FEBRUARY 2004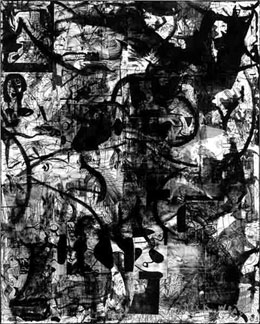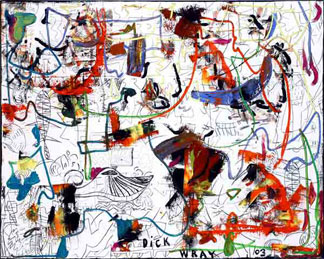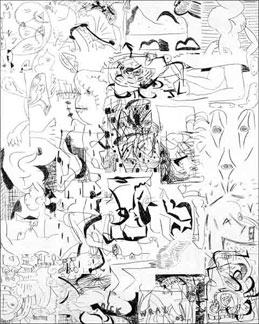 A spirit of obliteration has descended on Dick Wray of late. Mr. Houston Painting has dispensed with gayer colors in favor of a black palette that radiates the stark force and remorseless intent of late Jackson Pollock. Black hits the canvas like an oil slick, wiping out the denizens of his usual color marshlands.
Black paint slashes, dances, and spills its way across the surface of Dick Wray's 2003 paintings. It scumbles and occludes, strapped down by heavier brushwork. It coalesces with the ominous feeling of nuclear ash clouds. Beneath this blackness, foregrounds squirm with loose lines, depth hatchings, all manner of faces, cartographic schemata, and an ambitious inventory of scatological doodles–pubic tangles, assholes, cock and balls, nipples, and other naughty squiggles. Dick Wray wrestles with metaphysics and the pangs of the body pulp; he pays homage to both Matisse and Oui magazine. He has an easy vernacular language like that of the writer Kurt Vonnegut Jr., direct, yet sly, and full of recurring gags and love for his creations.
Abstract and epidemic, these paintings suggest the black wings of true worry beating the air above a busy world, modern in technology, post-modern in its slang, but not dissimilar to the world of Brueghels and Rabelais.
Tex Kerschen