Having followed the escalation of border-crossing deaths after NAFTA (1996) and the murder of young girls in Juárez, which continue to this day, I have come to look at the Rio Grande as an open wound. . . . I met with Marisela Ortiz, head of the organization, El Centro de Nuestras Hijas de Regreso a Casa (May Our Daughters Return Home). She introduced me to several mothers who have lost their daughters. Marisela and I shared a vision of giving the mothers the opportunity to participate in a 'limpia' or cleansing, which would bring them a sense of empowerment. The mothers were enthusiastic and interested in being part of the performance-ritual. . . . Brooms in several intuitive traditions are considered sacred tools for cleansing – or removing 'bad' energy with the motion of sweeping. In Mexico today, there is a daily ritual of sweeping outside one's home in order to cleanse and begin the day. In this piece, the hanging brooms are tied in a knot to symbolize both the cutting off or blocking of the feminine as well as to remind us of the cosmic knot or Buddhist knot.
 Susan Plum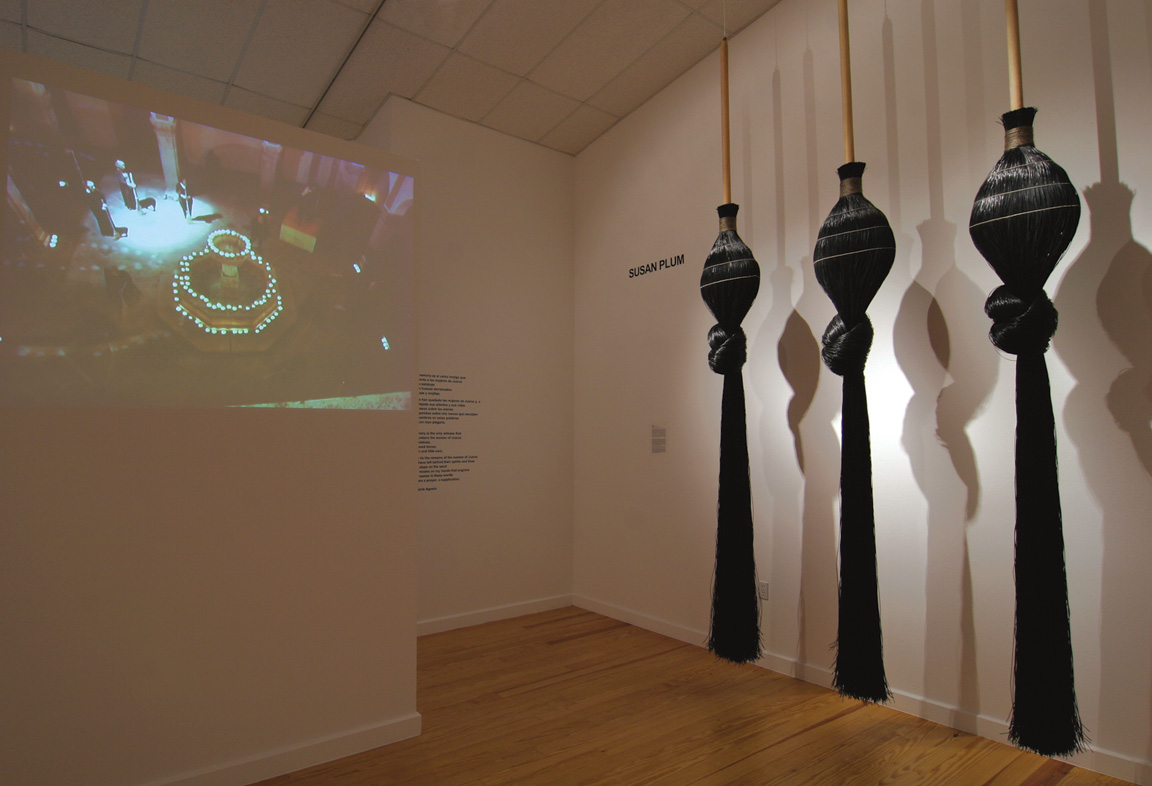 Susan Plum, "Luz y Solidaridad – Light and Solidarity", 2004-2006, wooden dowels, vinyl threads, and performance video
The performance-ritual is limpia, or shamanic cleansing, using brooms in a rhythmic, tapping pattern as well as sweeping to draw the 'blocked' energy from deep within the earth. The bullroarers, spinners and wind whistles drive the energy upward. The fifteen-minute wordless performance-ritual was first performed on Feb. 4, 2006, at the Museo de la Ciudad de Querétaro, Mexico. Twenty-five women used the sounds and movements of brooms, pre-Columbian wind whistles, bullroarers and spinners as a limpia to bring a sense of empowerment to the women who have lost their daughters as well as a feeling of solidarity. The ritual also intends to bring light to the murdered daughters. Bethe Hagens who made the bullroarers and spinners and three mothers from Juárez, Julia Cano, Rubi Pando, Ramona Gonzales, were part of this original event. The original installation-performance-ritual is currently traveling in the exhibition The Missing Peace in honor of the Dalai Lama.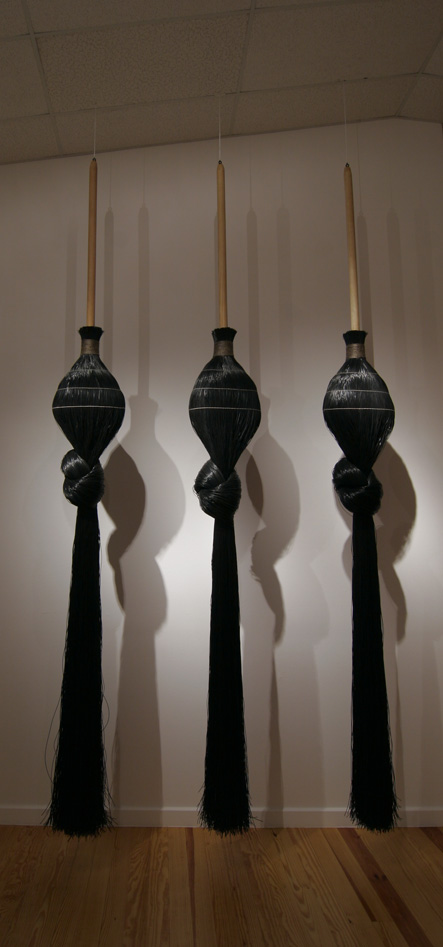 Susan Plum, "Luz y Solidaridad – Light and Solidarity", 2004-2006, wooden dowels, vinyl threads, and performance video