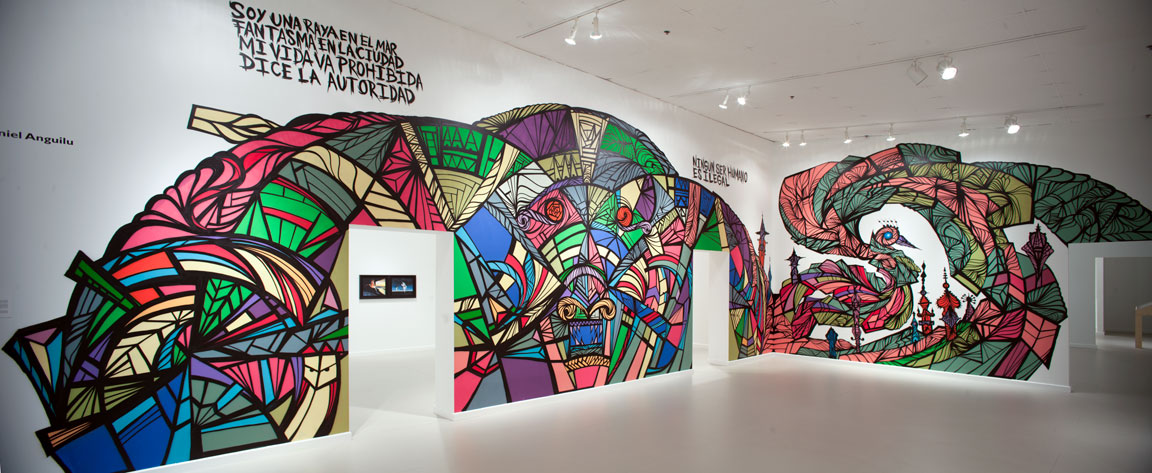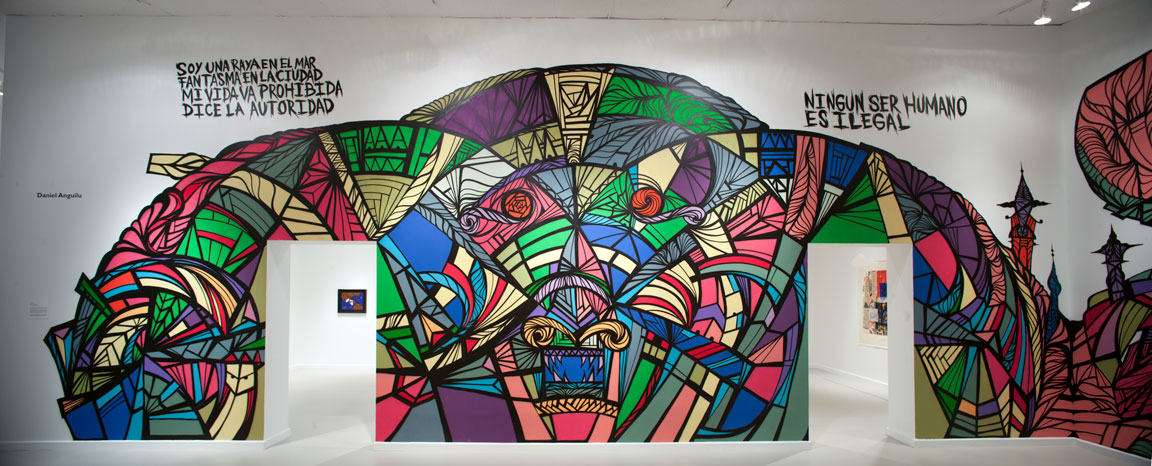 Daniel Anguilu, "Clandestino -Clandestine", 2012, latex and aerosol paint
SOY UNA RAYA EN EL MAR / I AM A LINE IN THE SEA
FANTASMA EN LA CIUDAD / A GHOST IN THE CITY
MI VIDA VA PROHIBIDA / MY LIFE IS PROHIBITED
DICE LA AUTORIDAD / SAYS THE AUTHORITY
NINGUN SER HUMANO ES ILEGAL / NO HUMAN BEING IS ILLEGAL
I'm a muralist. I observe, analyze and question the essential components in life and human condition. The murals that I create are my contribution to stop any type of injustice and to bring awareness to social, cultural, and political issues. This mural is dedicated to all humans that have left their homeland and are now labeled as illegal human beings. I do not agree with any government that would allow the creation of third class citizens.
– Daniel Anguilu
Daniel Anguilu uses life itself as his subject matter, translating its movements and attitudes, from one moment to another, into art. The traces of his desire to create in order to examine and reflect life, not merely remind us of it, are seen in the city's streets – pockets of public spaces with extraordinary design and exploding colors. Utilizing the strengths of revolutionary muralists such as Diego Rivera, José Clemente Orozco, and David Alfaro Siqueiros, Anguilu's art in public spaces is an honest form of freedom of expression. His murals consist of abstract and enigmatic imagery, often depicting animals – in a style reminiscent of Aztec design – with contemporary visual rhetoric to compose brilliant, wild senses of balance and conflict, driven by his Mexican heritage and a cross-cultural influence.
Daniel Anguilu started painting graffiti at an early age. Anguilu has traveled to many cities in the US, Mexico, Peru, Spain and Italy to paint murals and to participate in art exhibitions. He has also visited Asia, Africa and Central America to enrich his knowledge of pre-colonial art and the cultures in those regions. Anguilu has participated in group shows at the Mexican Consulate of Houston, Poissant Gallery, Aerosol Warfare Gallery, and The Orange Show. He has worked on projects at DiverseWorks, the Houston Skate Park, and was commissioned by Neiman Marcus and Converse. Currently, he focuses on painting public spaces in the Houston area and working in collaboration with local businesses and home owners.