AYAD ALKADHI, "Bloody Red Freedom", 2008, mixed media on Arabic newspaper on canvas, 24" x 72"
Ayad Alkadhi's powerful painting Price of a Barrel presents the artist's gripping insight into the objectives of waging war against Iraq for oil and imperial dominance. The painting is also a reference to the heavily publicized atrocities at Abu Ghraib prison, which became the global persona of the US invasion. The work was inspired by a mother's response to a photograph of her son tortured in prison. She said she had wept as if she were the Virgin Mary looking up at her crucified son. While also revealing the costs of exploitation for a commercial commodity, Price of a Barrel is a homage to this mother's sorrow and strength.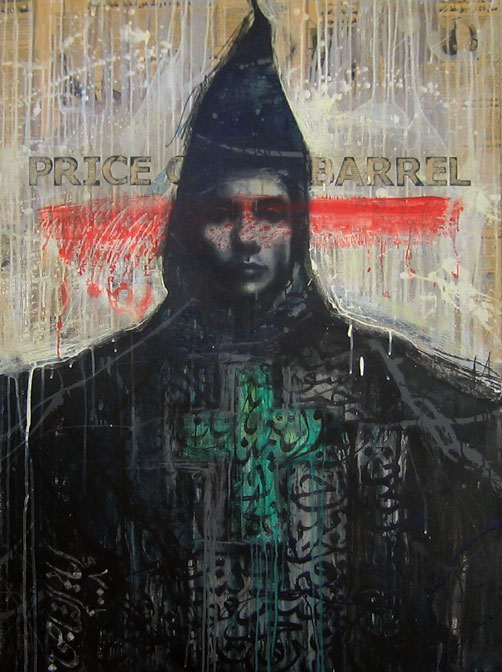 AYAD ALKADHI, "Price of a Barrel", 2008, mixed media on Arabic newspaper on canvas, 48" x 36"
I view the I am Baghdad portraits as interviews, wherein citizens of Baghdad express their feelings about the occupation of Iraq. The portraits are all tightly shot and so close-up that you have no choice but to listen to what they have to tell you. The faces are the same because they are united in nationality and live under the same umbrella of circumstances. Yet each is representative of different constituents of Baghdad's social and political system.
The layers of calligraphy imposed on each of the faces express the individual feelings of each person. It is up to the viewer to interpret those feelings.
– Ayad Alkadhi
AYAD ALKADHI, (from the series), "I am Baghdad I – VI", 2008, mixed media on Arabic newspaper on canvas, each 48" x 48"
AYAD ALKADHI
born in Baghdad, Iraq, 1971.
Ayad Alkadhi spent his childhood between England, the United Arab Emirates, and Iraq. At the age of 23, after the first Gulf War, he left Iraq for a better future, first in Amman, Jordan and shortly thereafter in Auckland, New Zealand. He then moved to New York City where he graduated with a MFA from New York University's ITP Tisch School of the Arts. Ayad has exhibited in the Middle East, New Zealand, Europe, and the United States. His most recent exhibits include the Queens Museum of Art, the Austrian Cultural Forum, and New York University's Bronfman Center in New York City, as well as the European Parliament in Brussels and Art Dubai in the UAE. He currently lives in the United States.