I propose that my works represent my empirical attempt—and it is an ongoing attempt—to introduce one of the paths on which various systems intersect (the visual with the written with the numerical). This is an attempt to achieve another visual map that demonstrates that drawing is present in the source of all symbolic expressions.
My works started to negotiate the idea of how to visually bring order to the accumulated disarray of systems and, vise versa, how to read disarray in what seems as order, which for me legitimizes the notion that strictly adhering to a system of forms is but a plan to find a way to deconstruct it. Within this notion I also negotiated the system of color.
– Hanaa Mal-Allah
Dafatir: Contemporary Iraqi Book Art
Translated by Liljana Elverskog and Nada Shabou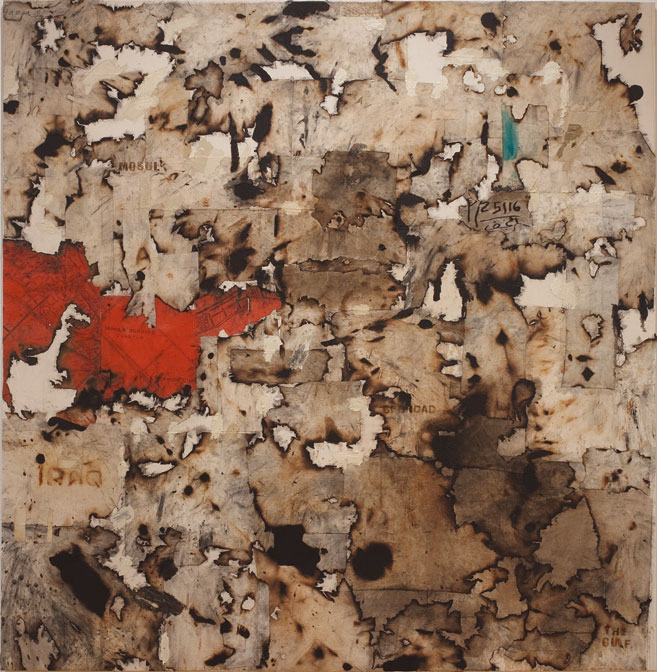 HANAA MAL-ALLAH, "Map of Iraq", 2008, oil on layers of burnt canvas, 78.75" x 76"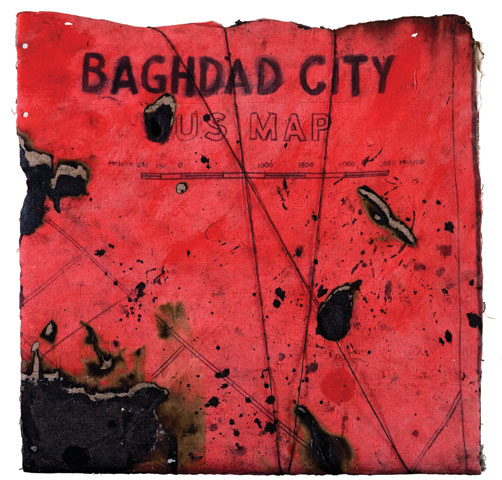 HANAA MAL-ALLAH, "Baghdad City, USA Map", 2007, mixed media on paper mounted on board, cover with 8 pages each 21" x 21", Collection of Tala Azzaw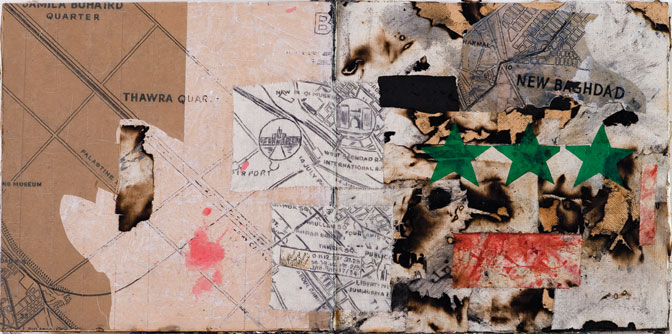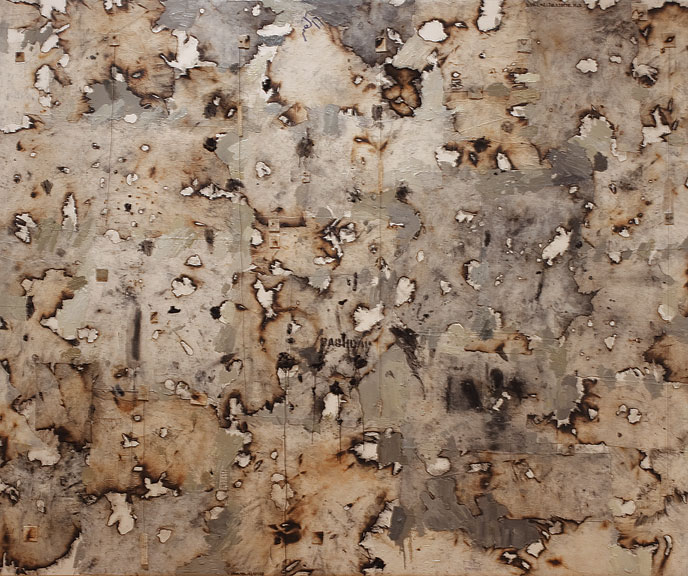 HANAA MAL-ALLAH, "The Active Ruins of Mesopotamia Iraq", 2008, oil, old manuscripts, string on layers of burnt canvas, 67" x 81.5", Collection of Alia and Hussain Harba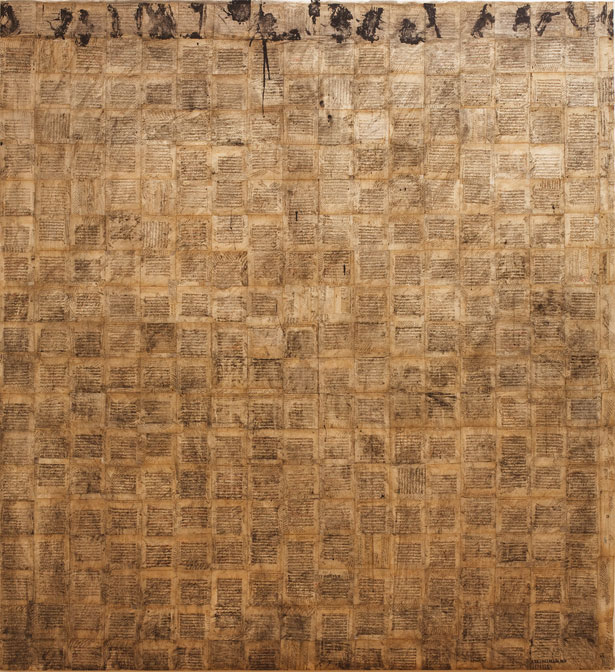 HANAA MAL-ALLAH, "Looting of Baghdadian Manuscript", 2008, oil and old manuscripts on canvas, 74.8" x 68.5", Collection of Tala Azzawi
HANAA MAL-ALLAH
born in Thee Qar, Iraq, 1958.
Hanaa Mal-Allah received a diploma in graphic art from the Institute of Fine Arts, Baghdad, where she studied with Shakir Hassan Al Said in 1979, followed by a BA in painting from the Academy of Fine Arts, Baghdad in 1988 and a MA in painting from Baghdad University in 2000. In 2005, she was awarded a PhD in the philosophy of painting from Baghdad University. She has lectured at the Institute and the University in Baghdad and is currently a fellow of the School of Oriental and African Studies in London, UK. She has exhibited widely, most recently at the British Museum in the UK as a participant in the exhibition Iraq's Past Speaks to the Present. Her work is in private and permanent collections including the Museum of Fine Arts in Amman, Jordan, and the British Museum in London, UK. Her recent work, which consists of books and multimedia, is increasingly concerned with the loss of Iraq's heritage, particularly the destruction of its libraries and the looting of the Baghdad National Museum following the US–led invasion in 2003. She currently lives in London, UK.