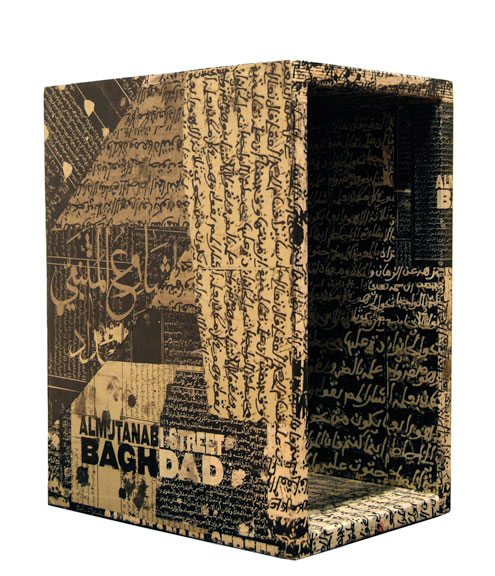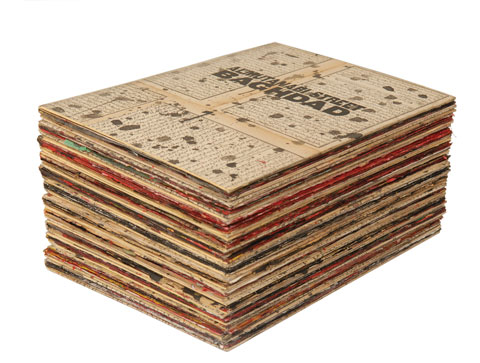 Himat Mohammed Ali's twelve art books are his reaction to the destruction of Baghdad's Al Mutanabbi Street. These hand-made books are not only testaments to that horrific event but also reveal Himat's passion and extraordinary creativity.
Himat's sense of loss is palpable, even painful in these books, but these remarkable artworks also communicate an exalted love of place imbued with a powerful sense of mystery and beauty.
HIMAT MOHAMMED ALI, "Al Mutanabbi Street", 2007, mixed media on paper slip case and 12 bound books each containing 6 pages, each 13.4" x 10.25", Collection of Tala Azzawi
HIMAT MOHAMMED ALI
born in Kirkuk (Kurdistan), Iraq, 1960.
Himat Mohammed Ali has shown his work in numerous solo exhibitions in France, Japan, Switzerland, Austria, the Netherlands, and throughout the Arab world. Himat has made mural paintings in Morocco, Japan, and Bahrain. He has exhibited with world-renowned poets, such as Adonis, André Velter, and Gutaro Tunezumi. He has published over 30 works in collaboration with poets including Muhammad Bennis, Michel Butor, Kasim Haddad, and Sadi Youssef. Two films have been dedicated to him; the first, directed by Fuâd Mimi in 1991 and the second by Feriel Ben Mahmoud in 2003. Himat also participated in the well-toured exhibition and book project Strokes of Genius: Contemporary Iraqi Art. Himat's awards include: First Prize, Honorary Award, and Graphics Award, First and Seventh Al-Wasiti Festival, Baghdad in 1989, 1987, and 1985, along with the Appreciation Award, First Youth Fair, Baghdad in 1982. His works are part of various public collections, including the Museum of Modern Art in Baghdad, Iraq; the Jordan National Gallery of Fine Arts in Amman, Jordan; the Khalid Shoman Foundation-Darat al Funun in Amman, Jordan; the Al Sharjah Museum in Al Sharjah, United Arab Emirates; the Museum of the Institute of the Arab World in Paris, France; the Bibliothèque de la Francophonie in Limoges, France; the Ministry of Culture in Tunis, Tunisia; and the National Library of France in Paris. He is a member of SIPA and UIA. He currently lives in Paris, France.