Mustafa Al Hallaj's print creates a continuum of fantastic and folkloric imagery that spans ancient and modern times. He juxtaposes a vast and often idiosyncratic menagerie of symbols –bulls, camel men, birds, lizard-like creatures and fish, with fantastic landscapes and episodes of ancient and modern Palestinian life. The animal hybrids of Hallaj are remniscient of Hieronymous Bosch. This was to be his masterwork, a fable casting himself as man, god and devil, an imaginary release from the boundaries of political regimes and from time itself. Sections of the original print were damaged and destroyed in the electrical fire that ended his life in December 2002. Sections of the print exhibited here were re-printed by The Palestinian Artist's Union in Syria to pay homage to the artist. Mustafa Al Hallaj was born in Salame, near Jaffa, Palestine. He studied art in Egypt, exhibited his art extensively and spent his last years in Damascus, Syria. This exhibition is dedicated to his memory.
Mustafa al Hallaj
Born 1938 in Salame, Haifa district, Palestine.
Education. College of Fine Arts, Cairo.
Luxor Atelier for Postgraduate studies.
Lived in Beirut, Lebanon and Damascus, Syria.
Died December 2003 in Damascus, Syria.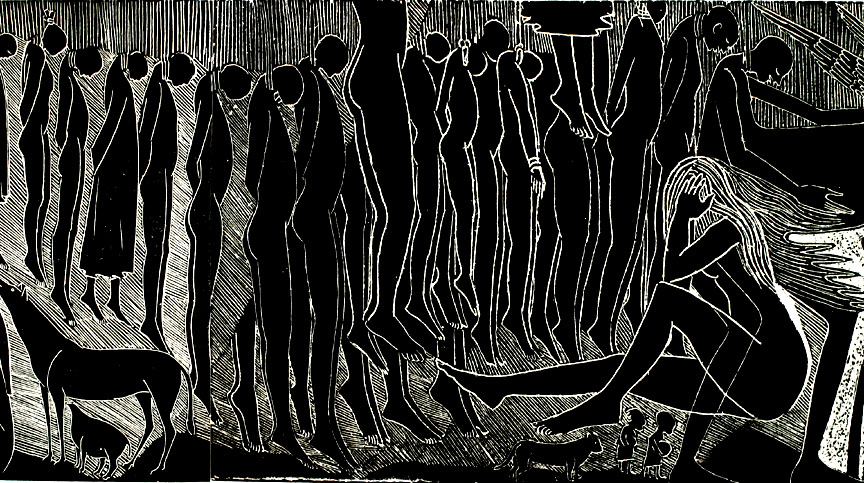 Mustafa Al Hallaj, "Self-Portrait as God, the Devil, and Man", 1994-2002, masonite-cut print on paper, 14″ x ~300ft.