Nida Sinnokrot's rubber-coated stones recall the rubber-coated bullets that Israeli soldiers regularly shoot at Palestinians. They also suggest the iconic image of Palestinian children, armed with nothing but stones, confronting tanks in the streets of their cities. Loose stones are plentiful in the Palestinian territories, as tank incursions have reduced many of their homes and roads to rubble. Al-Jaz/ CNN compares the framing of the news and the biases of its handlers. Each of these monitors displays a constantly changing stream of stories, filtered through different languages, different editorial teams, hence, different geopolitical perspectives. The installation is open-ended: its content is perpetually changing. Nida Sinnokrot is currently making a documentary about the Apartheid Wall the Israeli military is constructing at enormous expense. This militarized superstructure intrudes well beyond the territorial conventions of the Green Line as it coils around invaluable water resources.
Nida Sinnokrot
Born 1971, raised in Algeria.
Education. Studied at University of Texas, Austin, Texas (BS, 1995)
Milton Avery Graduate School of the Arts, Bard College,
Annandale-on-Hudson, New York (MFA, 2000)
Whitney Independent Studio Program (2001-2002)
lives in New York.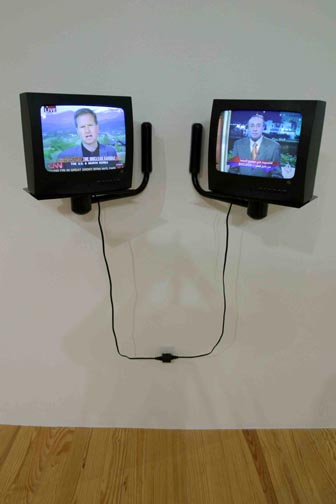 Nida Sinnokrot, "AL-JAZ/CNN", live satelite feed and televisions
installation dimensions vary, 2002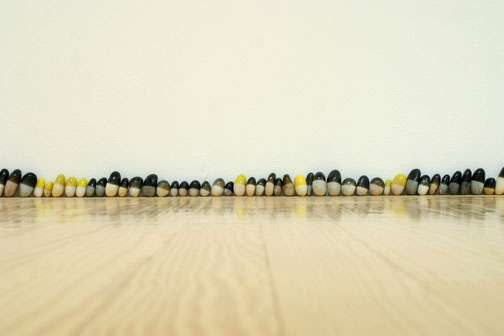 Nida Sinnokrot, "Rubber-Coated Rocks", rocks and rubber, installation dimensions variable, 2002