Raghu Rai
Exposure: Portrait of a Corporate Crime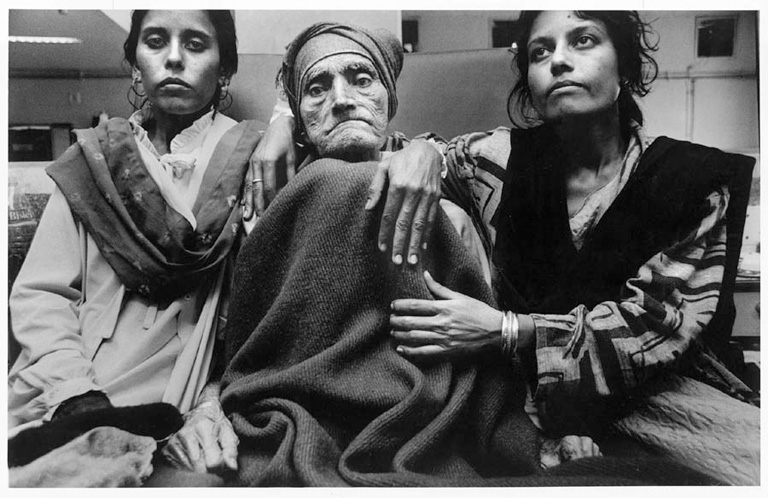 Raghu Rai, "Hasan Ali and his Daughters", Bhopal 2002
Hasan Ali has seven grown-up daughters. "Our education has suffered because of our father's illness, and the fact that we too have been ill at different times. Because of this, there are several problems related to our marriages," says Kishwar, one of the seven daughters.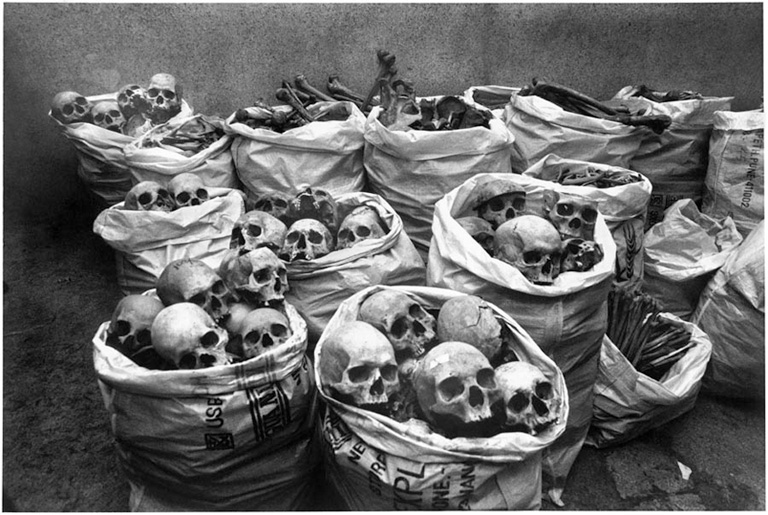 Raghu Rai, "Sacks full of skulls", Bhopal 2001
Skulls discarded after research at the Hamidia Hospital. Medical experts believe that the Methyl Isocyanate (MIC) gas inhaled by the people of Bhopal may have affected the brain.
Raghu Rai
Raghu Rai is one of India's greatest photographers and an associate of the world-renowned Magnum Group. His famous images of India are usually optimistic and show a deep insight into the spirtual life of the sub-continent. He is known for his full and rich imagery of Kumbh Melas, Mother Theresa and the holy city of Varanasi, capturing transcendental moments deep within Indian society and religion.
But when he arrived in Bhopal on the morning after the Union Carbide gas leak, Raghu Rai saw a very different india, one of pessimism, pain and despair. Shocked and deeply moved, he immediately began to document the horror and captured, without sentiment, a community in trauma. On returning to Delhi, Raghu Rai released his now-famous photograph 'Burial of an unknown child' which sent shock waves around the world.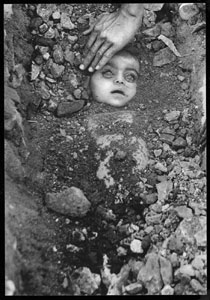 Raghu Rai, "Burial of an unknown child", Bhopal 1984
This unknown child has become the icon of the world's worst industrial disaster, caused by the U.S. chemical company, Union Carbide. No one knows his parents, and no one has ever come forward to 'claim' this photograph.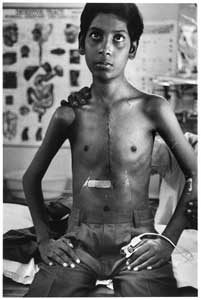 Raghu Rai, "Heart surgery at 18", Bhopal 2001
Mohammad Rehan (18) was just a year old when he was exposed to the toxic gas. He has undergone two heart surgeries and doctors say his lungs are severely damaged. 'We know that the chances of his leading a normal life are slim,' says his father.
Today Bhopal, capital of the central Indian region of Madhya Pradesh, is bustling and busy. Its citizens want to put the dark days of tragedy behind them; but it's not that simple. The legacy lives on.
As part of the international struggle for the human right to live in a clean and healthy environment, Greenpeace needed photographic documentation of the on-going Bhopal disaster. Raghu Rai was the ideal photographer for the commission, and relished the opportunity to combine the powerful black and white archive prints of the morning after the tragedy with haunting and honest portraits of the survivors of today.
The result is a definitive body of work through which the survivors can tell their sad and compelling stories and the fight for justice can be continued.
Raghu Rai has been so deeply affected by what he has seen in Bhopal that he has made a personal commitment to continue photography the unfolding story.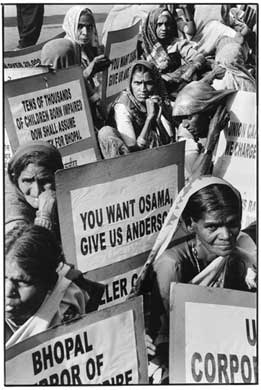 Raghu Rai, "Demonstration by Bhopal survivors", New Delhi 2001
Elderly woman with poster draws attention to the contrast between efforts to find Osama bin Laden and those to extradite Warren Anderson, former chief executive of Union Carbide. Anderson is evading justice in the United States and wanted by Interpol for crimes in Bhopal.