(MARTIN ZET – Czech Republic)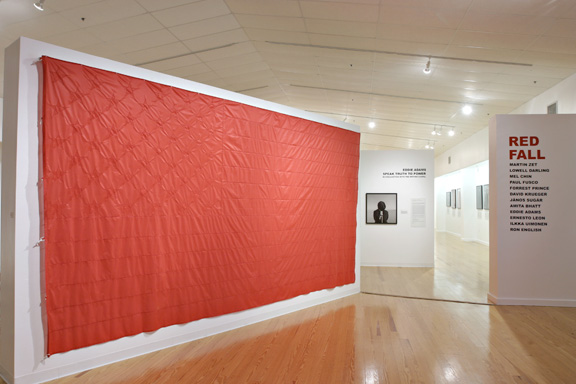 THE REVOLUTION COMES FROM LIBUŠÍN
NO COUNTRY IS SAFE FROM REVOLUTION, EVEN THE ONE WHICH PROCLAIMES REVOLUTION TO BE ITS BASIC PRINCIPLE!!!
I was born in 1959 in Prague – I lived there, studied there, and moved out of there in 1993. It was a crucial decision.
I settled in Little Apple in 1993. Little Apple is the site of one of the oldest settlements in Central Europe. The official name is Libusín. It is a pearl in the industrial region west of Prague. I called it 'West Village.' While studying historical sources I discovered that it was Prague that was founded on the eastern outskirts of Libusín. Then I dropped the expression 'West Village.'
For the last one-hundred and fifty years it has been a miner's town (7 mines, 7,500 inhabitants). Workers from all over Europe came there and some of them stayed. The last mine was closed in July 2002. Now it is a village of diverse ethnic groups, nations, religions, sects, and pubs. Libušín may be small in size (2,500 inhabitants), but I believe that it is indispensable as a counterbalance point to the rest of the world.
Is it possible to reflect the World from the Czech countryside? Libušín has an unexpected advantage. It is, after all, sort of the 'end of the line.' The majority of the political, social and cultural games people play in major centers are transparent and not so important there. There are far fewer opportunities and the problems are not so hidden – not so camouflaged, no make-up. People there have not forgotten their revolutionary traditions. At least one person continues to act on them. Me!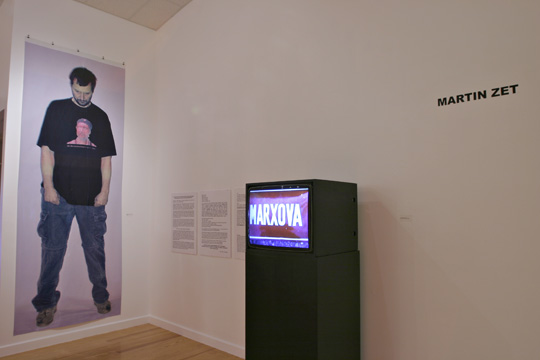 Martin Zet, [Martin standing with fists] "THE REVOLUTION COMES FROM LIBUŠÍN!", 2004, digital print, 11' x 4'
REVOLUTION COMES FROM THE PERIPHERY!
It is said that the word revolution was first used in the region where I live. While on a weekend trip out of Prague, Johannes Kepler (1571-1630), the inventor of this word, was suddenly struck by the glorious Libusín night sky, and he whispered, "REVOLUTION!" His use of this word signified a repeating chain of changes. What he actually said was, "RE-EVOLUTION!" And this meaning is the most provocative one. But because Johannes Kepler shortened his vowels somewhat, the people heard "Revolution," and in that form it became embedded in their hearts.
The word itself is generally used as a label for desirable change. For example Dr. Eduard Beneš, the Czech President in exile in Great Britain during World War II, used the word revolution for the possible success of the home resistance movement. Sometimes the change from socialism back to capitalism is also called a revolution, for example, the Velvet Revolution, Czechoslovakia, 1989. What is the color of the capitalist revolution, ALSO RED?
White for eyes
Blue for ears
Yellow for the nose
Red for the tongue
Green for the head
(Sadhana of Goddess Tara)
RED SYMBOLIZES ALARM, AMITABHA, ANGER, ARDENT LOVE, BEAUTY, BLOOD, CELEBRATION, CHANGE, CHILDHOOD, COLOR (In Spanish, "rojo" – red – is a synonym of "colorado" – having color, colored), COMMUNISM, CORAL, COURAGE, CRUELTY, DANGER, EAST, EMERGENCY, EMOTION, EXCITEMENT, EXPANSION, EVIL, FAME, FEVER, FIRE, GOOD FORTUNE, HAPPINESS, HARDINESS AND VALOUR, HEAT, JEALOUSY, JOY, LIFE, LIVELINESS, LOVE, LUCK, LUST, MARTYRDOM, PASSION, PLANET MARS, POWER, PRESERVATION OF THE LIFE FORCE, PROGRESS, PROSPERITY, PROSTITUTION, REVOLUTION!, SACRED, SACRIFICE, SHAKTI, SIN, SOCIALISM, SOUTH, SUBJUGATION, SUMMER, SUMMONING, SYLLABLE "HA", STOP!, TONGUE, VALOR, VIOLENCE, WAR, WARMTH, WARNING, WRATH, YANG, , , ,

series of video stills: CHErvenýTatínek (RED DADDY), 2004,digital video, 2 mins
Red rejects the negative influences.
Red is vital, passion.
Red excites vision, is alerting.
Red transforms the delusion of attachment into the wisdom of discernment.
Red is the color of powerful rituals and deeds.
It is the color of passion, transmuted to discriminating wisdom.
Red is a synonym of danger.
It is a color which has the same wavelength as green. It is the
COLOR OF THE OPPRESSOR AND ALSO OF THE OPPRESSED.
After the political changes in my country in l989, local Telecom employees used to call me to ask if my street still has the same name, Marxova Ulice (Marx Street). They could not believe that we could still stomach living on a street with such a name. My street is one of the last streets in the Czech Capitalistic Republic that still bears some relation to the scientific Communism we learned at school.
IT IS EASY TO TURN 'RED' WHILE LIVING ON MARX STREET IN LIBUŠÍN
(even if turning red makes you look like a clown in some moments)
ONE MUST SUFFER TO CARRY THE FLAG OF REVOLUTION!!!
AS LONG AS THERE IS DISAPPOINTMENT WITH THE CURRENT SITUATION, AS LONG AS THERE IS
THE DESIRE TO CHANGE, THE IDEA OF REVOLUTION IS ALIVE!
M.Z. in Houston 2004
P.S.
GL_RED. Each pixel is a single red component. The glColorTableEXT function converts this component to the internal format in the same way that the red component of an RGBA pixel is, then converts it to an RGBA pixel with green and blue set to 0.0, and alpha set to 1.0. After this conversion, the pixel is treated just as if it had been read as an RGBA pixel.
P.P.S.
Some graphic messages about the recent invasion on Iraq show RED = war = blood as the invading allied army, while BLACK represented oil (Iraq): AAMEEERICAAAAAAA, AAMEEERICAAAAAAA!!!!!!!!!
I was always dreaming about the U.S.. It represented the maximal attainable personal freedom to me. I was always dreaming about visiting the U.S. and confronting this illusion with direct experience. Until 1989, it was unimaginable, and even then I had to wait another 6 years. On my first visit in 1995, I met some wonderful people there, and it made me think even more about America. I tried to understand what is happening in the U.S.  What is the essential idea? PROFIT? or FREEDOM? Many people here believe these are the basic ideas, but I believe they are not. Western films helped me find the essence of the American reality. In critical moments the catharsis comes about through violence – gun or fist. It looks to me that the motivating idea is THE FIGHT FOR DOMINANCE. MONEY and WAR are just instruments.
video still: TANEEK (DANCING HITLER), 2004,digital video, 58 seconds