MARCH 16, 2014 – AUGUST 17, 2014
Station Museum of Contemporary Art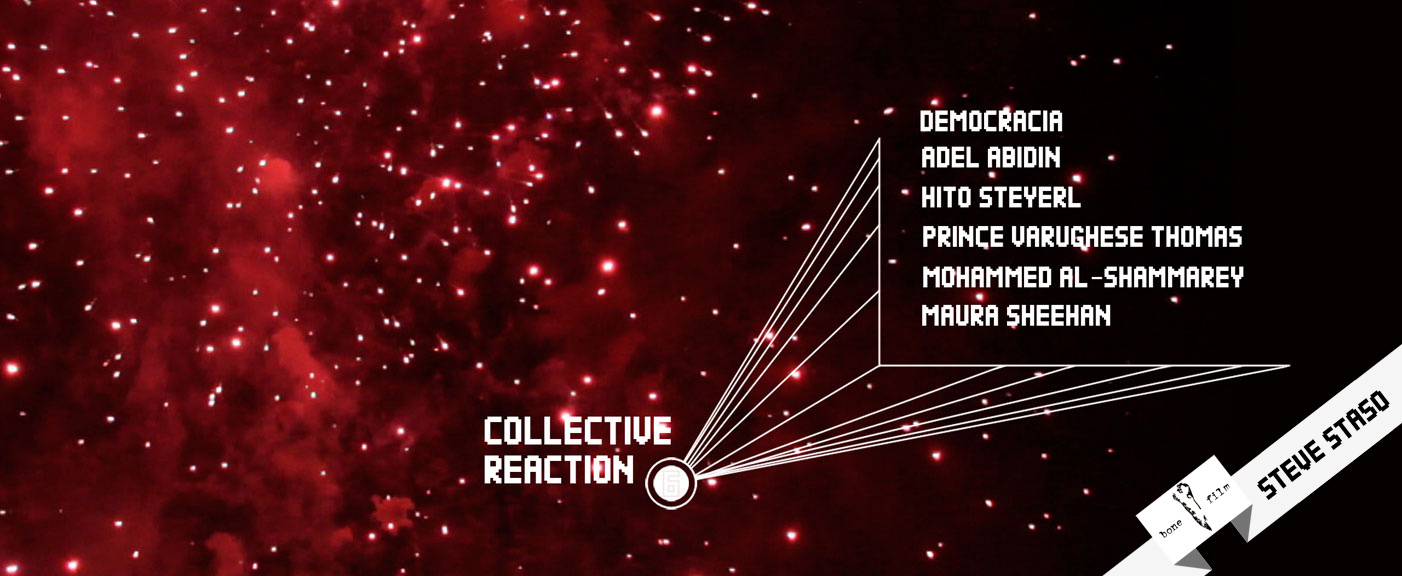 COLLECTIVE REACTION
MARCH 16, 2014 – AUGUST 17, 2014

Democracia
Adel Abidin
Hito Steyerl
Mohammed Al-Shammarey
Prince Varughese Thomas
Maura Sheehan
Steve Staso
---
The Station Museum of Contemporary Art wishes to announce the major exhibition Collective Reaction, featuring the seven solo exhibitions of Democracia, Adel Abidin, Hito Steyerl, Mohammed Al-Shammarey, Prince Varughese Thomas, Maura Sheehan and Steve Staso.

The proliferation of images and the devices that record them has fundamentally shifted the method in which information is interpreted and disseminated. What once was a costly and specialized skill has now become a tool for the masses. The propagation of imagery has been simultaneously displaced and appropriated by both traditional and independent media outlets. Through cropping, manipulation, and contextual placement, images take on new meanings that subvert or recuperate.

Madrid-based collective Democracia presents Welfare State: Smash the Ghetto—a four channel video installation displaying the demolition of the El Salobral shantytown, one of Europe's largest shantytowns on the southern outskirts of Madrid, as if it were a sporting event. The project turns the destruction of the neighborhood into a show for the members of civil society, celebrating the end of the ghetto as if it were a media spectacle.

Three Love Songs by Iraqi artist Adel Abidin explores the multiple ways to use and manipulate images to create juxtapositions of meanings from the mundane to the extreme. The piece, a three channel video installation, is an examination on terror and love, and how facades are played through song, specifically Iraqi songs that were commissioned by Saddam Hussein, used to glorify the regime during the decades of his rule.

Berlin-based writer and filmmaker, Hito Steyerl's video installation How Not To Be Seen: A Fucking Didactic Educational .MOV File, created for the 55th Venice Biennale, offers instructional guidelines on how to disappear in the digital age.

The photographic works of self-taught Iraqi artist Mohammed Al-Shammarey, along with his video work Chess, bear a certain level of witness to the crisis of Iraqi culture—wars, rebellion, escape, estrangement, loss, suffering—as well as his own personal struggle.

Read All About It by Houston artist Prince Varughese Thomas consists of video and two dimensional works that are related to the politics of Contemporary News & Journalism. The works critique structures of power within News & Journalism by questioning the types of information that are presented to the public and the personal, corporate, and governmental agendas of those representing the news.

New York artist, Maura Sheehan's site-specific sculptural installation Architecture Under the Influence functions as a hypnotic idea accumulation funnel generating a collaborative cultural ecology.

Steve Staso, a New York artist and filmmaker, founded Bone Films as a means for production and distribution of his art films, which include films documenting the Occupy Wall Street movement in New York, Washington DC, and Oakland, CA, as well as filming a series of communiques from London, UK made during the trial of Wikileaks founder Julian Assange.
---